Austin PBS Giving Day
Allegiance Group helps KLRU make the most of local Giving Day
What We Did
Digital Marketing, Strategy & Planning
Tools & Tech
Bing Ads, Facebook Ads, Google Ads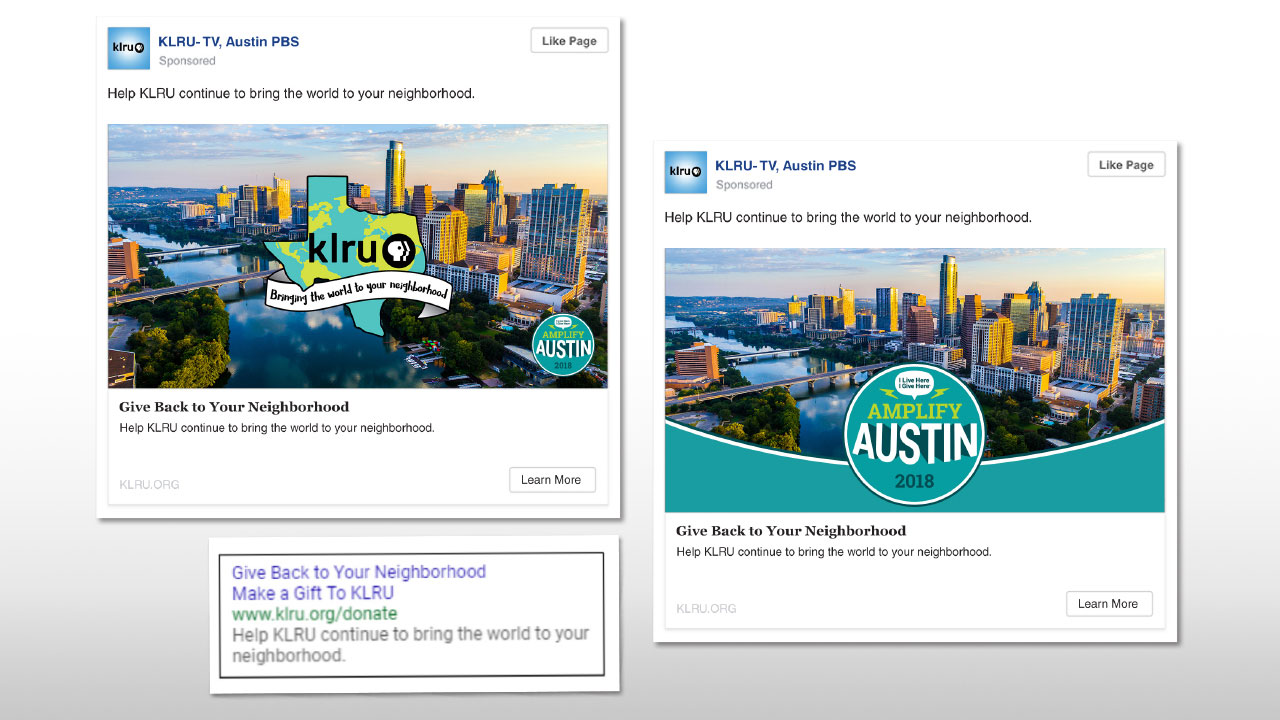 The Challenge
In March 2018, KLRU-TV, the PBS station in Austin, Texas, participated in "Amplify Austin," a coordinated effort designed to raise the mission profiles of and drive donations to more than 600 central Texas charities. While the station had participated in "Amplify Austin" previously, KLRU came to Allegiance Group asking for help in making the most of this year's "Amplify Austin" campaign.
The Solution
Our Digital Team reviewed the opportunity and recommended a combination of paid tactics including Facebook, Bing, and Google Ads.
We also recommended getting out early in search, ahead of other teams, with an specific eye toward establishing Google Ads authority, so that when central Texans started Googling for related keywords, KLRU's search engine marketing ads would be most likely to appear in Google's top search return positions.
The Allegiance Google Ads effort helped drive a 130% increase in KLRU's donation page traffic during their Amplify Austin central Texas charitable giving campaign, which led to their largest gross donation haul yet!
The Results
Our Facebook and search engine marketing efforts helped drive a 130% increase in traffic to KLRU's donation pages, with Facebook click costs of less than $1.00 and a Google Ads click-through rate performance averaging over 5%. With no other paid campaigns in the mix, KLRU had its highest donation returns, the Allegiance managed spend the only addition to the promotion of their campaign.
Amplify Austin
130%
Increase in page traffic
Learn more about our Digital Marketing services.