CMS Migration and Design Refresh
The OncoLink website gets a modern look and feel with an upgraded user experience.
What We Did
Analytics & Insights, Strategy & Planning, Technology Evaluations, UX & Visual Design, Website Development
Tools & Tech
Amazon/AWS Cloud, Crazy Egg, eZ Platform (Ibexa), eZ Publish, Google Analytics, New Relic, Symfony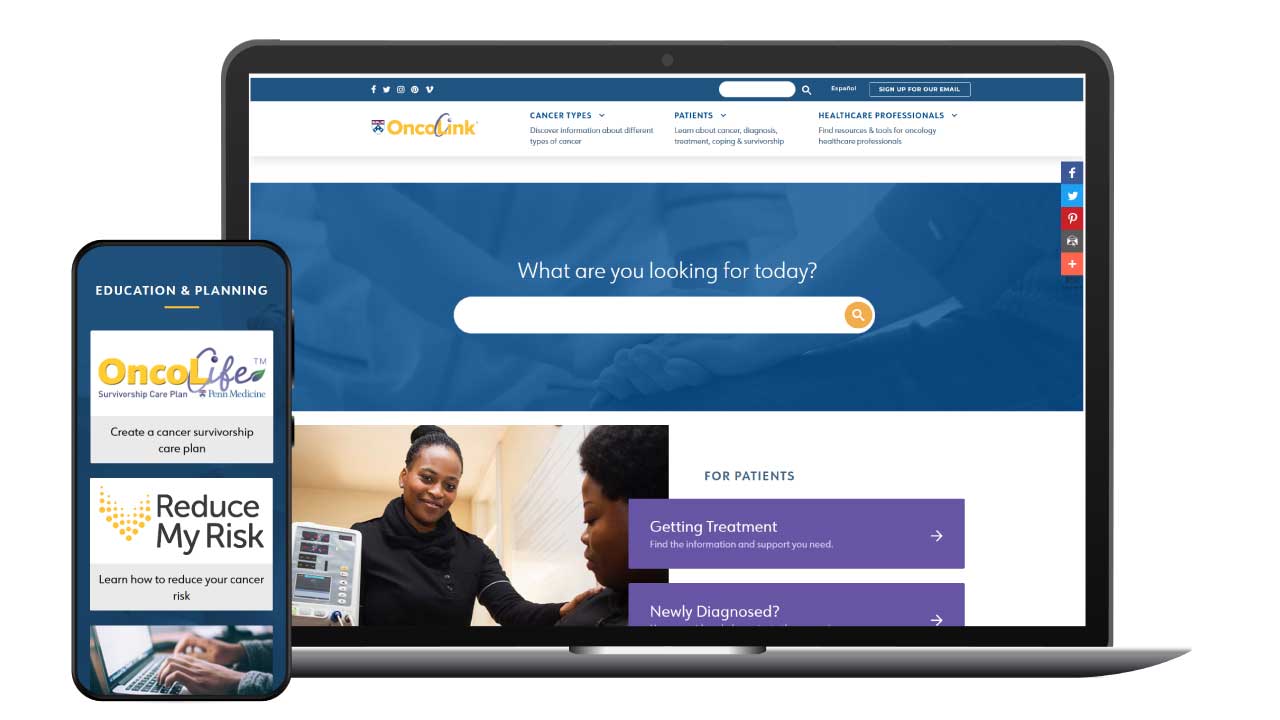 The Challenge:
OncoLink is a cancer information website maintained by a group of oncology healthcare professionals to support patients, caregivers, and practitioners through education. The content is continually updated and ranges from treatment and disease information for newly diagnosed patients to support through the side effects of treatment and into survivorship.
When OncoLink engaged with Allegiance, all of their data was housed on a hard-coded ColdFusion site. This severely limited the client's ability to make simple edits and the freedom to update and manage their website without enlisting the services of a development shop.
OncoLink's website design and homepage structure were dated and needed to match the sophistication and robustness of their oncology education content.
The Solution:
Allegiance determined the best approach forward was to move OncoLink to Ibexas's eZ Publish CMS.
Additional highlights of the original eZ Publish CMS migration include the following:
Migrated 10,000+ articles by cancer types and other categories.
Recreated the Patient Treatment Binder that healthcare professionals create for patients. The binder was the first of OncoLink's apps to be migrated to PHP. Others applications moved to Ibexa's eZ Platform include the OncoLife™ Survivorship Care Plan and the Reduce My Risk questionnaire.
Rebuilt Find My Cancer Drug and Cancer Types tools and added them to the right sidebar on the content pages, making the tool easily accessible to site visitors.
Rebuilt the Survivorship Clinic search by region.
Added print to PDF capability with customizable branding.
Added a new promo system that allows OncoLink to create internal or paid ads on the site, with the ability to include or exclude them by topic tags.
Migrated OncoLink's current WordPress blog site to a new server and imported WordPress objects into eZ, on the homepage, and category and article pages, as related blog posts.
Built an integration between the eZ Publish and the National Cancer Institute (NCI) server. Every day, the CMS connects to the NCI server, compares the latest NCI documents, and creates or updates the NCI CMS content (which powers OncoLink's 'related content' by keyword and site search).
Conducted an SEO audit and re-wrote a number of URLs and pathways to create a more user- and SEO-friendly structure.
Completed a complex server architecture with Cloudflare, f5 load balancer, redundant web servers, and database + Solr + NAS file storage.
Following the migration, our team created a new look and feel for the OncoLink site, restructuring the homepage to better meet users' needs and help them easily find their way once on the site. We reviewed existing styles and design preferences, created a mood board and key design patterns for the new design, and reviewed heat map testing and analytics to gain insights into user behaviors for the new homepage. While implementing the new design, we also made improvements to the site-wide search to include type-ahead functionality, making it easier for site visitors to search for cancer drugs with sometimes difficult spellings.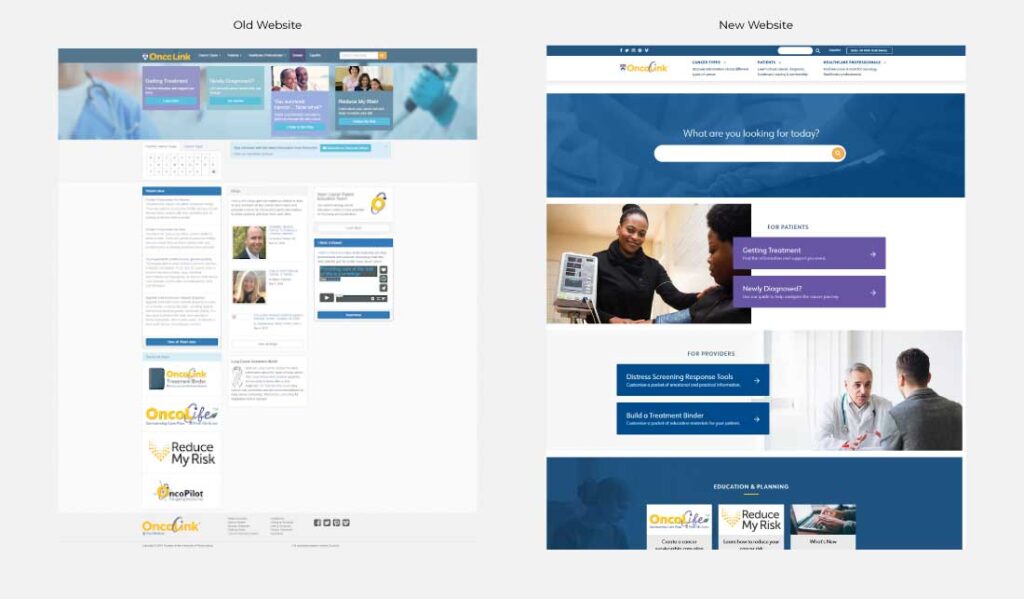 Results
With their new CMS, OncoLink can control its content and menus and easily add Spanish translations. Full access to a tagging system gives them the flexibility to share, syndicate, and ultimately expand the reach of their highly valued content. Allegiance's SEO consulting and redirect strategy helped OncoLink maintain its traffic after migration to a new site and structure with virtually no drop-off.
Is your website outdated and hard to manage?