Free Library of Philadelphia
Strategy Optimizations Lead to Major Success
What We Did
Digital Marketing, Strategy & Planning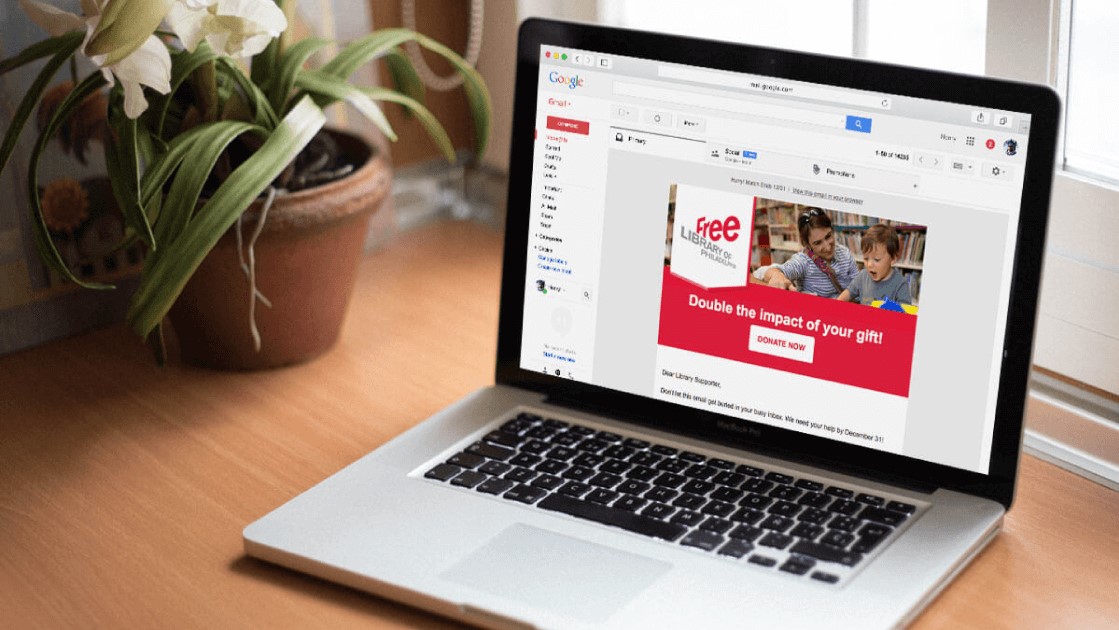 The Situation
The integrated Year-End Match email campaign is historically the strongest performing digital campaign of the fiscal year. The strategy became more robust with an additional email and lightbox added. New creative and improved strategy resulted in revenue increasing year-over-year by $16,000. We needed to keep the momentum going.
The Strategy
For this year's Year-End Match email campaign, we sent 8 integrated emails, created a homepage lightbox, and employed campaign-specific donation pages – one for the bookplate offer and another for general match emails. They continued to be key components of the campaign with both the bookplate and matching gift offers from the mail. They followed the same match deadlines as the mailings, with the first being December 31st then extending to January 31st.
The first email went out on 11/22 promoting the bookplate offer as a "gift" ask with a heartfelt holiday message right before Thanksgiving to ease into the strong year-end asks. This included mid-level, current, lapsed, and two prospect lists. The following 4 emails then focused on the matching gift offer. These went to the same audience as the bookplate email. Each highlighted the annual achievements from the mail piece and worked in the "looking ahead" message for the upcoming year and "hope" for the future. The final 3 emails had deadline extended language leading up to 1/31 with urgent "last chance" language.
The copy became shorter and more urgent as we approached deadlines. The homepage lightbox went live the last week of each month, with a second design swapped in during January to call out the extended deadline.
The Results
The bookplate email offer raised $14,277 total and only $1,100 came from the mid-level audience, a 450% increase in revenue over last year's bookplate email. The final 7 emails raised $78,402 – a 115% increase in revenue over the previous year.
Our most successful change to the strategy was to move the bookplate email to go out before Thanksgiving and really focus on the "gift" messaging. We even included an image of the bookplate in this year's email and dedicated a branded donation page to it with matching offer and gift string.
Overall, the key performance metrics were strong with an average open rate for the campaign at 21%, and 36% conversion rate. The inclusion of the prospect 1 audience brought the click-through rate significantly down to .93%. For the bookplate email we did track by audience, and for our mid-level and low-donor segments the click-through rate was 3.71%.
Year-End Match email campaign
156%
Increase in gross revenue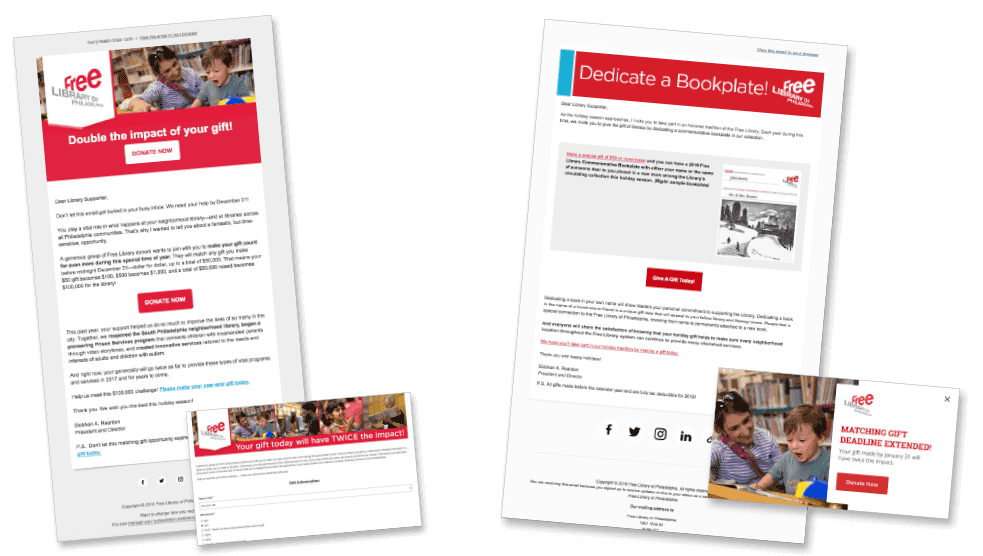 Be as bold as your mission. Partner with Allegiance.