Human Rights Watch
Embracing a year-end fundraising strategy that was blown up by a surprise election result.
What We Did
Analytics & Insights, Digital Marketing, Strategy & Planning
Tools & Tech
Engaging Networks, Facebook Ads, Google Ads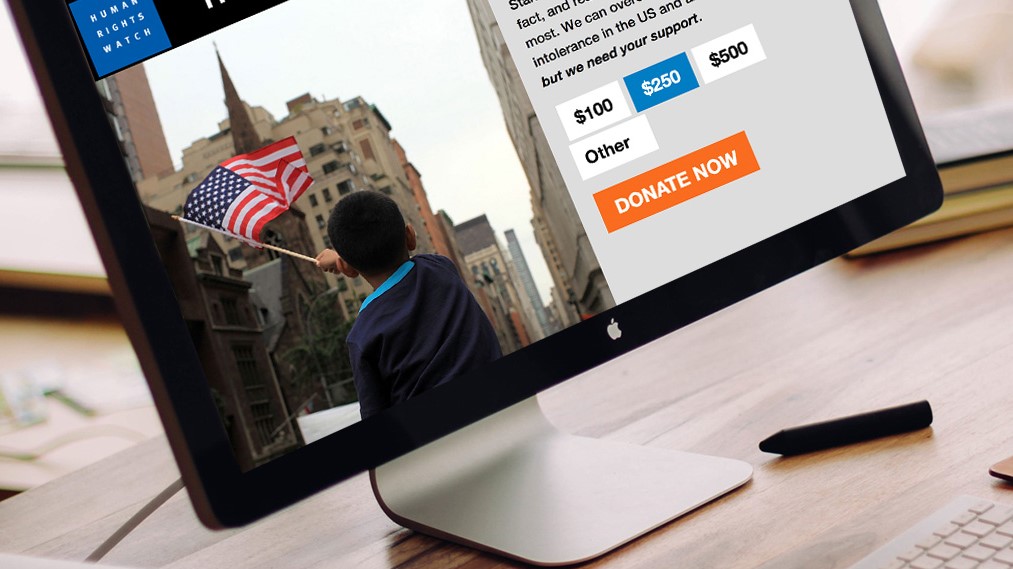 The Challenge
The entire year-end fundraising strategy for Human Rights Watch was blown up by a surprise election result.
The Solution
Allegiance Group has worked closely with Human Rights Watch to develop a mature digital fundraising program that provides a reliable base of funding support to help document human rights abuses, expose those stories and advocate for change. Throughout 2016, like most Americans, we were deeply disturbed by the rising tides of racism, Islamophobia, and bigotry that were spreading across the country. We worked with Human Rights Watch to develop several digital engagement and fundraising campaigns to highlight the organization's work to combat those forces of hate and fear. However, we assumed that those fears would subside after Election Day and that we would have a relatively "normal" year-end fundraising season focusing on the organization's work overseas to protect the rights of refugees fleeing violence and persecution, and documenting abuses in authoritarian countries like Russia, the Philippines and others.
250%
More new donors acquired year over year
600%+
increase in number of new sustaining gifts over previous year
Steady and Reliable Base of Support
Year-end Fundraising
Following the surprise election of Donald Trump and ensuing rise of hate crimes and incidents of hate speech across the country, there was an enormous level of interest among supporters and allies in the community as to how Human Rights Watch would respond. So, we immediately threw out our plans for year-end and dug in – drafting emergency email appeal copy, launching new donation forms and website lightboxes, mocking up new donor acquisition ads for Facebook and Google. Nothing about that eight-week campaign resembled a "normal" year-end and it wasn't at all relaxing – but it was hugely successful for the organization and has now set Human Rights Watch up for long-term success.
Results
Allegiance Group was able to help Human Rights Watch acquire nearly 250% more new donors in 2016 than during the same period in 2015, which had previously been the record. Not only that, but the number of new sustaining gifts acquired increased by more than 600% over the previous year. These new donors will now provide a steady and reliable base of support for Human Rights Watch as they continue their work of holding governments' accountable, documenting and opposing abuses as they happen, and advocating for change in the US and around the world.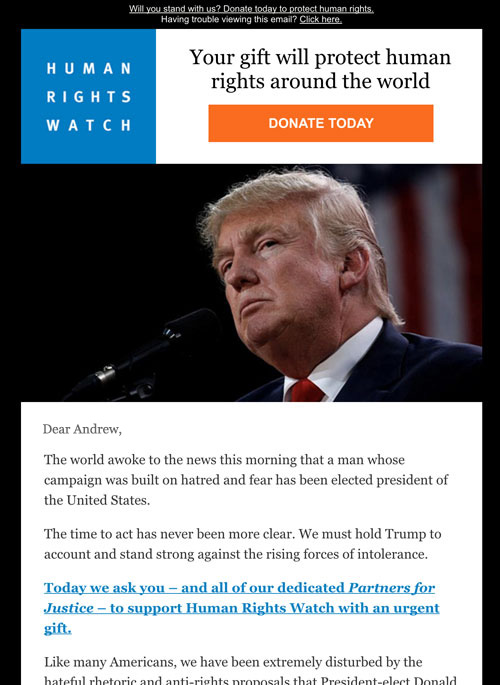 Be as bold as your mission. Partner with Allegiance.