New Mexico PBS's One-Agency Approach Pays Off
What We Did
Analytics & Insights, Digital Marketing, Direct Mail, Loyalty & Incentives, Strategy & Planning
Tools & Tech
Public Media CRM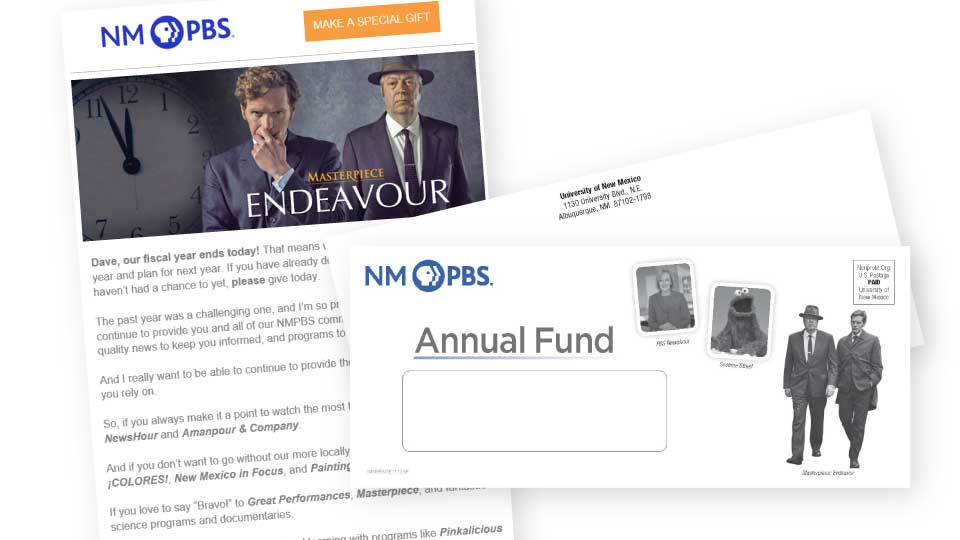 A leader in public television state-wide, New Mexico PBS provides PBS and local programming as well as innovative services connecting the people of New Mexico.
The Situation
A lot of stations like to spread their work around. They break up direct mail and digital work, and often they break up the direct mail even more — awarding only specific segments to certain agency partners. The logic often cited is that they don't want to "put all their eggs in one basket."
However, this builds silos within the stations' fundraising. It also creates more work for fundraising teams because they have to manage multiple vendor partners.
Tell me if this sounds familiar — It's the first day of pledge, your staff is working hard, everyone is busy, and you get a message that your agency partner needs a new data file for the appeal it's sending. But the message doesn't tell you whether it's your digital or direct mail agency. If it's a direct mail issue, which direct mail agency is it? The one you use for Acquisition and Lapsed, or the one you use for Add Gift? If it's for Acquisition, is it a list issue, maybe?
So you have to make three calls — one to your digital agency, one to the agency that handles your Acquisition and Lapsed, and one to the agency that handles Add Gift.
It doesn't have to be this way. What if you had one agency partner that could address all your needs — digital, direct mail, and more?
Wouldn't it be easier if you could make only one phone call to resolve your data file issue?
The Solution
By partnering with one agency to execute your fundraising — all of your fundraising — and breaking down the silos around your different fundraising channels, you create new insights, gain unique strategic advantages, and significant efficiencies in the process.
Take New Mexico PBS (NMPBS), for example. NMPBS is what we refer to as an Allegiance Super-User: That station uses Allegiance Group for all quarterly direct mail fundraising, our bi-monthly newsletters, and their annual digital fundraising program. NMPBS is also on the Allegiance CRM.
Here's how this all-In partnership positively impacts NMPBS fundraising:
New Mexico PBS has one point of contact for all direct mail and digital fundraising programs.

Imagine only having to call/email one person for these things.
Creative development is more efficient because Allegiance uses messaging points for both direct mail and digital and easily leverages strategic points across both channels.
When PBS rebranded and updated its logos, NMPBS only had to make one call for updates on all their email and fundraising mail. How convenient is that!

With a full 360-degree view of NMPBS's fundraising results, Allegiance can see what is working and not working, whether an issue is isolated or present across all segments, and make better strategic recommendations.
The station is able to integrate Allegiance's MemberCard to incentivize larger gifts and more sustaining donations.
Time Savings!

The Allegiance Staff Augmentation Service for CRM and fundraising agency clients pulls direct mail and digital files from New Mexico's CRM for all fundraising and newsletter email as well as direct mail campaigns! (Would this save your staff any time?)
Having Allegiance as their only fundraising agency means fewer meetings, calls, and emails for NMPBS.

Cost Savings!

Since Allegiance prints and mails all segments of the quarterly fundraising mail, NMPBS gets better pricing than using separate agencies for each segment.
The station also benefits from Allegiance's in-house direct mail acquisition list buys, data analysis, strategic list planning, and execution.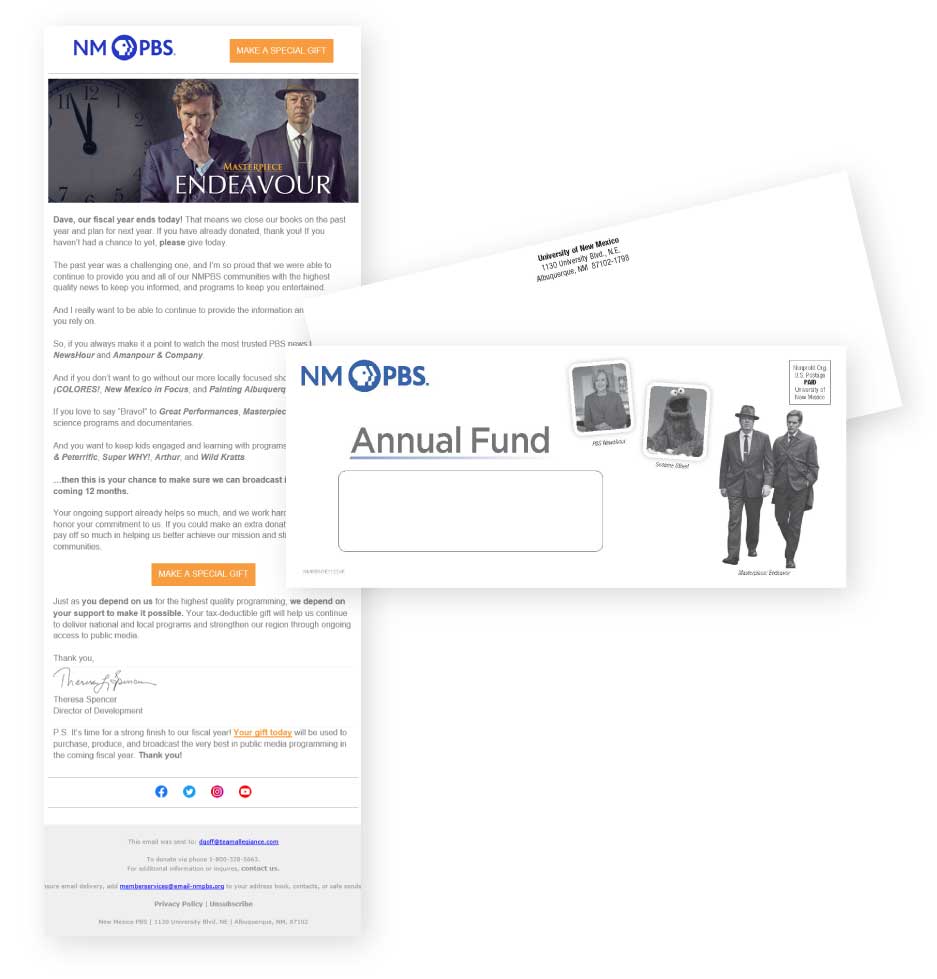 The Results
New Mexico PBS's fundraising program is running more smoothly and successfully than ever! By leveraging one agency for a broad range of services, NMPBS consolidated contacts and streamlined processes, saving costs and time and allowing their staff to focus on the many other tasks needed to run a successful public media station.
Take Calendar-Year-End digital, for example. Allegiance creates a robust strategy of emails starting before Giving Tuesday and running all the way through New Year's. Many of these require responder files after each deployment, just before the subsequent email is sent. The timelines are often very tight. But New Mexico PBS doesn't have to allocate staff time to any of those data pulls. We do it for them! There are no late files or delayed deployments, and the data are always accurate.
Conclusion
Fundraising is a year-round, multi-channel endeavor that requires a significant amount of your time, budget, and energy. You don't need to create more work by siloing your work with different vendors just in case something happens. By leveraging the full scope of Allegiance services, your station can consolidate its fundraising and benefit from the vast knowledge of Allegiance's full-service fundraising capabilities.
Put the power of Allegiance to work for your station today!