Food Allergy Research & Education Database
New search tool helps students with food allergies and their parents prepare for college
What We Did
Digital Marketing, Strategy & Planning, UX & Visual Design, Website Development
Tools & Tech
Drupal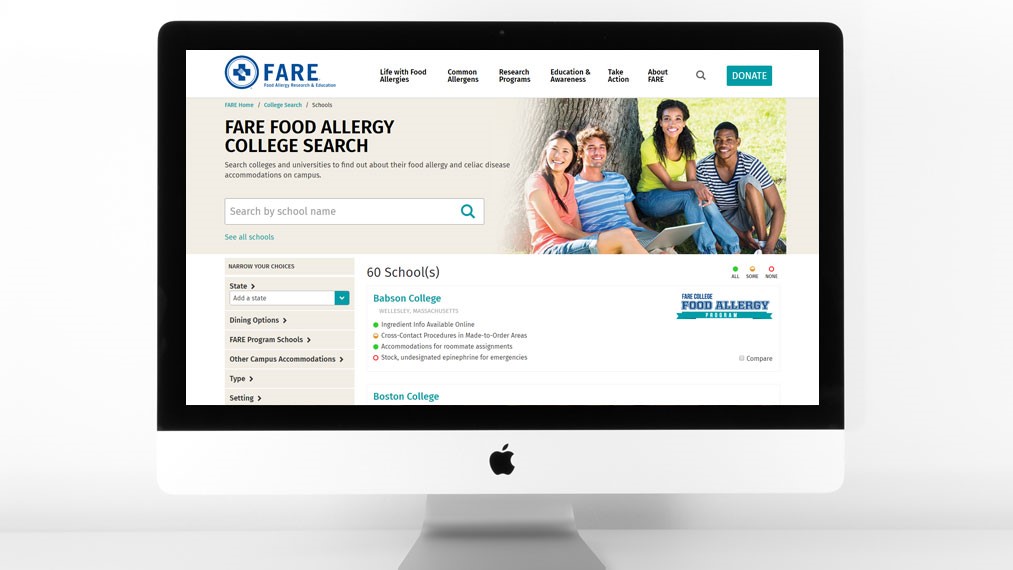 The Challenge
1 in 13 children has a food allergy. Food allergy reactions can be life threatening and are on the rise. As students begin looking at colleges, finding reliable information about how colleges accommodate food allergies can be an emotional and time-consuming process. Parents and students spend hours researching information on colleges' websites and trying to contact staff at different schools. FARE's College Food Allergy Program audits and tracks schools that make accommodations for food allergies and wanted to more broadly share this information with parents and students.
The Solution
We worked with Food Allergy Research & Education (FARE) to
Create a searchable database for parents and students to easily find information about food allergy accommodations at different colleges. Parents can search and browse the results, learn about the self-reported accommodations for allergies, and see which colleges have their services audited by FARE.
Update the manual document submission process for colleges to submit their allergy accommodation information for review by the FARE team to an online automated questionnaire.
How Did We Do It?
We researched our audience's needs.
FARE has a strong community of parents and students with food allergies. We researched parents' and students' concerns about food allergies and college by conducting interviews, and surveying social media sites and blogs to inform the user needs and requirements for the search database.
We interviewed parents and high school students and listened to their concerns about going to college and challenges in finding accommodation information.
We worked with FARE from soup to nuts.
We partnered with FARE to bring their vision online. We outlined a phased and iterative approach that focused on two milestones:
Getting a college profile collection prototype launched to gather data from colleges prior to the beginning of the busy back-to-school season.
Getting a search prototype launched ahead of FARE's teen summit for initial user feedback.
We focused on the content.
Each school profile contains a lot of information about each school's food allergy accommodations. We edited the content and presented it in intuitive ways that let users skim the content but then also dive in deep into the details without losing their place or needing to jump around.
We promoted it.
If a tree falls in the woods, does anyone hear it? We knew we couldn't build a website and not market it. We incorporated SEO and marketing strategies throughout the process that helped FARE reach their intended audiences.
We created a marketing strategy and materials like emails, social media posts, conference presentations, and postcard handouts to support FARE's communications efforts.
We tested and improved.
We launched a beta version of the site in April 2017. Over the summer, we conducted usability tests, gathered feedback, and reviewed the site analytics. We validated that our priority features for the next version of the site were wanted and needed. We made other changes to the language and design based on how we observed people using the site. For example, we heard during user testing that the recency of information is really important to parents, so we added a "last updated" date to each college profile.
In the fall of 2017, we launched an updated version of the site with additional features, including a way to compare multiple colleges at once in a single view.
Results
This search tool has driven change on college campuses. Disability officers, dietitians, and dining services staff use this tool to encourage their schools to offer better accommodations to students with food allergies. Feedback from our audience also has been positive. As one parent said "[The website is the] best combination of info when it comes to the college search."
Helping students and parents easily find the information they need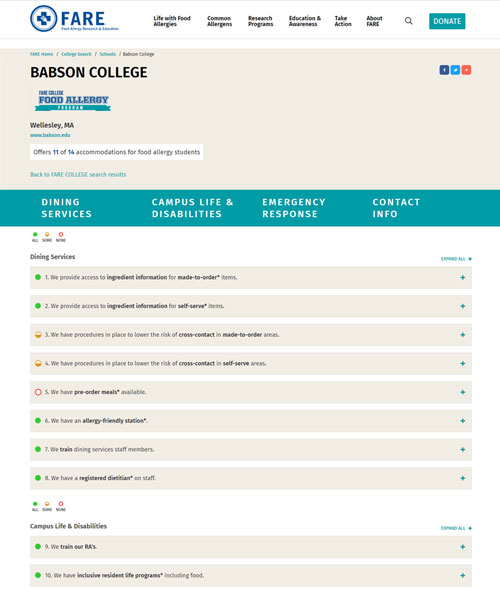 Be as bold as your mission. Partner with Allegiance.