KDFC
Small changes lead to 85% revenue increase in E-Renewal series
What We Did
Digital Marketing, Direct Mail, Strategy & Planning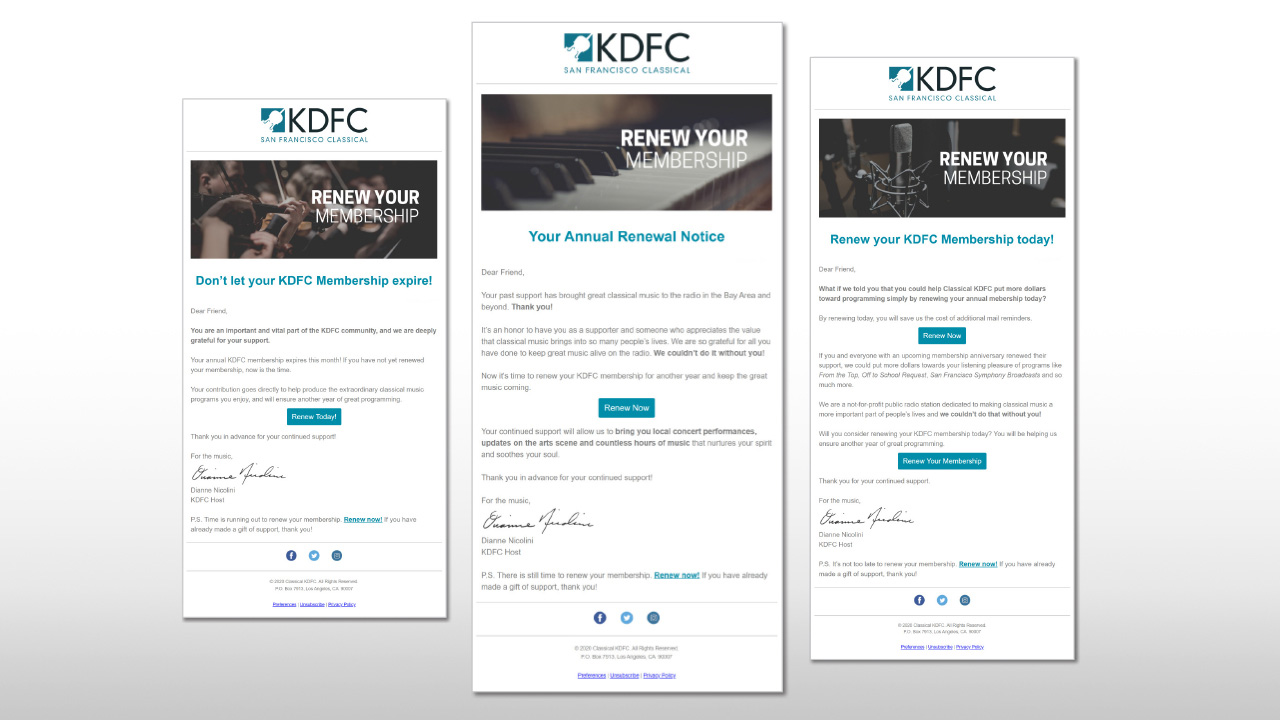 The Challenge
KDFC, a classical music station in San Francisco, had been experiencing a decline in the response rate of their E-Renewal series, which hadn't been updated for several years.
The Solution
In response to that decline, in fall 2018, Allegiance Group undertook a program audit that resulted in the following recommendations:
Improve mobile-friendliness to accommodate the growing number of donors viewing emails on their mobile devices.
Rewrite subject lines — putting the highest impact words first (only the first 25 characters of a subject line are visible on a mobile device).
Test subject lines that mention renewal vs those that don't.

Ex: Control: "Your support is expiring – renew now!"
Ex: Test: "It's not too late" or "Time is running out."


Refresh body copy:

"Renew Online" is an outdated phrase. The recipient is reading the message electronically so they're already online.
Change "Renew online right now…" to "By renewing today…"
Change "If you and everyone with an upcoming membership anniversary renewed online…" to "If you and everyone with an upcoming membership anniversary renewed their support…"
Make the high-impact statements bold type so they stand out, especially to the segment of the file that only scans the email.


Replace text links with buttons, with at least one button showing above the fold.
Exclude donors who aren't email responsive.
At our recommendation, KDFC removed inactive donors who hadn't opened or clicked through emails for the prior 6 months, resulting in 3,100 fewer emails sent.
The E-Renewal series was updated to reflect the above changes and started deploying in December 2018. No other changes were made to the creative, offer, or donation page.
The Results
New subject lines, updated copy, and more prominent CTA buttons helped to highlight a strong case for support, and donors were inspired to click through and give in a big way. The updated E-Renewal series generated a 92% lift in the response rate, which was a driving factor in achieving the 85% increase in year-on-year gross revenue.
| | | |
| --- | --- | --- |
| | Response Rate | Rev/M |
| Original Series | 0.78% | $791 |
| Updated Series | 1.50% | $1,675 |
The Takeaways
Nearly 50% of website traffic now comes from a mobile device, so if you're not sending mobile-optimized emails with calls to action that lead to mobile-optimized donation pages, start there. It's a sure-fire way to increase the response rate. Find your organization's own mobile website statistics by deploying Google's free analytics tools.
You might be inclined to email everyone on the file because it only costs pennies. Here's why that's wrong. The right select enhances your deliverability rates and allows you to target the segments that will generate revenue. While sending emails to engaged donors is certainly a contributing factor to the response rate growth, KDFC now also has better, more efficient list metrics to strategize and forecast with. (For those inactive email addresses, consider reactivation campaigns to bring back constituents who have not engaged with you recently.)
Looking to enhance your digital marketing and direct mail fundraising?