10 Essential Things Your Nonprofit Should Do at Year's End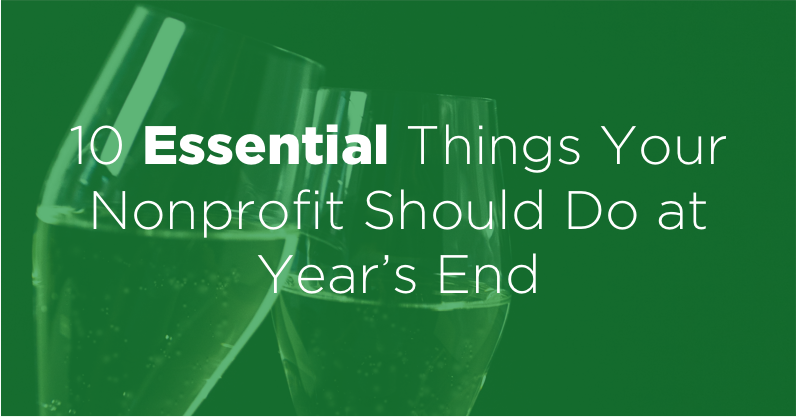 The end of the year is the most important time for nonprofit organizations. One dollar out of every five is donated in December, which keeps your volunteers and staff busy, but there are a number of IRS and state requirements that also coincide with the close of your fiscal year. By addressing government and recordkeeping activities, you will close out 2015 cleanly (and hopefully without too much stress!), and help set the tone for success in 2016.
We like to call this set of activities "end of year compliance." Your nonprofit may have different or many more tasks than this list below, but here are the top 10 to look out for.
1. Hold an annual meeting
Your organization is required to have at least one annual meeting, though you probably meet more often for practical purposes. At that meeting, you will review the current year's performance, budget for next year, and address many of the items on the rest of this list. Be sure to keep minutes of this meeting!
2. Elect officers and directors
The term limits of your officers and directors may be up for renewal. You may also wish to elect new directors. Your bylaws are generally the document that govern procedures here.
3. Prepare Financial Reports
During your annual meeting, review your numbers from the current year. How did your actual numbers compare to your budget? What percentage of revenue went to your charitable purpose and programs? Depending on the size of your organization, you may need to have your financial statements reviewed or audited by an independent CPA.
4. Approve next year's budget
At the annual meeting, discuss and approve a budget for next year's programs and expenditures.
5. File IRS Form 990
If your fiscal year ends December 31, then your IRS Form 990 "Return of Exempt Organizations" is due May 15, 2016. While this seems like a long time, large and complex organizations need to prepare extensive information on leadership, programs, contributions, and much more. Preparation to file this document begins the moment your year ends!
6. File your Secretary of State Annual Report
Almost every state requires you to file an annual report with the Secretary of State in order to keep your nonprofit (the legal entity) in good standing. You will also update the state with new addresses and changes to leadership. If your nonprofit is registered in several states, you are accountable to file in each state (and you can bet they're all due at different times!).
7. Maintain a registered agent
Every state requires that you maintain a registered agent in each state where your organization has registered. If the agent is an individual, are they aware of the duties of a registered agent? Is that individual still associated with your nonprofit? Have they moved? If any of those things has changed, you'll have to file with the state to update your registered agent. Consider using a reliable registered agent company, which means by paying your annual invoice, they'll receive important government and legal reminders, and maintain a reliable address for you.
8. Obtain or renew charitable solicitation licenses
Most states require your charity to register in their state prior to fundraising for a charitable solicitation license. That license must be renewed annually in almost every state. If you fundraise in one state, keep that date on your calendar. With multiple states or nationwide registrations to manage, this can be a complex task. Remember that there are service companies that can help you.
Donor research is integral to a successful fundraising campaign, but remember, those donors are also researching you by checking state databases before they give. Don't risk losing out on a big gift because you haven't registered!
This is separate from your 501(c)(3) exemption, and is sometimes overlooked. It's a detailed subject, so if you are unfamiliar, take a look at New York as a single example. Note the government agency, registration and renewal fee, and due dates – and that's just one state!
9. Review solicitations and donor receipts
Do your donor receipts and solicitations meet IRS guidelines? Have you included applicable state disclosure statements?
10. Update, Update, Update!
Organizations evolve. It's important to make updates to public and internal records as they happen, whether it's to your bylaws and other policies, filing changes of addresses with the state and other important agencies, and the IRS. The end of the year is a great time to review the changes that have occurred over the previous year.
So, why is all this important?
As a nonprofit executive, you have several stakeholders: state and federal governments, your members, your individual and corporate donors, partners and other supporters, and the community that you serve. While your compliance responsibilities are ongoing, the end of the year is a great time to assess and plan. Doing so helps you stay in good standing, demonstrates your organization's credibility to the public at large, and allows you to operate, fundraise, and grow.