15 People Doing Wonderful Things in the World That Will Make You Smile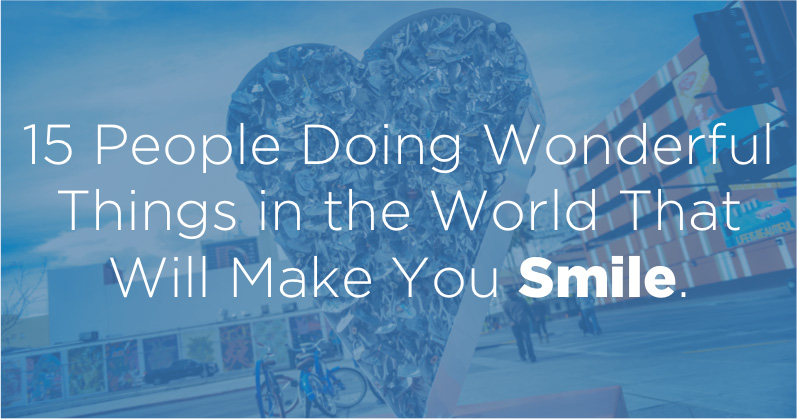 Hey, 2016, it's me, Andrew.
Listen, you've been looking pretty rough lately. Is everything okay? Why do you have to keep throwing all this craziness at us?
It seems like every week; there's another case of violence, hatred, or bigotry being splashed all over my Facebook newsfeed.
Minnesota, Orlando, Baton Rouge, Dallas, Nice, Baghdad, and on and on and on.
Every terrible story brings along a new wave of vitriolic anger and arguments in the comment sections. I've even been seeing arguments on LinkedIn lately! Really? LinkedIn?!
And we STILL have an entire election season to get through. Gross.
Enough already. I need a mood booster to keep me pushing forward and looking at my fellow humans with a smile rather than a glare of suspicion. 
After all, this is a blog for nonprofits! We have mountains of "feel-good" stories!
I want to share warm fuzzies with you because I'm sure you need them too. Read 'em. Share 'em. Smile at 'em. Bookmark it and come back to it later when you need a boost.
Oh! And leave a comment sharing your own feel-good stories!
Khloe Kares
Khloe is an 8-year-old girl who lives in Southern California. On her way to school every day, Khloe would see the same people struggling with homelessness. She wanted to help.
So Khloe started sewing sturdy bags people could use to hold and carry their belongings. She then stuffs each bag with deodorant, soap, feminine products, socks, and more. Then she hand delivers the bags to people in her area, along with a hug.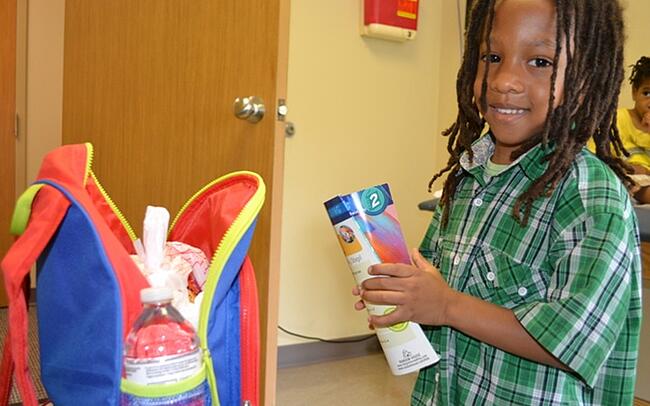 1 in 4 children in North Carolina is at risk for hunger. These children receive balanced meals at a reduced cost from their schools, but those meals aren't available for them over the weekend. Our friends at Inter-Faith Food Shuttle fill this gap with their #BackPackBuddies program. Children in need are sent home with a backpack full of healthy meals and snacks at the end of every week, ensuring nutritious food over the weekend.
They just held their annual fundraiser to support the program. The goal was to raise $100,000.
They raised almost a quarter of a million.
When penguins get caught in oil spills, they try to clean their feathers. But ingesting the oil is harmful to them. So this guy knits tiny sweaters to keep the penguins safe.
Black Girls Code's simple mission is "to introduce programming and technology to a new generation of coders." By connecting young women of color with the resources they need to learn computer programming, they're opening up new economic doors and changing the face of the tech sector.
Our friends at the Clearwater Marine Aquarium are doing amazing work rescuing, rehabbing, and releasing sea turtles in the Gulf area of Florida. Most remarkable, they attach GPS trackers to the turtles before releasing them so you can track where they've traveled.
Just look at this little guy book it for the ocean!
I've noticed something pretty magical in the beautiful city I call home lately: some mysterious artist has been leaving love letters that offer words of encouragement in random spots on the streets and trains!
Who doesn't need a little pick-me-up now and then?
Graham Helft is a tremendously talented guitar player, especially considering his age. Best of all? He's using his talent to fund a good cause. Graham plays on the streets of Indianapolis for tips and donates the money to Riley Hospital's music therapy program
Games Done Quick is a bi-annual charity gaming marathon. Gamers perform "speed runs" of various games, streamed live to viewers, who donate to the cause. The latest event raised $1.3M!
When your family has a special-needs member, it can be hard to find places to go for fun that offer the support they need. Eli Project's "Big Day Out" is an event that celebrates these families and gives them a chance to cut loose and have some fun.
Submitted without comment.
An affordable housing solution is desperately needed for people living in extreme poverty worldwide. This entrepreneur had an idea: why not make it out of discarded plastic, thus solving two problems simultaneously?
St. Saviour High School Student Finds Success
Another local one from our friends at St. Saviour High School! St. Saviour is an all-girls school in Brooklyn on a mission to empower young women to change the world. Christine Bove, St. Saviour's Director, Advancement and Alumnae Relations, sent along a short story about a student who came to the school in 2013. Her name is Yao. She spoke very little English when she arrived but was eager to learn and make friends.
She recently graduated and will be attending Baruch College in the Fall! Way to go, Yao!
Devonta Freeman is a multi-millionaire. Yet when he saw his neighbor struggling in the Atlanta heat with some yard work, he decided to stop and lend a hand.
Not to mention, he is a fellow Florida State University alumnus. What's not to like? 😉
Watching Alton Sterling's son cry over the loss of his father during a press conference was one of the hardest things I've ever watched. But strangers banded together to raise $700K to send him and his siblings to college.
Through the Boys and Girls Club of Indianapolis, prominent business leaders lent their time to offer to mentor young women. By lending their time, these business leaders are helping provide a vital resource that can positively affect their future. Many girls in this program come from rough neighborhoods where violence and drugs are constantly around them.
Inky Johnson had overcome countless challenges in his life to achieve football success. He was poised to become a top draft pick in the NFL and make millions of dollars. Then an injury on a routine play changed everything. But he didn't let that stop him from success.
When a Facebook user used xenophobic language to urge people to avoid a restaurant simply because the owner is Muslim, this community in Kansas responded in a big way. They planned a big meet-up at the restaurant to help send some business to the owner.
"They love our food. We are a friend of so many people."
Your Work Matters
If you're reading this and you work for a nonprofit, please know the work you're doing matters. Whether you're saving animals, feeding children, protecting families, assisting students, or anything else: thank you for what you do.
It's a harsh world out there, and sometimes the only bright spot we have is the work of our mission-based organizations.
Keep it up, friends.