25 designers + 6 clients + 24 hours = CreateAthon DC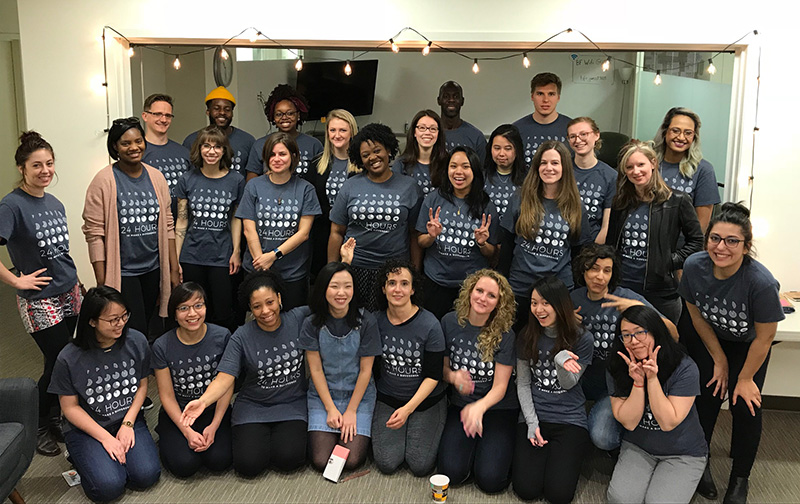 25 CreateAthon designers ready to get to work
---
Can 24 hours of design change the world? That was the question posed by the CreateAthon, AIGA DC's yearly pro bono design event, hosted by Beaconfire RED.
At 10am, Saturday April 7th, 25 intrepid designers and copywriters arrived at our Arlington office – armed with laptops, pillows and even yoga mats – to volunteer a full day (and night) of their time and talent to help 6 selected local nonprofits solve their marketing challenges:
Having been in their shoes myself when I used to volunteer for this event, I knew what the next 24 hours had in store for these brave creatives. Client discovery, concepting, planning, execution, all with teammates they'd never worked with (or even met) before. Sounds crazy? Sure. But in the best possible way. I firmly believe that work created under constraints can be the most creative and compelling, which is why our own design process at BF RED incorporates these skills/techniques.
AIGA DC's planning committee fueled the volunteers throughout the event with coffee, tacos, pizza, and snacks as well as notebooks and enough sticky notes and office supplies to take design thinking to the next level. Beaconfire RED was thrilled to support the designers with tons of space to collaborate, whiteboard walls to brainstorm on, and bean bag chairs to ideate (or sleep) in.
---
---
---
---
---
Additionally, several BF RED staff members – Rosa Del Angel, Sara Hoffman, Jared Schwartz, Matt Handverger, and Kristin Niemi Gillig – volunteered their Saturday morning to mentor the teams, offering their insight on fundraising, brand strategy, and digital marketing.
Throughout the event, the designers worked tirelessly but still took time to nourish their souls through late-night guided meditation and early morning yoga:
---
Oh, and if anyone doubts the whole 24-hour part of the event, I submit the following without comment:
---
On Sunday morning, the caffeinated and slightly bleary design teams presented their work to their nonprofit clients, who were overwhelmed and grateful for the remarkable outcomes accomplished in such a short time. The final deliverables ranged from style guides, new logos, social media strategies, brochures, marketing one sheets, and even a video.
As for yours truly, I was lucky enough to spend the whole time (save a few hours of sleep on a colleague's office floor) with all these passionate creatives. Seeing how they tackled the challenge head on reminded me of how powerful design communication is, and why I love what I do. I was inspired by their energy, teamwork, and commitment to nonprofits who could only have dreamed about this level of work otherwise.
So can 24 hours of design really change the world? It did for the organizations that these heroic creatives helped during CreateAthon DC.
The designers at the end of CreatAthon watching client design presentations at 10am on Sunday
---
About the CreateAthon:
CreateAthon began as a single program developed by one ad agency for ad agencies. Over 17 years, it has grown exponentially to include not just ad professionals but also students, corporations, and creative organizations. Visit http://createathon.org for more info.