COVID-19: How to Fundraise During the Coronavirus
We are in unprecedented times, both professionally and personally.
Dr. Patrick Rooney of the Lilly Family School of Philanthropy says "there is not another historical episode with relevant data to which we can compare" and that there are serious short-term and long-term consequences, depending on how long the economy takes to recover.
In the short term, the impact of canceled events and the hit on investment accounts for major donors and all donors will likely mean reduced revenue for most nonprofits, unless they or their audiences are directly impacted by the disease. Read the full article below.
So let's start with something positive: Your donors STILL care about your cause.
But they may not be in a position to give right now or at the same level, either from financial circumstances, distraction or fear. But some may.
It's too early to tell as of the date I'm writing this post, but we're seeing lower response and lower average gifts for the most part to digital campaigns, with a few exceptions. We're watching how the crisis is affecting mail, but, again, we don't have enough data yet.
In the meantime, here are a few things you should be doing.
Engage. Delight. Inform.
Every nonprofit has resources already created that you can share with your supporters, whether it be white papers, quizzes, expert articles, webinars, videos, games, recipes, tips, online chats, live streams, virtual events, or other. Resurface existing content, update as needed, and send them out. Advocacy and petitions are also great ways to keep donors tied to your mission.
Now's also the time to start creating new content – and the time to work with your Marketing and Communications colleagues, who excel at creating great content.
Why? You want to:
Keep your brand and cause top of mind with your audience. Nonprofits and donors have a very personal connection (people give from emotion) and you want to keep that relationship going.
Attract new prospects and potential donors with compelling, interesting content that is relevant to them. This is a great opportunity to do lead gen.
Use email, ads, social channels (paid and organic), SMS and even mail, if affordable, to send out communications and stewardship messages.
All your content should require an email address, unless you already have it. You're growing your list and creating good feelings at the same time.
And, think beyond one-time engagements. If they finished the quiz, what's the next action? Design your landing pages with that in mind.
Think dynamic pop-up lightboxes or embedded forms.
Here are some examples of orgs that made the connection and sent emails with very helpful and relevant messaging.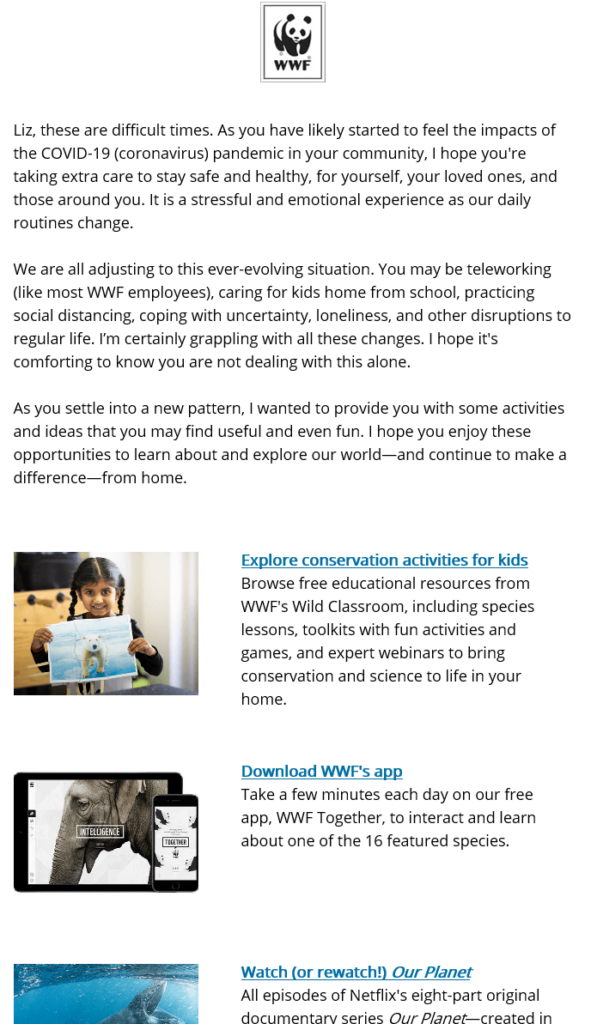 Create a Coronavirus Content Hub
If you are one of the organizations with relevant resources for your supporters around COVID-19, be sure to create a resource section of content on your site, where users can easily find it as well as search engines.
Use an alert bar at the top of your site or a lightbox that links to a landing page with your related content.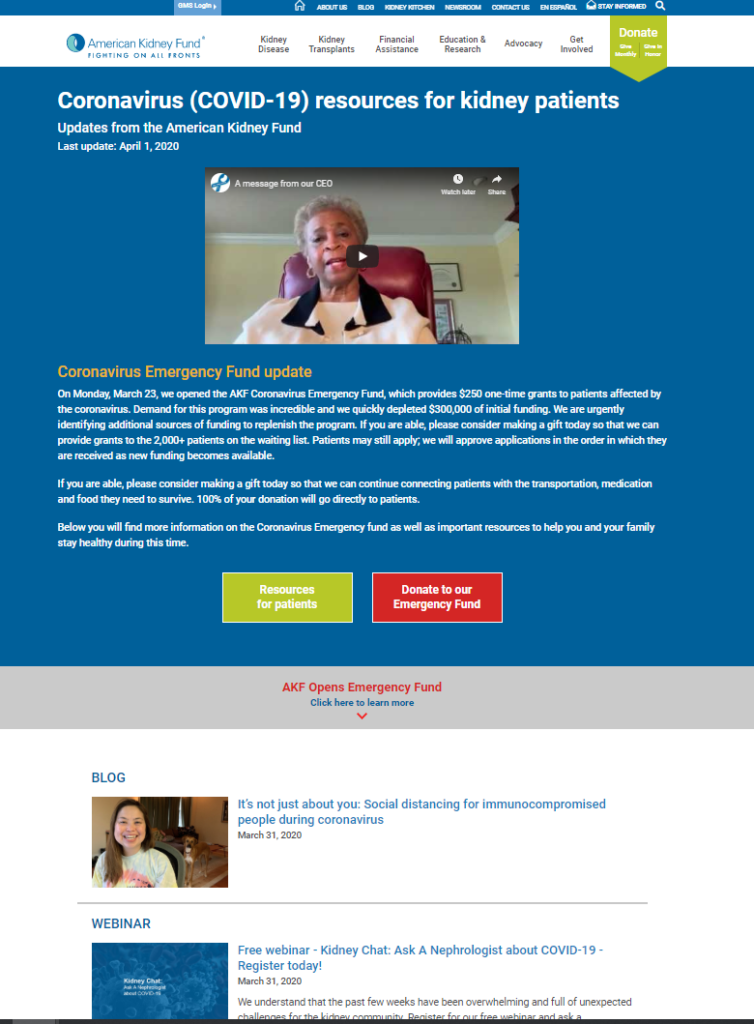 Marketing 101: Know Your Audience
The circumstances of your donors have drastically changed in the last weeks/month.
Consider creating new personas that reflect those circumstances and then create messaging that would be relevant to them. Major donors and low-dollar donors, in particular, would be worth creating new personas.
Put yourself in their shoes and imagine you're having an in-person discussion with them. Then, write or adjust your copy.
Show and Tell with Video and VR
I've been saying for years that we need to empower our donors to virtually experience the impact of nonprofits' work. Yes, we're good storytellers, but how do you really show where the money goes and how can donors see the impact of their gift on the recipients? You're seeing the power of face-to-face video conferencing tools and connections now with your family and communities. How can you harness video, virtual event tools, and face-to-face tools to connect your donors to your program work and audiences?
This is a creative challenge that you may want to think through as you shelter.
Fundraise with Empathy
While I've been besieged by retailers with sales emails, most nonprofits are rethinking what they are sending. And that's the right thing to do. Your packages, emails and ads must recognize this new world of scary press conferences, financial uncertainty and fear of illness or worse.
Be authentic and relevant. You all have heard this a thousand times by now. Your creatives need to be working overtime crafting language about this. Think about your top campaigns and services and then look through the lens of today's world. Will that still resonate? Will "x" stop/not stop without funding?
Copywriters are in high demand rewriting and adding new language to digital campaigns and additional pieces to the mail. Since it looks like the situation isn't ending soon, you'll need to rewrite based on the latest news as late as you can. Maybe write a few scenarios.
You may want to promote a new giving incentive also: the CARES Act provides every American (even those not itemizing) with a $300 charitable tax deduction in 2020.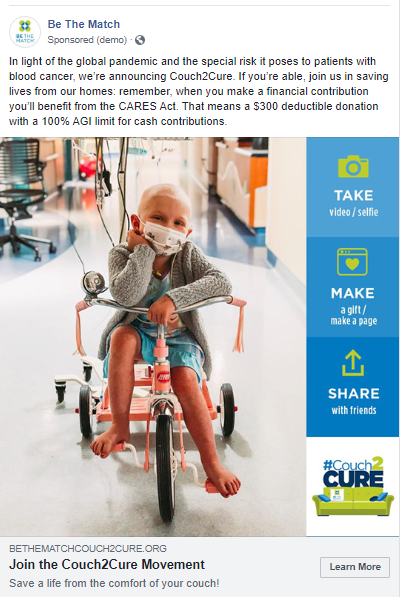 And be sure your nonprofit is registered at AmazonSmile, smile.amazon.com. Remind your supporters that they can shop on AmazonSmile (same products, same prices) and the AmazonSmile Foundation will donate 0.5% of the purchase price of eligible products to your nonprofit. If your organization hasn't already registered, go here: https://org.amazon.com/.
Digital Fundraising Options
Do a test in digital (far easier) and only send emails and ads to a small percentage of your file and hold out the rest. Then, see how it went. Worth the effort? What groups responded or didn't?
An interesting fact. One of our clients tested using COVID language vs. not in a test and their current donors responded better to the non-COVID language. You never know, right?
We're also seeing fundraising success in digital advertising for some clients, so you may want to run a test. It's not surprising, considering the world is now glued to media and social sites.
And look at amping up – or starting – Facebook fundraisers or a crowdfunding campaign if your email list or other ads aren't performing the way you want.
Fundraise where they are.
Google Ad Grants (it's free) and Facebook (organic or paid) are also great channels for testing any new messaging. Don't forget to add a special link to your Google Ad sitelinks if you have coronavirus content on your website.
Test (or Rollout) with Lower-Dollar Asks
It's certainly legitimate that some donors don't feel comfortable giving at their past levels. Think about testing new, lower ask strings during this time.
Safeguard and Grow Your Sustainers
Consider turning your next fundraising campaign into a sustainer-first ask. Sustainers have become more important than ever and this event underlines their importance to your organization.
If you're not offering EFT, add it now. With a nearly 90% retention rate, they are so valuable.
Most importantly, you likely are getting calls or emails from concerned sustainers asking to cancel. Offer them three months of deferred giving and the option to reinstate after that. Check with your eCRM provider to see how to do this. I was inspired by offerings from automakers, who are offering deferred car payments from 90 days to 6 months.
Also, arm your donor services staff with a new script. And, don't forget to check any automated email or telemarketing series, sustainer or not, and do appropriate rewrites.
Check the Numbers Like Never Before
While there isn't yet enough data to tell you much (other than perhaps you're seeing lower dollar gifts if you are fundraising), make sure you're analyzing like crazy – and adjusting quickly depending on what the data is telling you.
Open rates for emails are another area you should be looking at with every send. So many are glued to their screens reading news. You should consider resends to folks if you're seeing really low numbers.
This where the data crunchers are most needed!
Keep Going!
Keep the communications – and fundraising – going, while looking at the frequency and relevancy to what's going on in your donor's world.
History has shown us we shouldn't stop donor acquisition and endanger your supporter base for the future.
And remind yourself why you got into this business in the first place – because you care deeply about improving our world and those who live in it. We are determined, relentless and we won't let even this frightening situation stop us!
Resources
Here are some resources on fundraising and stewardship during COVID-19:
Innovation and disruption are Trendwatching.com's daily work. Download their "Trends for a Post-Coronavirus World" (107KB pdf)