(More than) 15 useful, creative and odd Google mashups
Google Maps is a free web mapping service application that allows developers to create "mashups" with other data and embed the map on third-party websites via the Google Maps API.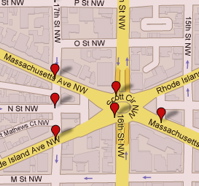 Tons of groups and individuals have come up with some really interesting map tools that display everything from American Idol contestants" hometowns to localized crime data. The best part about the Google Maps, compared to its competitors, is the high level of user interactivity that allows you to drag the map and double click to zoom (by performing asynchronous network requests using Ajax so grid squares are downloaded from the server and inserted into the page). While you can translate almost any data points into a map, the keys to a successful mashup are simple: a map should make the data more useful or relevant and there should be multiple data points that, ideally, can build over time with user input (i.e. the Seven Wonders of the World map falls a little flat).
Here are some examples of interesting Google Map mashups, including one that Beaconfire built, to show the breadth of what can be done (and what we can help you do!).
For more, check out NetSquared, Google Maps Mania blog or this website.