Georgia Mountain Food Bank
What We Did
Direct Mail, Strategy & Planning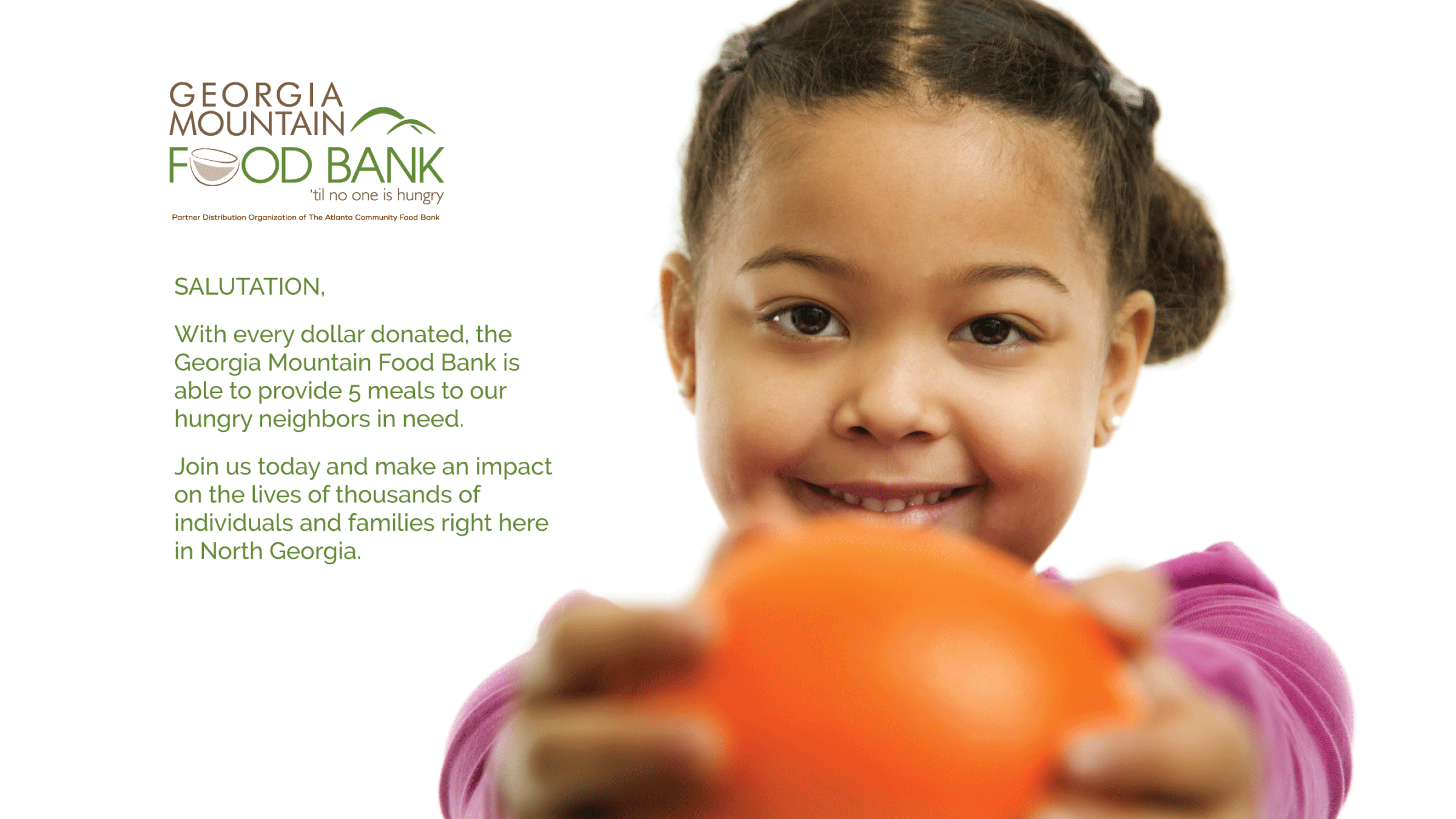 Georgia Mountain Food Bank (GMFB) is dedicated to serving its five-county region in north Georgia. GMFB programs and partners help about 570,000 people with low incomes access healthy food each year.
The organization is focused on compassion: It's dedicated to keeping barriers to access low, and the primary goal is to help people get the food they need. Volunteers and advocates are the backbone of the nonprofit.
As a partner distribution organization of the Atlanta Community Food Bank (ACFB), GMFB had an imperative need to establish a marketing niche that distinguishes its brand and mission from similar nonprofits in the area and highlights programs and services distinct from those of ACFB.
Starting the Partnership
Initial outreach from Allegiance led to a discussion between Robert Shippey, GMFB development director, and Kelly Lavieri, business development manager at Allegiance. With a detailed explanation of Allegiance's approach to marketing and support in hand, the two organizations developed a valuable level of trust and understanding.
"I found immediately in Ms. Lavieri and in Allegiance, a company that put its words into actions," Robert said of the beginnings of the relationship. "We created a marketing plan, established an Allegiance support team, and committed to a bi-monthly meeting schedule."
After completing a dedicated planning phase — planning the work — it became time to work the plan.
The Results
With crucial input from Allegiance staff members Gina Sibila, project manager, and Liz Lowe, data manager, GMFB realized substantial and speedy improvements in its marketing efforts. One especially notable success came in direct mail response and donations. Key advances made from 2019 to 2020, when Allegiance started managing this part of operations, include:
61% increase in the number of gifts.
104% increase in the amount given.
27% increase in the average size of gifts.
"Gina and Liz have been timely in their responses and always, always willing to make sure that what is communicated is timely and indicative of the message GMFB wants to convey." Robert said. "Important in this regard is our insistence that stewardship of donors is paramount."
I have found Allegiance to be invaluable in crafting our unique brand, in being responsive to our needs and strategies, and in being a trustworthy partner committed to excellence.
Despite an increasing need to solicit funds to address the needs of individuals and families facing food insecurity, GMFB has seen significant growth in donations from its donors. Allegiance has played a critical role by assisting GMFB in carefully planning and carrying out its donor stewardship efforts before the nonprofit ever engages in an ask or starts to cultivate a supporter for a larger gift.
60%
Increase in Number of Gifts
104%
Increase in Donations
27%
Increase in Average Gift Amount