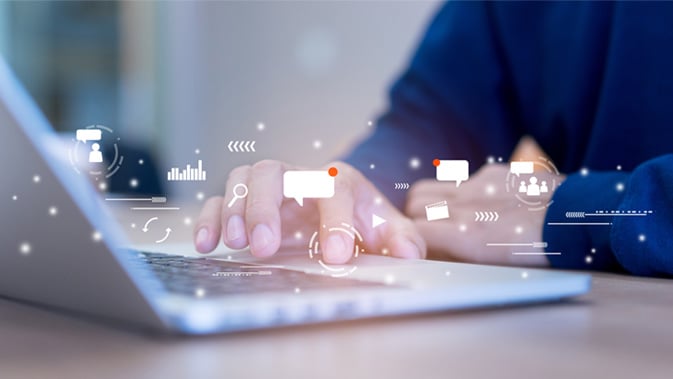 Nonprofit Digital Marketing
Growing supporters, fundraising, and advancing your mission
Nonprofit Digital Marketing
Digital marketing uses online tools such as email, search engine marketing (SEM), display advertising, website content, and social media to reach and communicate with your audience.  To effectively deliver content across these channels, we build story arcs to blend stewardship, engagement, advocacy, and fundraising communications, bringing your mission to life and helping you to achieve your goals.
Strong digital marketing should also integrate with channels such as direct mail, telemarketing, events and media, personal relationships, and more. When building your digital marketing plan, we always consider a wide universe of communication options and how they boost one another.
For example, integrating digital marketing efforts with direct mail campaigns is a best practice to ensure messaging consistency and positive performance. From coordinating emails and targeted advertising to reinforce direct mail packages to crafting more custom campaign content that flows between the channels, we develop an approach to fit your organization's needs.
Allegiance's digital experts will help you create a digital strategy framework, craft your messaging with the right tone and voice, and deliver it at the right time and frequency, in the right channels to the right people, for the best results.
Strategy & Planning
Every engagement starts with data to inform the strategy, providing a base to bring your digital marketing plan to life. By setting program objectives, measurable goals, a detailed roadmap, and, most importantly, a feedback loop, we are constantly evaluating and iterating on successes to leverage the best-performing opportunities. 
Approaches to building a digital marketing strategy include content strategy across your digital channels, especially search engine optimization (SEO); designing lead generation, acquisition, and upgrade programs; and testing and optimizing renewal and reactivation campaigns.
Copywriting, Design, & Development
As critical as strategy and planning are to digital marketing, copywriting, visual design, and campaign execution are just as essential. To inspire supporters to join your movement, you must craft a compelling, user-centric digital journey – and deliver it to the right people in the right channels. We holistically manage your digital marketing from start to finish by copywriting, designing visual assets, building emails, forms, and web pages, developing paid advertisements, and launching them to the world. 
Services include:
Copywriting of email, web, advertising, social media messaging, including SEO content writing for your website
Visual design of email, web, advertising, and social media graphics, email stationery/templates, interactive content
HTML production and deployment of emails, donation forms, advocacy actions, web pages, and custom content within your eCRM/CRM
Production and deployment of digital advertisements
Rapid-response campaign toolkits
Digital Advertising
Advertising is a proven tactic to improve the reach and effectiveness of your digital marketing efforts. Whether your focus is fundraising, advocacy, stewardship, or content marketing, our experienced team can do it. Keeping your goals in mind, we tailor an advertising plan to meet your needs.
Integrated ad campaigns with email or mail are very effective for meeting audiences where they are and providing multiple touchpoints.
Working back from your goals, we identify the best platforms to reach your audiences and the most effective ad formats, offers, and creative to test. We then produce the ads for you and optimize the campaign throughout to get you the best results and revenue. A detailed campaign report provides critical metrics, actionable insights, and recommendations for the next campaign.
Our advertising services include:
Donor acquisition and reactivation campaigns
Sustainer acquisition and upgrade
Lead generation program design
Second and subsequent gift program design
Form abandoner retargeting
Website visitor retargeting
Brand awareness building
Ad platforms we work with include:
Paid Social Ads

Facebook
Instagram
Twitter
LinkedIn
Pinterest
Reddit
Snapchat

Search Engine Marketing (SEM) Google Paid Search

Google Grants
Bing
Search Engine Optimization

Display Advertising
Programmatic Display

Programmatic Video
Google Display Network
YouTube and other video platforms
Analytics & Insights
Understanding how all of your digital marketing channels work together — and with other channels — starts with properly collecting the right data. Our data analysts will turn your results into actionable insights.
Cross-channel measurement is a large part of our expertise, not just across digital channels but understanding the influential relationship between online and offline marketing programs. Armed with this information, we then build a multi-channel marketing plan to create a unified experience for your supporters.
Our Analytics services include:
Reports and Dashboards, including real-time web-based dashboards
Cross-channel Measurement – measuring between databases (digital and direct mail CRMs, advertising platforms, etc.) and web analytics tools such as Google Analytics or Adobe Analytics. 
Revenue Projections and Forecasting
Performance Benchmarking 
Optimization & Testing
Email Campaigns & Automation
For most organizations, email is the number one most effective communication channel to engage with supporters on a regular basis. Email can take many forms, including individual messages, a campaign message series, and email automation. Our expertise includes calendar, campaign, and series planning, typically focusing on content and communication arcs to help you tell your story and inspire action. We will craft an email journey for your supporters that balances their need to receive information with your need to raise money, increase support, and move your mission forward.
Our email services include:
Campaign planning
Automated series planning, including message logic and requirements, production, and QA
Copywriting
Email template/stationery design
eCRM system management – tracking, HTML production, quality assurance testing, record management
Audience and list segmentation
Reporting
Platform expertise:
Blackbaud Luminate Online
Engaging Networks
EveryAction
Salsa
Charity Engine
Salesforce Marketing Cloud
Mail Chimp
Constant Contact
As a public media station, you always must stay "top of mind" with your donors. And, the best way to do that is to use the multiple tools available in your tool box. With Allegiance Group's support, we expanded our multi-faceted campaigns, adding robust digital and email programs in addition to texting campaigns, in support of our membership mailings, resulting in our best fundraising year ever in FY21!
SMS & Mobile Marketing
Did you know that over 90% of people read a text message within three minutes of receiving it? Reaching your supporters via mobile phone is another touchpoint that improves engagement and keeps your organization top of mind. Our clients use SMS and tools such as text-to-donate to drive advocacy actions, share updates, and solicit donations.
Our SMS services include:
Campaign strategy and planning
Message logic and requirements
Copywriting
SMS system management
Audience and list segmentation
Reporting