Fundraising Software for Nonprofit Radio & TV
Save your staff time and improve donor performance
Request a Demo
Built Over Years to Support Stations Like Yours
The Allegiance Fundraising Constituent Relationship Management (CRM) software is designed to help you better gather and convert more prospects, grow donor relationships, and meet fundraising goals.
Refocus Your Donor & Prospect Management
Add value to your sustainer program. Use our sustainer management tools to drive solicitation, upgrade, and retention efforts. With detailed sustainer source coding, pulling lists for mailings or analysis of your sustainer base is straight-forward, reducing manual labor and streamlining sustainer management.
Easily manage donor engagement. With a wide range of built-in options, sending renewal notices, thank you letters, gifts, and additional solicitations in a timely and structured manner becomes a streamlined process for your team. Through sophisticated donor segmentation, you can personalize each communication to best fit the donor audience you are targeting.
Helping you convert prospects into donors. Building your donor file is essential to any successful fundraising program. Allegiance's mature data management toolsets help you gather and better segment prospective donor information to further nurture your prospect relationships for eventual conversion.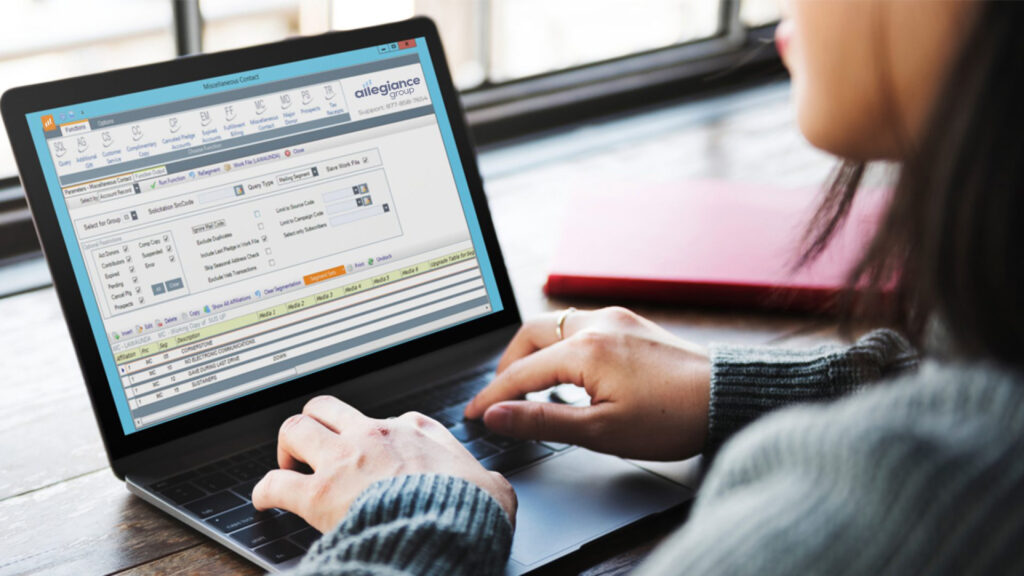 While choosing our new database software, AETN looked at several options and found Allegiance to be the most user-friendly and most versatile software. We have never regretted our decision. Allegiance is constantly reviewing its customers' needs, adding new functions and upgrades to meet the ever-changing needs of Public Television stations. Prime examples include the addition of sustaining donors and Passport. Best of all, Allegiance's customer service and support is second to none.
Donation Forms Made Easy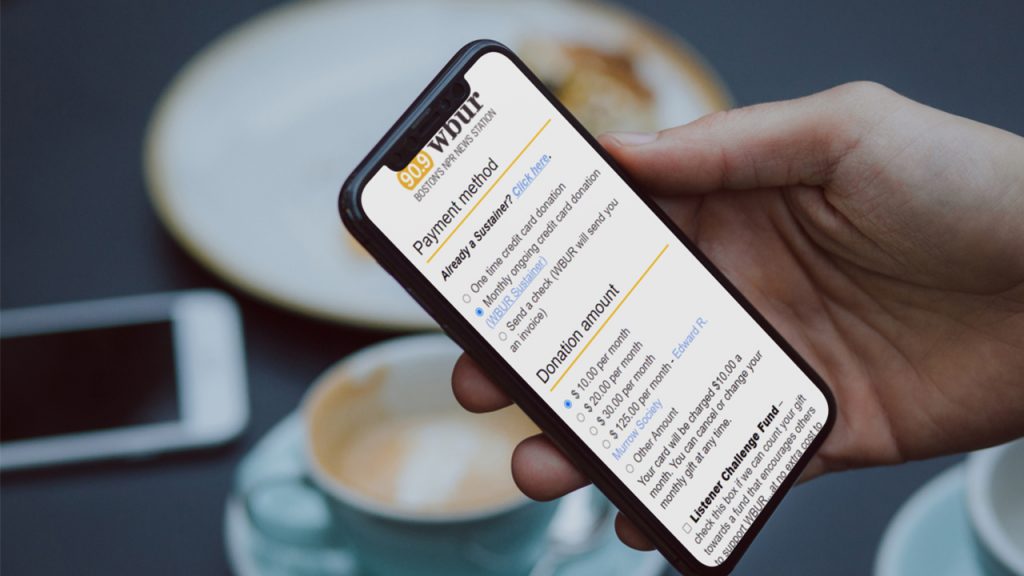 Customized donation forms. With our robust online giving platform, you have the ability to create as many customized donation forms as you need to meet your fundraising goals. From mobile-friendly donation pages, goal-focused campaign forms, or crowdfunding via peer-to-peer giving, there are dozens of options to choose from.
Real-time results, real success. With direct integration to our software, your organization can see your results as they happen, allowing for rapid decision making based on the most up-to-date donor and campaign performance information, all at the click of a button.
Donor Membership Management. Allegiance's self-service donor tools enable your donors to create an online account and manage their giving, print tax receipts, and view announcements from your organization.
Broadcast Pledge & On-Air Drives
Quickly Set Goals and Track Performance. Tracking and meeting campaign goals are top priorities during pledge + on-air drives. With our pre-built custom reports, you can analyze your station's results directly in the database or through our mobile app in real-time.
Manage Thank You Gifts. With our full premium management capabilities and integration to Forest Incentives, you can quickly set up your premiums before your campaign start date. Once live, inventory tracking makes automatic adjustments to the system in real-time. Images, descriptions, and qualifying pledge amounts are displayed on entry pages and donation forms, making premium selection easy for donors, volunteers, and call center operators.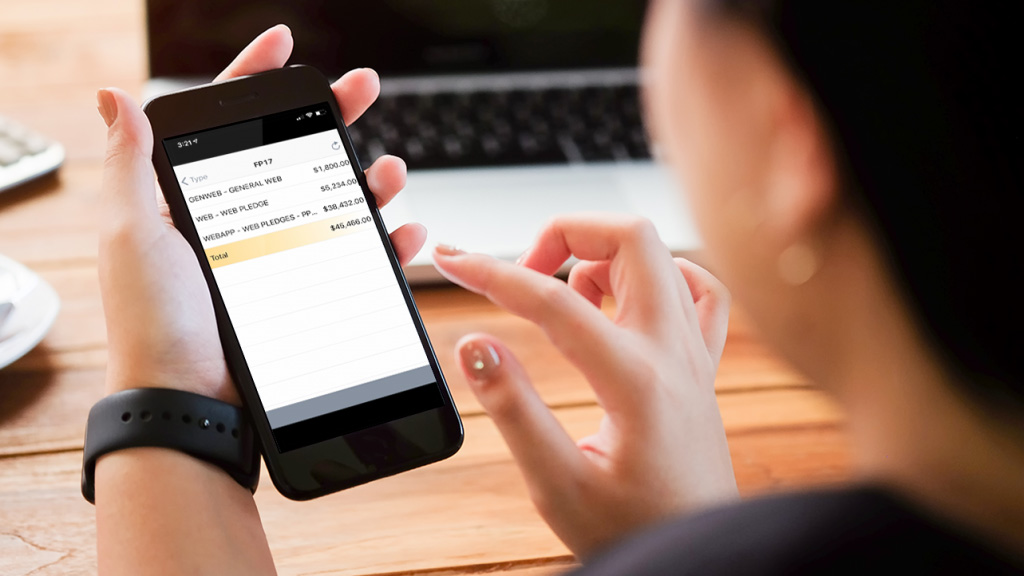 Robust Reporting & Donor Segmentation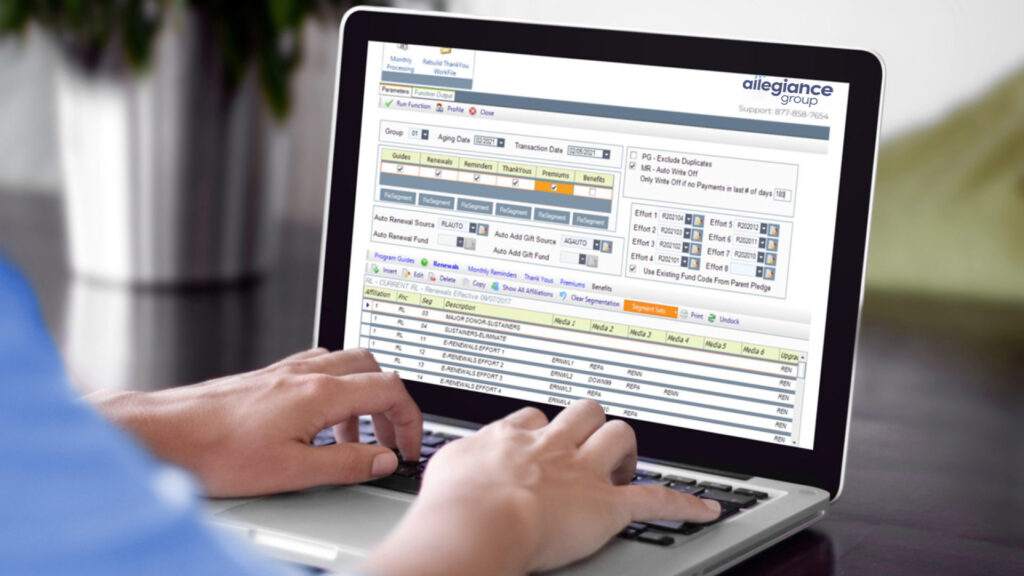 Comprehensive Segmentation. Our fully relational database provides endless ways to pull file segmentation, allowing you complete control over the data set you wish to work with.
Deepen Your Analysis. Run frequently requested, built-in reports on donor counts, payment summaries, donor and solicitation profiles, renewals, pledge fulfillment, cash flow, and lifetime value.
Optimize your fundraising program. Quickly answer management's questions with our pre-built summary reporting, built from best-practice membership models and operations.
WeDidIt Together Consulting Services
Let us do the work for you! Allegiance Group can do the heavy lifting and execute your fundraising campaign strategy on your behalf using WeDidIt as the toolset.
Allegiance Group can give expert advice on copy, creative, and design that fits your organization's branding.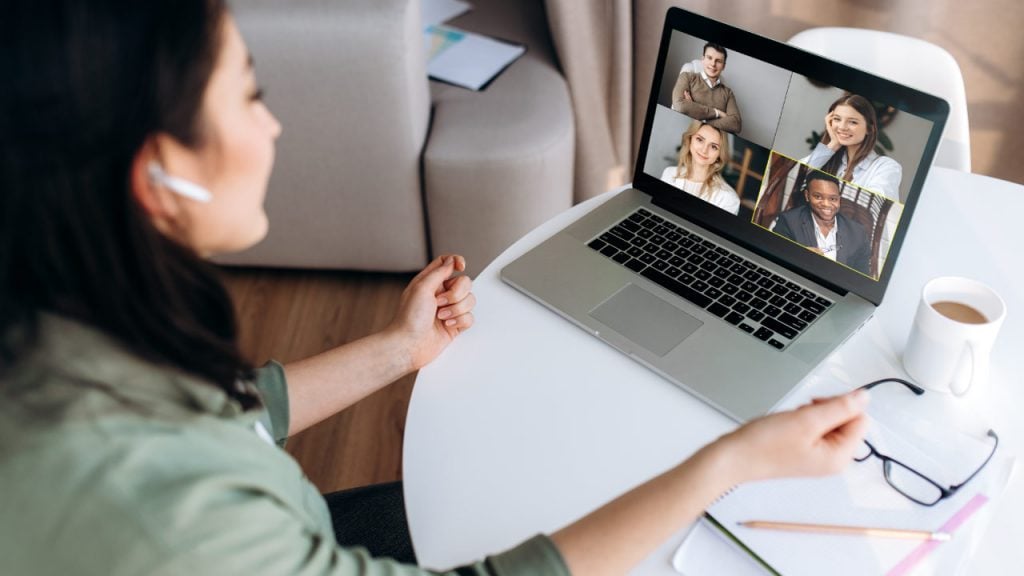 The Allegiance CRM also offers mobile apps to help keep you up-to-date on pledge and on-air campaign results and major donor stewardship and communications.
Know where your campaign efforts are performing and identify gaps to close to help you reach your goal.
That's data-driven fundraising.
What credit card processors does the CRM integrate with?

The Allegiance CRM integrates with Stripe, Paya, Cybersource, Bluefin, and Element.

Is the CRM cloud based?

The Allegiance CRM is a cloud-based solution. On-premise options are available upon request.

Do online donations integrate to the CRM in real-time?

With the web platform integrating directly into the CRM, all donations will be recorded in real time.

What email marketing platforms integrate with the CRM?

The Allegiance CRM currently supports Constant Contact and Mail Chimp.

What are the details of the support agreement?

Allegiance offers emergency support 24 hours a day, 7 days a week. For non-emergency support requests, business hours are from 7am-6pm CST.

Is there a mobile app available?

The Allegiance CRM offers a Campaign App that provides an analysis of campaign results in real time. With the Major Donor App, Major Gift Officers can pull major donor account information, along with a list of outreach items for completion.

What technology partners does Allegiance work with?

Allegiance partners with Match 360, WealthEngine, Hep Data, and Lorton Data.
Start converting your prospects and converting more donors!