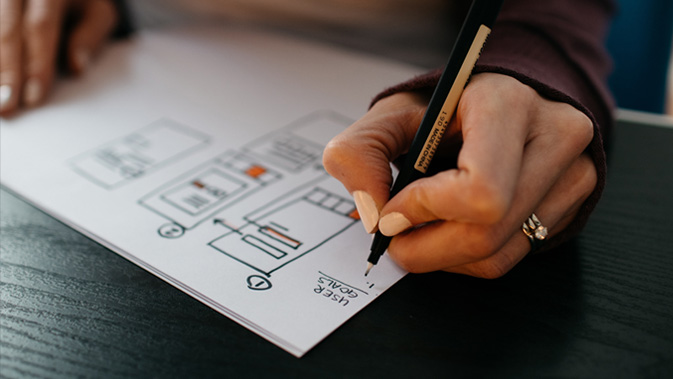 UX, Brand Strategy, and Visual Design
Now more than ever, digital experiences matter.  Our team has the experience and technology smarts to turn your user insights into wins.
User Experience, Brand Strategy, & Design
User Experience (or UX) is the interaction and the relationship your supporters have with your products, apps, websites, services, and more. 
We often refer to users as "heroes" of your brand story because they are responsible for carrying out your organization's mission. Their behaviors, needs, and motivations inspire the strategic choices we make — for every touchpoint and every channel.
Our design team's fundamental purpose is to ensure your users' experience meets established audience needs and supports your business goals. UX designers also work synchronously with our strategists to build or evolve brand identities, while developing seamless interactions to support user goals and tasks.
User Research
User Research is the observation, analysis, and understanding of your varying audience's needs and challenges. Successful digital products, apps, and websites integrate user research insights to design and build effective content and tools for your target audiences.
Our User Research methodologies include:
Audience and stakeholder interviews
Personas
Surveys
Card sorting
Usability testing
Heat maps and click-tracking
Journey Mapping
Journey mapping is a technique used to define and improve the design of an experience. These maps offer a visual narrative highlighting the chronological decision points and actions that your users have to perform to complete a specific set of tasks. This technique will help us evaluate user journeys across multiple channels — identifying points of friction, unfulfilled needs, and ultimately opportunities for improvement.
Information Architecture
Information Architecture (IA) is the art and science of organizing and classifying the content on your website, app, or product. Our information architects design systems for navigation, taxonomy (tags, topics, subtopics, categories, and labels), strategic connections between content, search functionality, and more.
Our recommendations are backed by data and user research to ensure each solution seamlessly brings engagement pathways to life while surfacing the right content for each audience.
Data-Driven Content Strategy
Our strategists understand that content is the reason audiences are coming to your website — and as a results-driven agency, we know that standing out in a crowded field of infinite resources is fundamental to building relevancy, influence, and ensuring you meet (or exceed) your goals.
Our process begins with a Content Inventory and Audit to identify your highest and lowest performing content — uncovering patterns using Natural Language Processing Algorithms, Google Analytics, and SEO Keyword Research.
We work collaboratively with you, guiding your team on how to write more effective content for the web. Our strategists will also prepare a content guide as a tool for your team to continue building data-driven content as audience and organizational objectives evolve.
User Experience (UX) Design
User experience (UX) design is a process that uses insights from user research to design a website, app, or system that is useful, easy to use, and delightful to interact with.
The process starts with understanding:
Your organization's business goals and how the website or product helps achieve those goals
Your audience's needs (what they are trying to accomplish)
Peter Mooreville defines good UX as:
Useful: Your content should be original and fulfill a need
Usable: The site must be easy to use
Desirable: Image, identity, brand, and other design elements are used to evoke emotion and appreciation
Findable: Content needs to be navigable and locatable onsite and offsite
Accessible: Content needs to be accessible to people with disabilities
Credible: Users must trust and believe what you tell them
Brand Strategy and Storytelling
"Branding is the art of becoming knowable, likable & trustable."

JOHN JANTSCH
From the smallest identity challenges to global campaign efforts, our team begins the Brand Strategy process with a Storytelling Framework based on Joseph Campbell's interpretation of the Hero's Journey. Rather than repeat that branding process, we'll begin by gaining a solid understanding of where you were, where you are, and where you'd like to be. We will refine our process based on what we learn.
Every interaction, every message, every single thing your organization puts into the world shapes your brand. Our brand experts will help your organization rediscover its authentic identity. We'll start with the Brand Workshop — which consists of research, meetings, and exercises —  that uncovers the most powerful way to position yourself in the world. Then we'll put it into concrete words and images you can actually use.
User Interface Design
User interface (UI) design is the creative process that focuses on the look, feel, and storytelling aspects of a website, app, or system. Sometimes the term UI design is used interchangeably with web design or visual design.
UI design starts by uncovering the organization's brand story, understanding the intended user experience design, and recognizing the technical limitations and/or requirements necessary for the product being designed.
During the UI design phase of any website redesign, we work closely with your stakeholders and you to create full-color digital mock-ups that provide you with the following:
Guidance on color palettes
How to select brand imagery
Typographic styling
Mobile-first design
Data visualization
Visual and Graphic Design
Visual design is the application of user experience, brand strategy, storytelling, and user interface design into a final prototype or display. Typically, visual design references a web property. On the other hand, graphic design is a similar culmination of these processes into a visual element for direct mail, email campaigns, landing pages, advertising, social media imagery, direct mail, and more.
Photography and Videography
Storytelling needs strong and compelling imagery. Allegiance provides full-service creative and production resources to help you tell your brand story with custom photography and multi-media. Our creative experts can provide you with everything from creative concepts to more.
Want help improving your user experience and design?