How to Get Donations for a Fundraiser: 10 Best Practices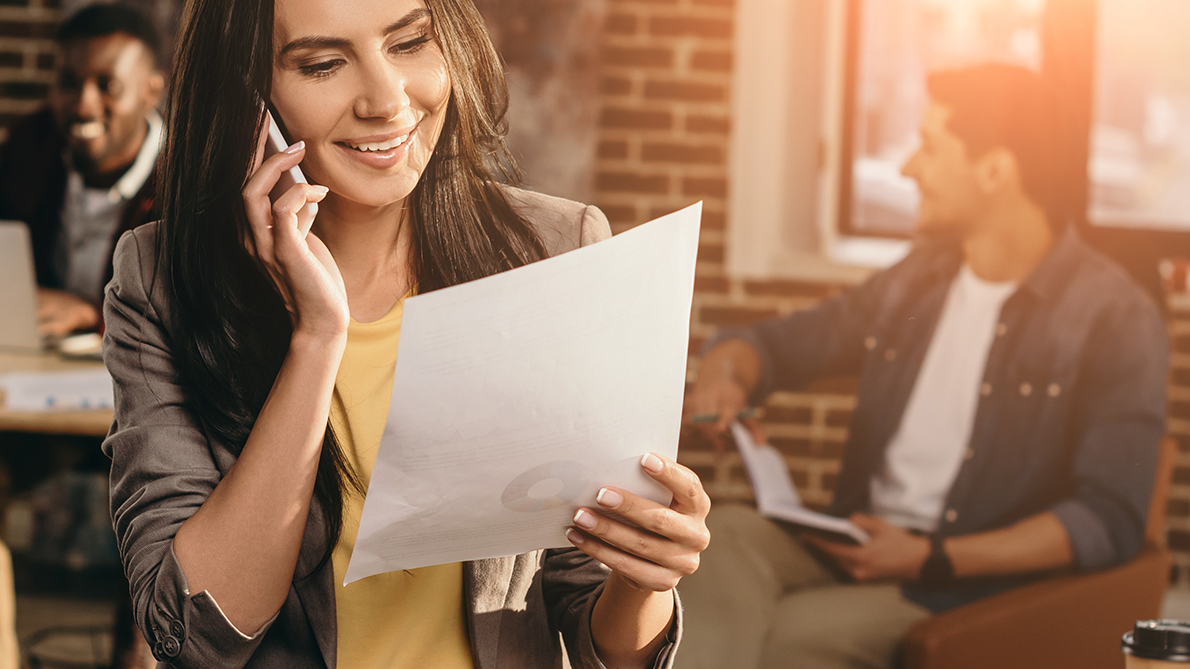 Fundraising is a year-round concern for nonprofit organizations, delivering the critical donations and contributions they need to keep their operations running. That isn't always easy, especially during times of economic hardship and crisis. In highlights from the 2023 Giving USA Report, giving declined by 3.4% in 2022. These new statistics confirm fears that the pandemic and economic downturn could impact charitable giving negatively.
These hardships make it even more challenging for nonprofits to conduct successful fundraising and encourage donors to give more to their cause. Given the high cost of new donor acquisition, the best course of action may be to focus on the supporters you already have and get them more involved in your mission.
Take a look at your existing supporter base, seeking out ways you can cultivate stronger relationships with the people and organizations that have invested in your cause. In this guide, we'll explore the basics and best practices you can follow to retain existing donors, get them reinvested in your cause, and build stronger donor connections:
Let's get started by walking through the different people and groups you'll ask for donations to your nonprofit.
Want to grow your relationships with donors through marketing?
3 Individuals and Organizations to Ask for Donations
When asking for donations, it's key to tailor your asks to the person or group you are asking. Studies show that around 72% of consumers only engage with marketing that is personalized to their unique needs and interests, and those preferences can carry over into communications about fundraising.
While you can (and should) adjust your approach to each donor as much as possible, marketing campaigns and fundraising asks should also be adjusted depending on which entity you are requesting the donation from. The three main people or groups you'll request funding from include:
Individuals. Individuals contribute a significant share of overall funding for most organizations. They can donate in many different ways, including online donations, fundraising on your organization's behalf, contributing to recurring giving programs, and more. Additionally, they can give at different levels, ranging from small, one-time gifts (e.g., $10) to major gifts (e.g., $100,000). To fundraise among individuals, you'll need to learn about their unique motivations for giving as well as their giving capacity and affinity. Then, appeal to these traits in your marketing.

Businesses. When businesses give to a nonprofit, they are engaging in corporate philanthropy, or the practice of contributing to social good through charitable donations. Businesses most often give through matching gifts, corporate and volunteer grants, or in-kind donations of free goods or services. To ask for donations from a business, your nonprofit can reach out to form a partnership with the company and spread awareness of matching gift opportunities.

Foundations. Foundations typically donate grants to similar nonprofits in order to help them further their mission. Usually, your nonprofit will need to reapply for these grants each year. Applying for grants is an art form in and of itself, and research and preparation are key. To apply, you'll need to seek out foundations with a history of supporting causes like yours, strive to make a professional impression on the application, and, if you receive the grant, be able to prove that you used funds effectively.
While each of these groups provides an important piece of funding for organizations, your marketing efforts will likely target individual donors most often. Next, we'll cover 10 ways to leverage marketing and other communication strategies to motivate donors to give consistently.
10 Ways to Get Donations For Your Fundraiser
1. Prioritize repeat donors.
Donor acquisition can be extremely time-consuming and expensive. While nonprofit organizations should always actively recruit new supporters, you need to maintain a healthy balance between acquisition and retention. To make the most of your available resources and get more value out of your fundraising efforts, focusing on existing supporters is a good starting point.
A 2022 Fundraising Effectiveness Project study found while overall fundraising grew by 2.25%, retention rates declined. By focusing on connecting with these donors, showing them how their investment in your cause is making a tangible impact, and offering alternative ways to get involved, you can support steady or increased retention at your organization.
2. Reach out to major donors.
Another fundraising trend that nonprofits need to keep an eye on is the steady decrease in small and medium gifts over the last decade. These statistics show the real-world implications of this decrease: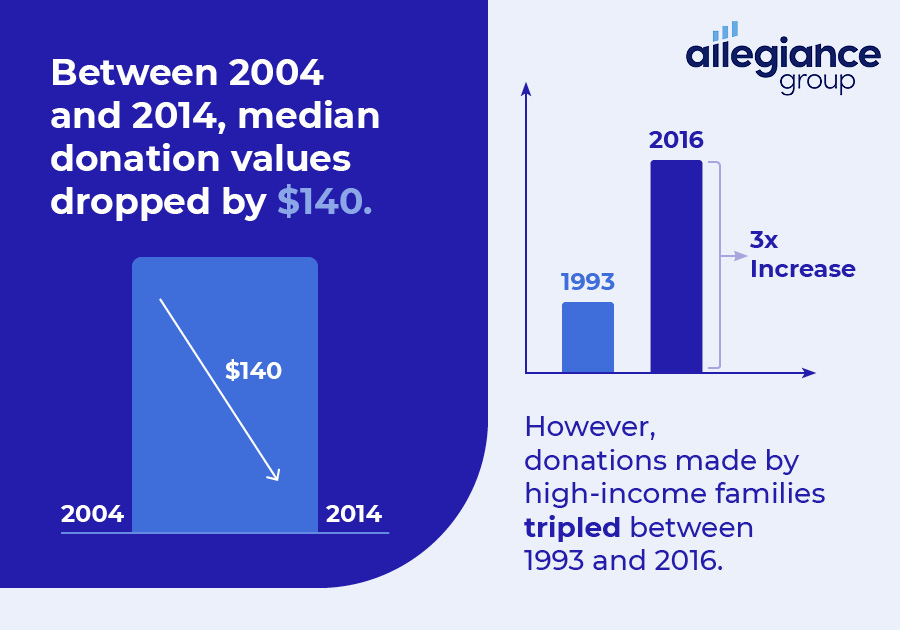 Relying on smaller contributions is not a viable strategy over the long term. Your nonprofit would need to collect more donations from the individuals least able to consistently contribute monetarily.
In response, many nonprofits are refocusing their efforts to engage major donors who make contributions exceeding $7,500 in a given year. A study published by the Center For Effective Philanthropy found that more nonprofit organizations are prioritizing engagement strategies with their major donors to build long-lasting donor relationships. Researchers noted that there is a direct correlation between forging closer relationships with major donors and increasing the size of individual contributions.
Practices that foster these relationships include:
Reaching out on a more consistent basis.
Carving out time to interact with major donors face-to-face.
Frequently holding one-on-one meetings.
Clear, effective communication that articulates the nonprofit's message and goals.
Spelling out how a donor can best support your cause.
Personalizing your approach to each donor.
Remember that developing these relationships will take time, effort, and patience. Avoid moving too quickly for the donor, and be reminded of the long-term benefits that can arise from cultivating a deep relationship with your major donors.
3. Build a dedicated sustainer program.
Sustained or recurring giving is a huge boon for nonprofit organizations. Because supporters have committed to making a set number of donations throughout the year, you'll have a reliable and consistent stream of funding available.
Some of the key benefits of sustainer programs are:
Contributions are automated. For instance, charging a saved credit card at set intervals so nonprofits can receive a steady flow of donations during that period of time.
Sustainer programs make it easy to give. Engaged donors can contribute to your cause without having to write out a check or make a digital payment every few months.
They are easy to promote. If you already have a sustainer program in place, don't forget to highlight it in your newsletters, emails, and other communications. Donors may not realize that option is available to them, and a friendly reminder can pay off.
Keep in mind that just because donations are automated doesn't mean your organization should fall behind on follow-up communications and expressions of gratitude. It's essential to stay engaged with sustainer donors, thank them for their contributions, and show them how they are supporting your cause.
4. Personalize outreach efforts.
Supporting a charitable or non-secular organization is a deeply personal commitment for most people. When supporters donate to a charity, it's because they firmly believe in that cause and want to see the organization succeed. Reward this personal commitment to furthering your cause by personalizing your communications with each donor.
Every email, mailing, and newsletter needs to be tailored for each individual donor, including the requested or recommended donation amount. If you analyze donor data and see that a patron has given $100 in the past, for example, you can use that figure as a baseline in your ask. Then, detail the specific ways a similar or slightly increased donation will help your cause.
By making donors feel like they are part of a larger cause and can directly contribute to achieving those goals, you'll encourage them to increase the value and frequency of their gifts.
5. Establish a sense of urgency.
It's easy for previous donors to put off making another contribution until a later time. However, "later" can often turn into "never" without persistent follow-up from your organization.
Your nonprofit can help supporters break out of complacency by creating a sense of urgency with their donation requests. That may be extremely easy to convey, depending on the cause, especially for nonprofits that are focused on helping people in need.
For example, Save the Children's donation form incorporates urgency into its appeal with the following statement:
Right now, children are growing up against the backdrop of hunger, conflict, and natural disasters. Your gift today can help make change that protects the lives of children, families, and their communities.
This statement clearly conveys the urgent need for support, and the donation form is paired with an image of the children who could benefit from a donation. Establishing a timetable with clear goals can light a fire under patrons who keep putting off their next donation.
6. Show supporters where donations go.
Many nonprofit organizations provide suggested donation amounts when reaching out to supporters. However, patrons are less likely to increase the value of their gifts if there's no clear description of how those donations will be used.
Returning to the Save the Children donation form, the organization lists the suggested donation amounts alongside a description of what each donation could provide:
$50 – can provide enough food to keep 3 children from going hungry for a month
$150 – can wrap 30 warm, cozy blankets around children affected by conflict
$300 – can provide 150 face masks to refugee health workers on the front lines
Providing a breakdown of various donation tiers and how each level supports different aspects of your organization can help spur gift-giving. The more detailed and concrete these descriptions are, the more likely people are to increase the size of their donations.
7. Ask for more support.
It may sound obvious, but many nonprofits simply never ask contributors to increase their donations. Supporters could be entirely willing to give more to their favorite charities but assume that the amount they currently provide is sufficient. Sometimes it can be more effective to request an increase in the frequency of donations rather than an increase in the amount of each contribution, so consider testing different approaches to find the right strategy for your donor base.
Be sure to spread awareness of any matching gift programs that might be available to your donors. It's an easy way to dramatically increase contributions, but some donors may not be aware that such programs even exist.
Be judicious about which donors you approach with these requests and when you choose to do so. Repeatedly asking supporters to contribute more money to your cause can cause friction and turn away even dedicated patrons. Always be mindful of the financial hardships and responsibilities your supporters face when requesting donations.
8. Send thank-you gifts.
Thanking supporters for their donations is always a good practice for nonprofit organizations. Providing thank-you gifts for major donors and other patrons can go a step further in showing your appreciation and gratitude. Many nonprofits offer branded clothing or accessories as donor appreciation gifts, but you should explore more creative and unique donor gifts to build engagement.
Align the donor appreciation gifts with your cause. An animal advocacy group, for instance, might send pictures of an animal that was saved due to its patrons' contributions. A children's hospital could deliver handwritten thank-you cards or artwork made by the patients who benefitted from the funding.
Putting in a little extra effort to create thank-you gifts for sponsors shows your biggest donors how much their support means to your organization.
9. Create a donor database.
Understanding who your major donors are and their contribution activity can help direct outreach strategies. Building a comprehensive donor database offers clear insight into donor relationships. Collect and track data like:
The total dollar value individuals have contributed
The frequency of their donations
How they chose to contribute
Specific communications that have been sent their way
This information can be used to determine the most effective ways to engage specific supporters or types of donors and encourage them to increase their contributions.
10. Hire a major gifts officer.
As noted earlier, major donors have a huge impact on any nonprofit organization's future prospects. Managing relationships with high-value patrons should be a top priority, and in many cases, requires a dedicated position to oversee major donor relationships.
Major gifts officers communicate directly with prospective donors and current supporters to actively increase gift giving and fundraising. That may include putting together proposals for specific contributions, developing outreach programs to increase engagement, and contacting high-value donors regularly to keep them in the loop.
Major gifts officers must be warm and engaging to interact with donors during in-person events while being meticulous and detail-oriented to manage outreach strategies. Finding the right candidate for the job is certainly worth the effort, as these positions help nonprofits raise more funds and improve relationships with major donors.
How Can Nonprofits Get Donations for a Fundraiser? 3 FAQs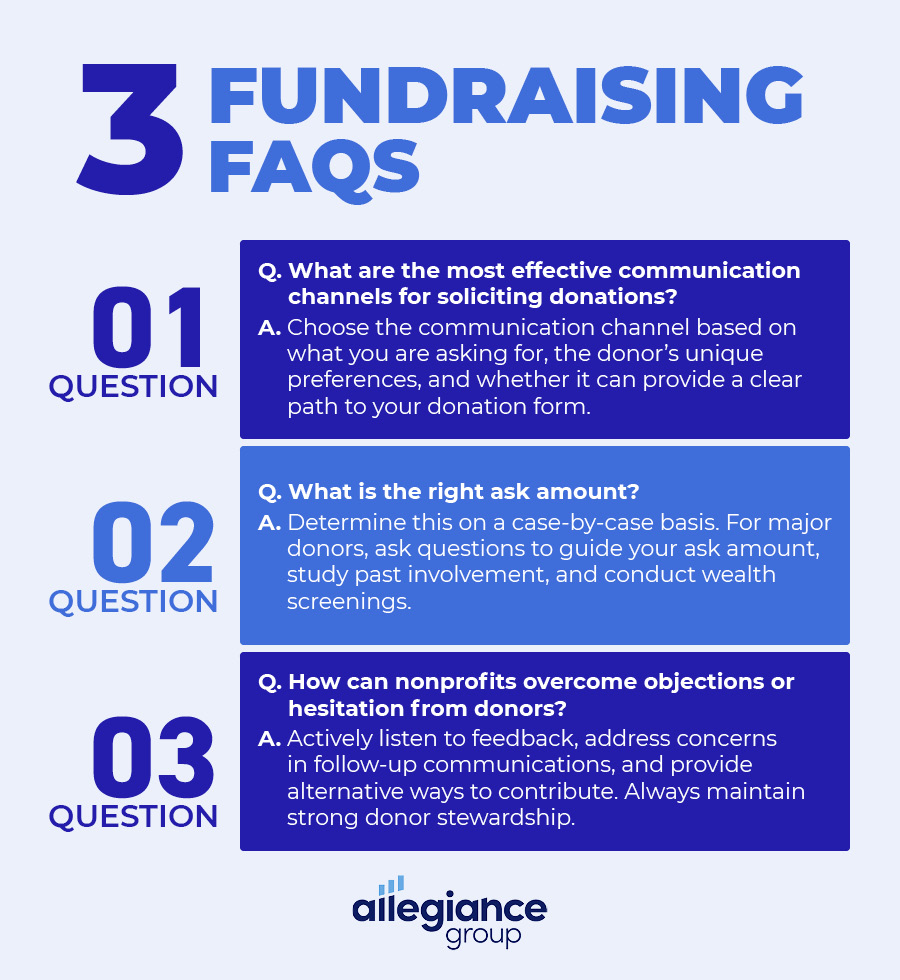 1. What are the most effective communication channels for soliciting donations?
To put it simply, it depends. The communication channel you choose should first be appropriate for the fundraising ask—you wouldn't want to send a marketing text message requesting a major gift, for example. Next, the channel should adhere to the donor's individual communication preferences to ensure they actually see and engage with the message. Finally, the channel should offer a clear path to your donation form, whether it has a link to donate or a QR code to the page.
2. What is the right ask amount?
Again, the answer to this question will vary greatly depending on the size of your organization, the donor's giving power, and their willingness to give to your cause. You can unearth insights about a donor's wealth and affinity for your cause by conducting wealth screenings. With a wealth screening, you'll gather information about the donor's:
Net worth
Household income
Stock and real estate holdings
Employer/affiliations with businesses
Political contributions
A donor's political contributions, as well as their involvement with other charitable organizations, can reveal more about their values and which causes they are passionate about. Remember to look out for non-financial involvement, like volunteering or serving on a board.
3. How can nonprofits overcome objections or hesitation from donors?
During times of economic hardship, you're more likely to encounter hesitant donors. It's crucial to be understanding of these objections and show compassion for donors who may be in stressful financial situations themselves. Be sure to actively listen to donors' feedback, concerns, or objections and find constructive ways to address them and move forward.
Address their specific concerns the next time you approach them, showing any changes or adjustments you've made. Remember to always provide transparency about how donations will be used to support your nonprofit. If a donor is still hesitant, consider offering alternative ways to give or contribute. And no matter what, strive to steward the relationship with continued engagement and expressions of your gratitude.
How Marketing Can Increase Donations
Working with a marketing agency that specializes in nonprofit marketing allows organizations to level up their communication strategies (and gives them more time to cultivate one-on-one relationships with supporters).
Allegiance Group is a full-service marketing and fundraising agency. We strive to support your nonprofit by growing its supporter base, increasing fundraising revenue, and boosting loyalty among donors. Our team of experts is dedicated to helping organizations like yours grow through your marketing efforts—efforts that are based on an emphasis on diversity, equity, inclusion, accessibility, and respect.
At Allegiance Group, we offer any combination of the following services to support your cause:
Direct marketing
Direct marketing
Direct mail
Web and app development
Strategy and planning
UX, brand, and design
Analytics and insight
Loyalty and incentives program
To learn more about our marketing services (and our fundraising tools), reach out to our team today!
Additional Resources
During times of economic uncertainty and downturns in charitable giving, it's more important than ever to focus on your base of loyal supporters. Using the best practices in this guide, you can invest your time and resources into growing positive relationships with your existing donors to ensure continued support and even encourage upgrades.
If you're looking for help from nonprofit marketing and fundraising experts, reach out to Allegiance Group.
If you're interested in learning more about improving your marketing strategy and fundraising results, explore these additional resources:
Interested in building connections with your existing supporters?