7 of the Most Effective Fundraising Tools You Need to Try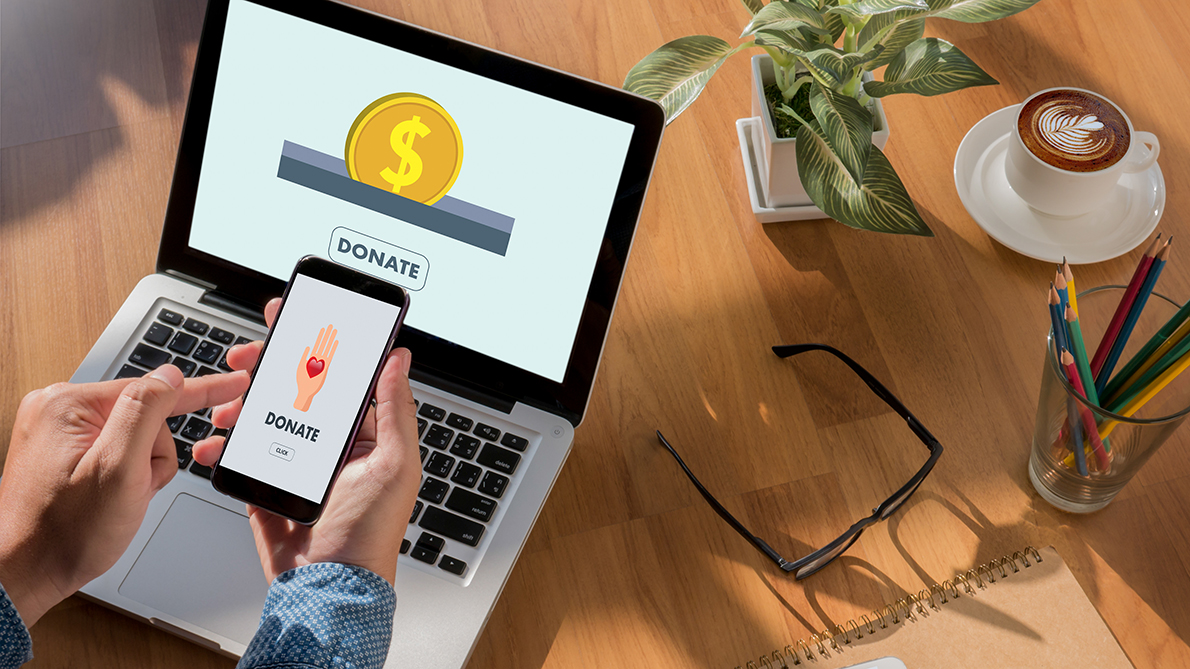 As a nonprofit manager or fundraiser, you know that there are many different approaches to choose from when it comes to raising money for your cause. You're constantly reassessing your strategies, contemplating which tools are best for your organization, and searching for ways to streamline your efforts for maximum efficiency.
To effectively manage your operations, communicate with donors, and increase awareness for your cause, it's essential to stay up to date with modern fundraising tools. The introduction of new technologies has revolutionized the world of fundraising, and this guide will help you explore the different types of fundraising tech and some of the top providers.
First, let's explore some fundraising tool basics.
Let's talk about more efficient, streamlined fundraising.
What are fundraising tools?
Fundraising tools are any software or other platform designed to make some aspect of fundraising easier and more efficient. The ultimate goal of using a fundraising tool is to increase revenue by reaching broader audiences, providing better donor experiences, automating repetitive tasks, improving marketing efforts, and more.
Because different fundraising tools have different functions, you may need more than one to assist in different parts of the fundraising process. For example, your organization could use a graphic design tool to create fundraising appeals for social media, a marketing calendar to schedule the posts, and a donation tool to host your donation form and accept contributions.
Next, we'll explore a few of the other types of fundraising tools and how they can benefit your nonprofit.
What are the different types of fundraising tools?
Fundraising CRM
If you're not currently using a fundraising CRM, you could be missing out on revenue and donor retention opportunities. These tools help with campaign marketing, converting prospective donors, and nurturing the relationships you have with current donors.
The best part about using a CRM is that traditionally time-consuming and paperwork-heavy tasks are much more efficient. You can execute standard campaign management tasks like reviewing data, conducting surveys, and creating "thank you" packages.
With web-based reporting, you can easily track a campaign's progress and measure specific strategies' effectiveness. Your CRM can also be customized to fit your nonprofit's specific processes to maximize ease and efficiency.
Crowdfunding Platforms
Crowdfunding campaigns are becoming increasingly popular among individual ventures, independent artists, and nonprofits. With a customized, well-designed crowdfunding page, you'll bring in more donations and increase exposure for your cause.
The most important part of a good crowdfunding page is creating engaging content that inspires supporters to give. Post blog articles, videos, and other media to inform and educate the audience about your mission.
An advanced crowdfunding platform will provide analytics and reporting on the back end so that you can track the progress and effectiveness of each page. You'll be able to check how many people visited the page, how they got there, who donated, the amount of time they stayed on the page, and which content they interacted with.
Donor Research Platforms
Donor research functions as a fundraising tool by helping you understand your current audience and ultimately bringing in more donors. It'll give you a clear look at who cares about your cause, translating into more efficient marketing efforts.
For example, you'll answer questions like:
What is the average age of your donors?
Where do they live?
What do they do for work?
What is their propensity to give?
Every time someone donates, the tool will capture relevant information about them and store it in a database that's constantly updated in real time.
These systems are intuitive, so you can access data quickly and easily. You'll be able to create an ideal donor persona by collecting information like age, occupation, and social media presence.
Text-to-Donate
46% of people spend five to six hours a day looking at their smartphones. People shop for clothes, buy concert tickets, and even pay for their rent on mobile devices—they should be able to donate to your cause, too.
By making it convenient for these prospective donors to contribute to your organization, you could secure a lot of previously unclaimed revenue. With text-to-donate fundraising solutions, your donors can contribute to your cause in seconds.
Web-Based Volunteer Management
For many nonprofits, finding and retaining good volunteers isn't easy. While managing volunteers used to involve lots of paperwork and phone calls, now, with volunteer management tools, all your volunteers' data, such as contact information and availability, can be stored in one place. You can even set up automated emails to keep volunteers up-to-date on specific projects.
Let's say you have an opportunity coming up that involves gardening. Your tool will allow you to easily schedule volunteers to set up gardening pots, plant seeds, pull weeds, and water plants. To source these volunteers, you can filter your list by skill, so anyone with a history in gardening will get top priority. Then, send them messages to confirm their availability, create a schedule, and assign duties to specific individuals within your volunteer management tool.
Which fundraising tool providers are the most effective?
As you begin researching potential solutions, it might feel like there are endless product pages and features to sift through. To narrow down your options, make sure to have a specific budget in mind and create lists of "must-have" features.
If you're still feeling overwhelmed, start with our list of seven top fundraising tools:
1. WeDidIt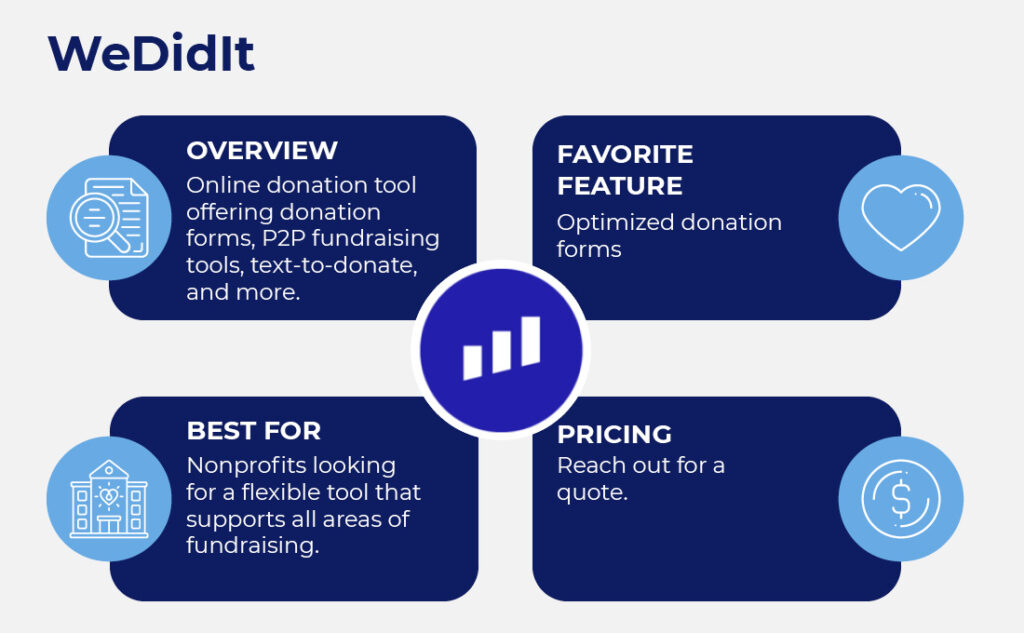 Fundraising Tool Overview: WeDidIt is an online donation tool designed to simplify starting your next campaign, reach more donors, and provide positive supporter experiences. With this fundraising tool, your organization can gather valuable insights while keeping donating easy and convenient for donors.
WeDidIt's core offerings include:
Donation forms optimized to provide the best giving experience possible. Forms are multistep, mobile-responsive, and fully customizable.
Peer-to-peer fundraising tools that make it easy for your supporters to fundraise on your behalf. Quickly launch optimized peer-to-peer donation forms and capture key peer donor data.
Text-to-donate features that allow your organization to easily build custom SMS fundraising campaigns, making giving more convenient than ever for your supporters. Add text-to-donate codes to your direct mail and use the tool to promote other ways to get involved.
Analytics dashboards that support data-driven fundraising by revealing how your forms are performing, where donors are coming from, how much they give, and how close you are to your goals.
Consulting services that offer expert advice and strategy tips from Allegiance Group, helping you create brand- and mission-aligned copy, graphics, and designs.
Best For: Nonprofit organizations looking for a fundraising tool that extends their reach, works with a variety of fundraising methods and offers support to all areas of their fundraising strategy.
Favorite Feature: WeDidIt's optimized donation forms prioritize donor stewardship by offering a customizable post-donation experience, such as a "Thank you" video, that donors see right after making a donation.
Features like these help you win second donations from first-time donors, retain existing donors, and make your supporter base feel like valuable agents of change.
Pricing: Reach out to WeDidIt today for a quote.
Want to discover your favorite WeDidIt feature?
2. GivingDNA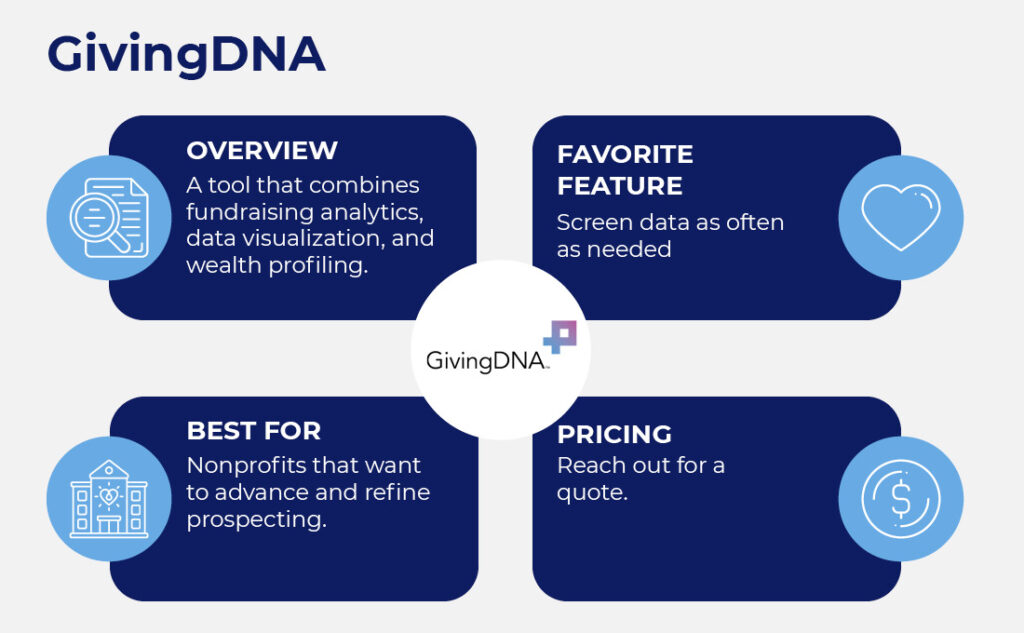 Fundraising Tool Overview: GivingDNA is a fundraising tool that combines fundraising analytics, data visualization, and wealth profiling so you can discover the most valuable donors and prospects. With GivingDNA, you'll have access to features like a highly visual, dynamic interface, interactive dashboards, behavioral insights, philanthropic priorities, and much more.
This fundraising tool can truly transform your existing fundraising strategy from mid-level to recurring giving.
Best For: Nonprofits that want to advance and refine existing prospecting and major donor programs.
Favorite Feature: More traditional wealth screening tools only allow nonprofits to screen their file every two to five years. With GivingDNA, you can screen as often as you like, meaning your insights will always be fresh and you'll never miss another great prospect.
Pricing: Pricing follows a subscription model and is based on the number of constituent records your organization has. Contact the GivingDNA team for more information.
3. Soapbox Engage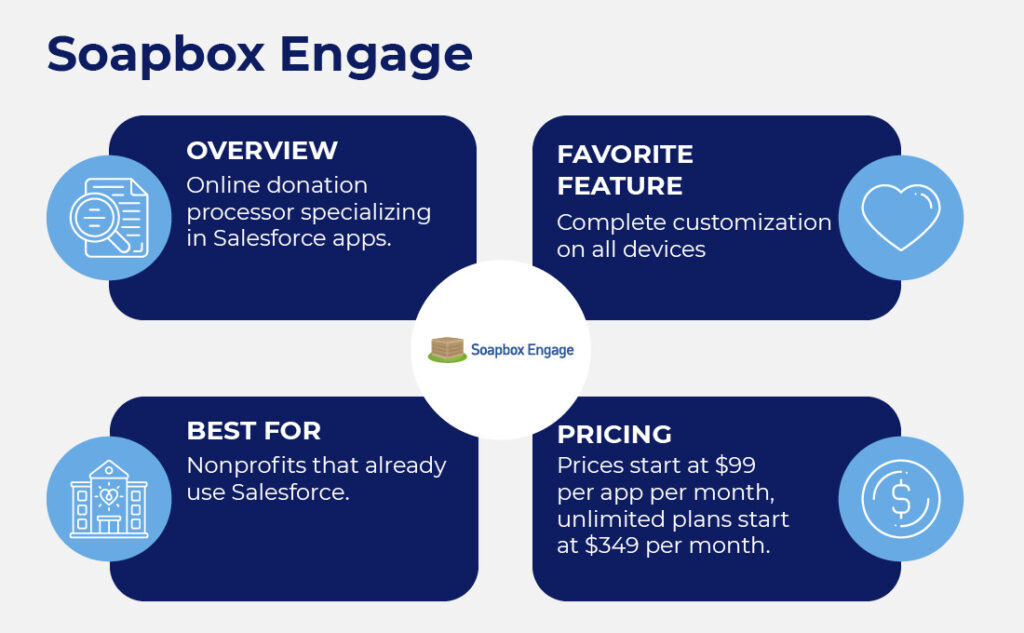 Fundraising Tool Overview: Soapbox Engage is an online donation processor that specializes in Salesforce apps. Its apps, focused on categories like donations, events, forms, and petitions, are designed to help nonprofits reach ambitious fundraising goals and effectively plan events. The platform seamlessly integrates with Salesforce, optimizing the flow of data between apps.
Best For: Organizations already using Salesforce and looking for more specialized apps.
Favorite Feature: Soapbox Engage allows for complete customization on any device to strengthen brand identity. Design donation forms with branded headers and logos, customize appeals with branding, and even create custom domains and URLs.
Pricing: Prices start at $99 per month per app. Unlimited plans start at $349 per month.
4. Double the Donation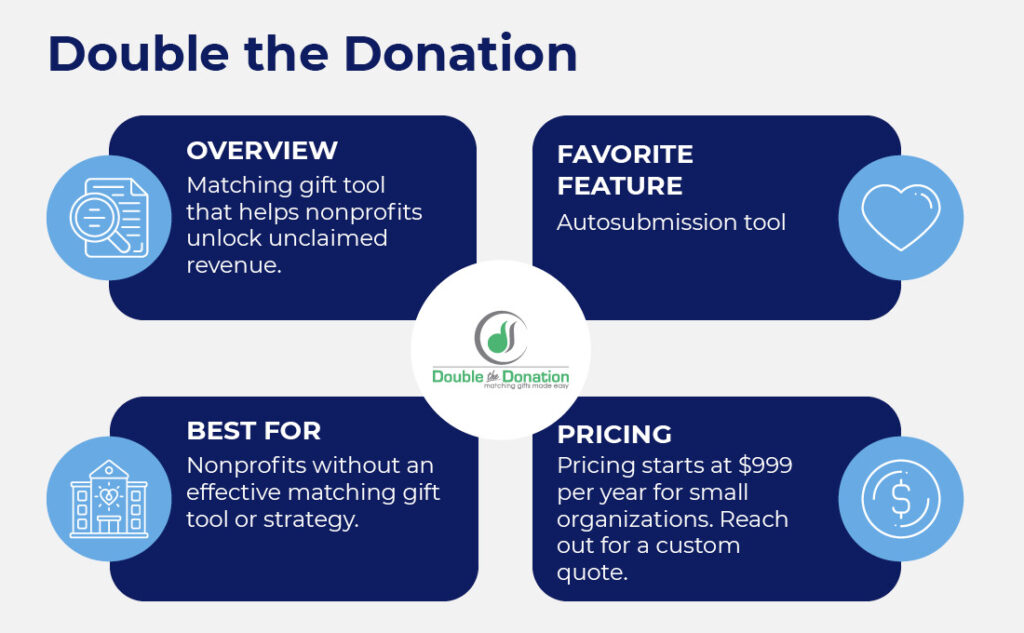 Fundraising Tool Overview: Double the Donation's product, 360MatchPro, is designed to help nonprofits unlock their matching gift potential by capturing the millions of dollars in matching gift revenue that go unclaimed each year.
To combat this loss in valuable funding, 360MatchPro provides a search field feature for your donation form that allows supporters to search for their employer's matching gift program. The software supports the matching gift journey by sending automatic reminder emails to match-eligible donors, leveraging its dozens of platform integrations, and using auto-submission.
Best For: Any nonprofit organization or university without an effective tool or strategy for securing matching gift revenue.
Favorite Feature: Double the Donation's auto-submission tool is on the cutting edge of matching gift technology, allowing donors to submit their matching gift request in a single click from the nonprofit's online donation process.
Pricing: Pricing for 360MatchPro starts at $999 per year. If your organization is larger, reach out for a custom quote.
5. 99Pledges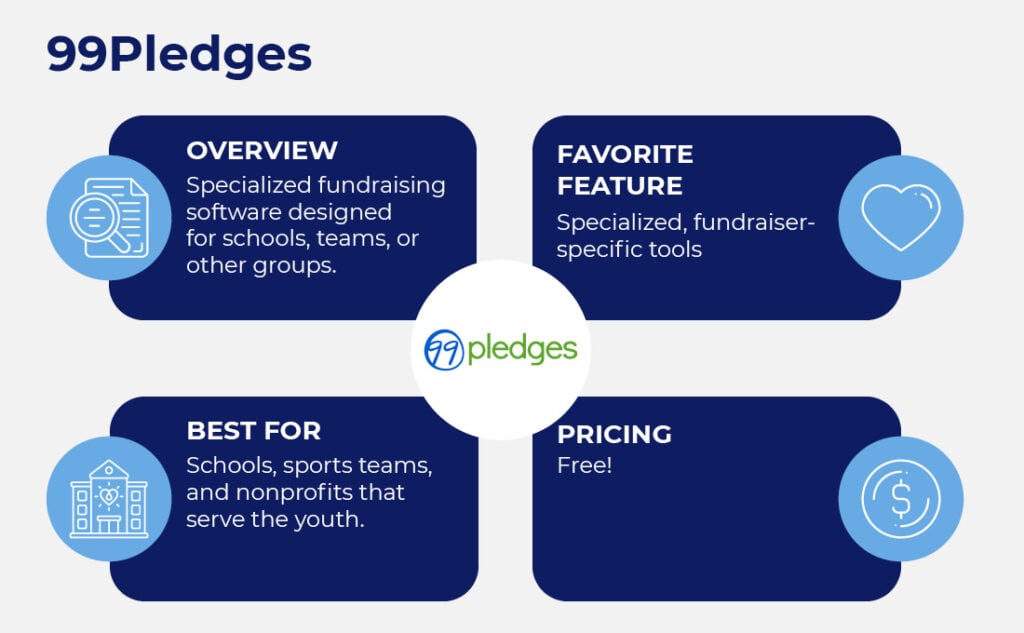 Fundraising Tool Overview: 99Pledges offers specialized fundraising software designed for team or group fundraising. This online tool makes it easy for organizations to set up peer-to-peer fundraisers. 99Pledges' team will set up team-wide and individual fundraising pages, give advice from fundraising coaches, and offer technical support. The software handles all donation processing and tracking, data collection, donation receipts, and thank-you messages for you.
Best For: Nonprofits, schools, and other organizations that serve the youth.
Favorite Feature: 99Pledges offers built-in, specialized features tailored to popular fundraising ideas. For example, if a school organizes a read-a-thon, 99Pledges has a reading log participants can use to track their time.
Pricing: 99Pledges is free! All you need to cover is the standard credit card fees of 2.9% plus 30 cents per transaction.
6. GoFundMe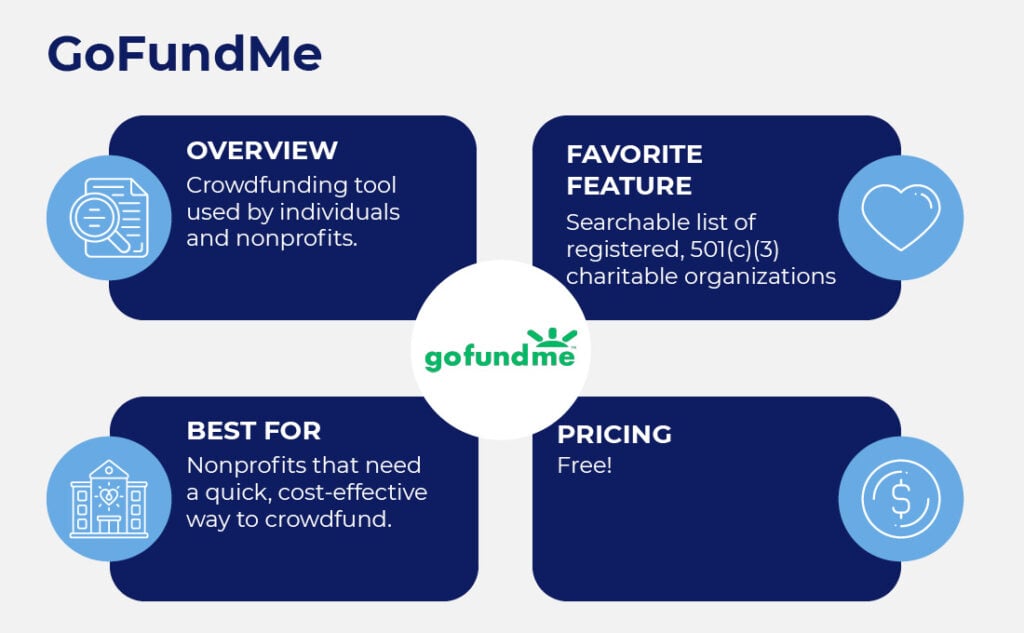 Fundraising Tool Overview: GoFundMe is one of the most widely known fundraising platforms. This crowdfunding tool is used to raise money online from friends, family, peers, and supporters. Individuals who are not associated with a nonprofit organization often use GoFundMe to raise support for personal medical bills, disasters, and other personal projects. However, the platform has features designed to make nonprofit organizations stand out.
Best For: Nonprofit organizations that need a cost-effective way to quickly fundraise through crowdfunding activities.
Favorite Feature: Nonprofits can register with GoFundMe to become a member of their searchable list, helping donors find trustworthy ways to donate.
Pricing: GoFundMe is free. Your organization only has to pay standard transaction fees.
7. Fundraise Up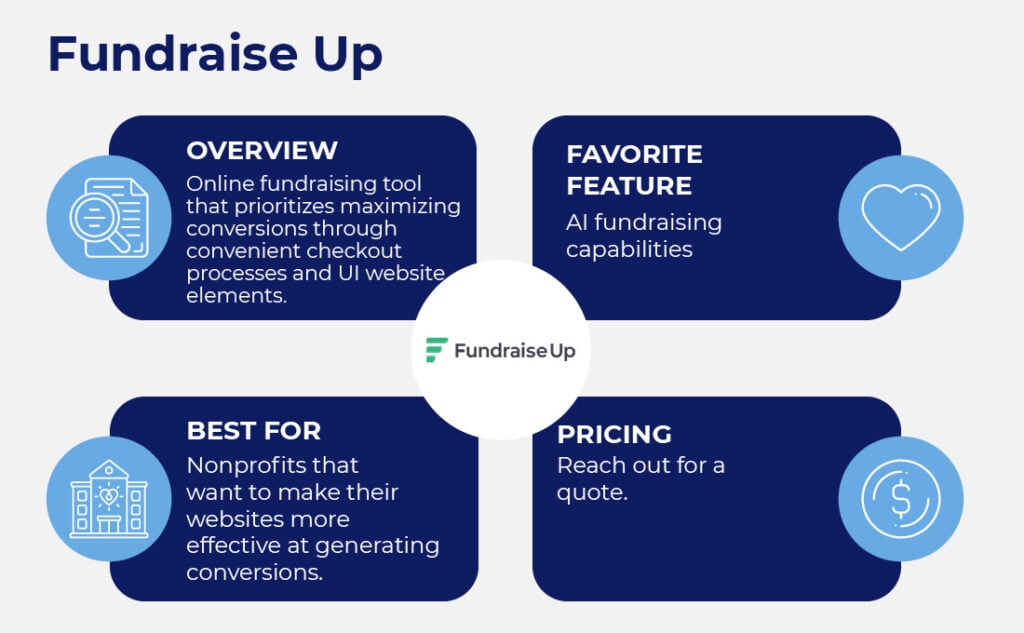 Fundraising Tool Overview: Fundraise Up strives to encourage more giving through your nonprofit's website. The tool includes features like optimized donation pages designed to boost conversions, quick and easy checkout processes, UI website elements geared towards conversions, and machine learning technology. Additionally, Fundraise Up prioritizes data security and fraud protection to mitigate any risks to supporters or nonprofits.
Best For: Nonprofits that want to make giving through their websites more efficient in order to increase the number of conversions they see as a result of online fundraising efforts.
Favorite Feature: Fundraise Up offers AI fundraising capabilities that maximize efficiency and success rates by personalizing ask amounts, strategically "upselling" donors, and catching fraudulent behavior—all through machine learning.
Pricing: Fundraise Up offers plans tailored to nonprofits that raise less than $500,000 online per year and those that raise more.
Wrapping Up
Your fundraising team doesn't have to do it all—instead, find the fundraising tools that streamline your efforts to attract more donors, improve stewardship efforts, optimize supporter experiences, and help make the most of your data.
For more about fundraising tools and how your organization can level its campaigns, check out these resources:
See how WeDidIt simplifies and optimizes fundraisers.