American Physical Therapy Association
APTA came to Allegiance for a full redesign including digital strategy, content and messaging work, information architecture, wireframes, and development.
What We Did
Analytics & Insights, Strategy & Planning, UX & Visual Design, Website Development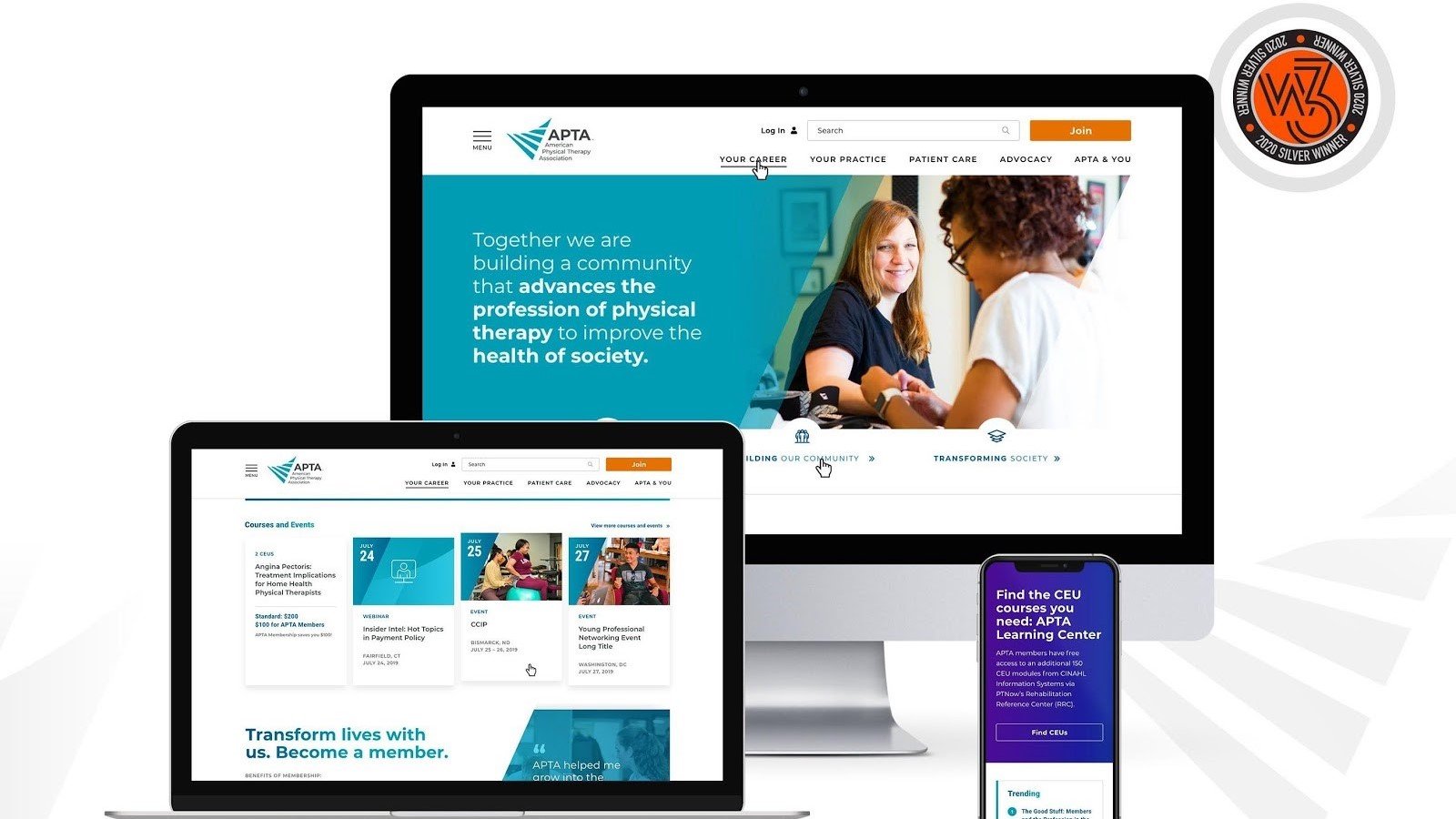 The Challenge
APTA.org grew organically until it became an unwieldy site with over 9,000 pages of content on 14 different microsites.
Redundant, out-of-date, and trivial content was cluttering up their website and making the valuable content harder to find. There was a lot of excellent content, but it lacked the context and prioritization to guide visitors. APTA had an inconsistent strategy around microsites and subdomains and lacked a topical organization across their sites.
APTA also needed more clear messaging around membership benefits, to remind members of their existing benefits, and to advertise benefits to non-members.
The Solution
They had already conducted excellent user research on their key audience segments, which we leveraged. We focused on consolidating microsites, content strategy, and CRO messaging to advertise membership benefits to prospective members, and to remind existing members of their benefits.
We conducted a content inventory and audit and created business rules to automate a first pass of content review.
Using scripts, we were able to identify existing taxonomies and then apply the new taxonomy to all pages to create a seamless user experience.
We worked with their team to develop guidance for when to use microsites and when to consolidate. The redesign of APTA.org included folding in a major microsite: PTnow.org.
We helped APTA prioritize content with a content inventory, using SEO and analytic data, and designed components to help APTA prioritize content on the site for visitors.
86%
positive feedback on content
#4
in an SEO analysis of the 50 top associations
This is the best experience I've had with any vendor. By a lot. I'm extremely pleased with how attentive they've been to our vision, how they've identified opportunities in alignment with that vision that we hadn't thought of, and how they've respected our timeline and budget. On top of all that, they're just been plain fun to work with.
Be as bold as your mission. Partner with Allegiance.