truth Campaign
Moving 67,000 teens to action with mobile marketing
What We Did
Analytics & Insights, Digital Marketing, Website Development
Tools & Tech
Drupal, Mobile Commons, Salsa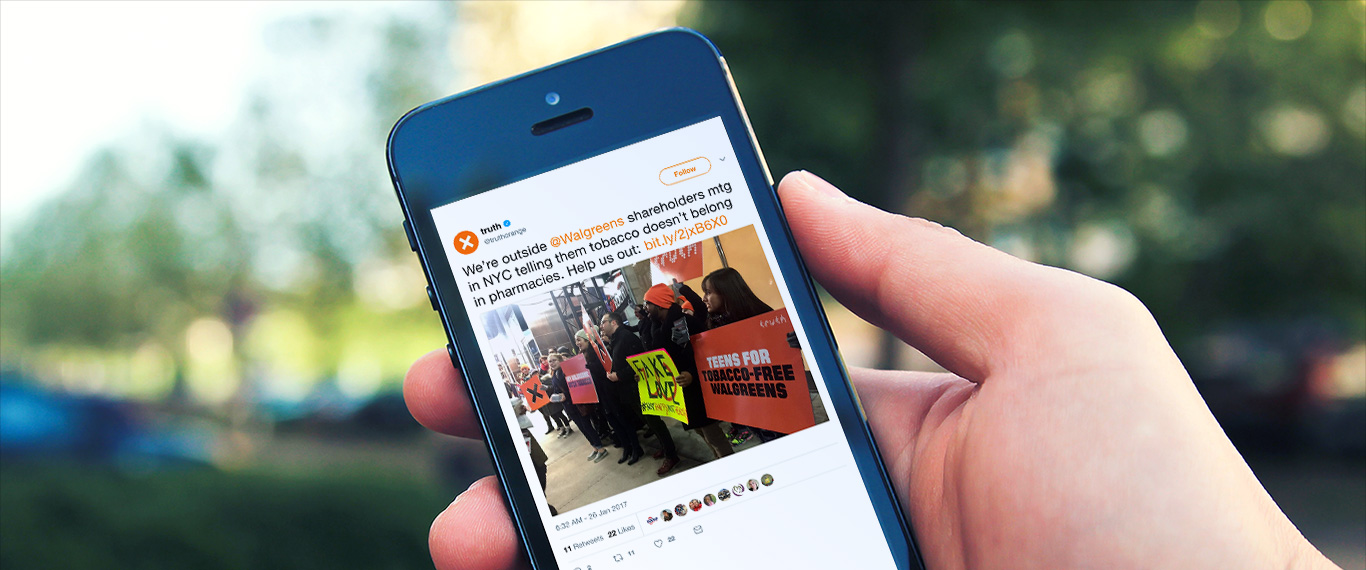 The Challenge
Truth Initiative®, one of the largest and most successful national youth tobacco-prevention campaigns, has been working since 2000 to educate youth by giving teens facts to make their own informed choices about tobacco use and inspire them to use their social influence and creativity in the fight against tobacco. truth wanted to empower teens to speak out against tobacco products for sale in drugstores' chains. Walgreens was one of the major U.S. drugstore chains that still sold cigarettes and one of the largest pharmacy chains in the U.S.
The Solution
truth collaborated with Allegiance on a multi-step, SMS, email, and social messaging program called "Not Happy or Healthy," to bring attention to the issue of tobacco sales in Walgreens pharmacies and to foster action for a petition to ban tobacco sales in Walgreens and other pharmacies.
Increased Engagement through Targeted Outreach
The program included the following activities: First, truth informed their engaged teen activists about the issue of cigarette sales in Walgreens' pharmacy chains. Second, truth provided a way for their young activists to do something about it featuring the #NOTHAPPYORHEALTHY hashtag. A petition on thetruth.com called for Walgreens to end the sale of tobacco products in all their stores. Third, to spread the word about the petition, Allegiance executed strategies across the truth digital channels including: SMS, email, and thetruth.com.
truth set a goal for the petition to get 1,000 signatures. The petition surpassed that goal within the first hour of going live. SMS drove 55 percent of participation—more than email marketing and social media combined—with a targeting strategy based on a teen's engagement with the petition.
Lastly, truth empowered young activists to speak directly to Walgreens. truth provided an online toolkit for activists to make their voices heard during a Walgreens shareholder meeting. Allegiance used SMS and email to promote the digital toolkit, which included social media messages, graphics, and a phone script for those who called into the meeting. Dozens of truth activists showed up to protest the Walgreens shareholder meeting in person in New York City.
With help from Allegiance Group, truth has been able to reach thousands of teens across digital channels, activating them to push the movement to end smoking forward.
Results
In the end, the petition collected over 5,300 youth names and engaged more than 67,000 young activists in the "Not Happy or Healthy" campaign. Through efforts like this, Allegiance Group has influenced the U.S. teen smoking rate, driving it to a record-low 6 percent in 2016. With truth, Allegiance Group is saving lives by preventing youth smoking.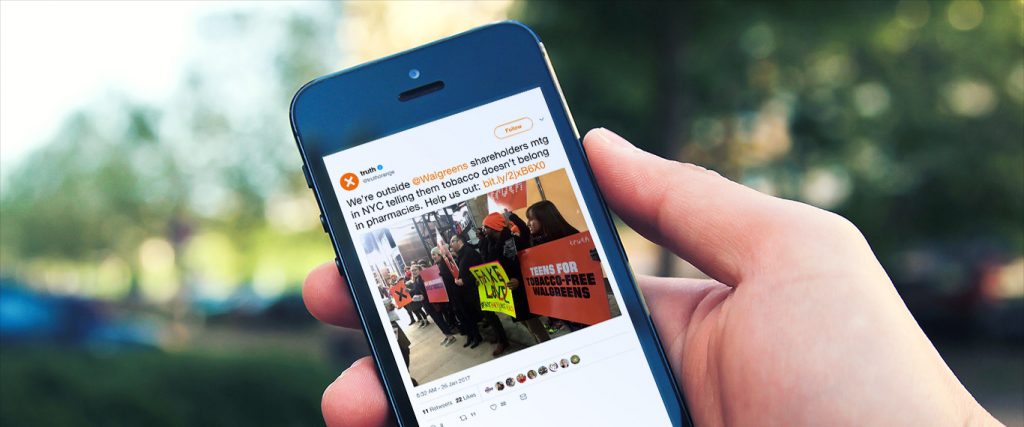 Be as bold as your mission. Partner with Allegiance.