Elevating a Brand to Make Health Care Work for More People
Driving higher visitor engagement by transforming the Center for Health Care Strategies' web footprint.
What We Did
UX & Visual Design, Website Development
Tools & Tech
WordPress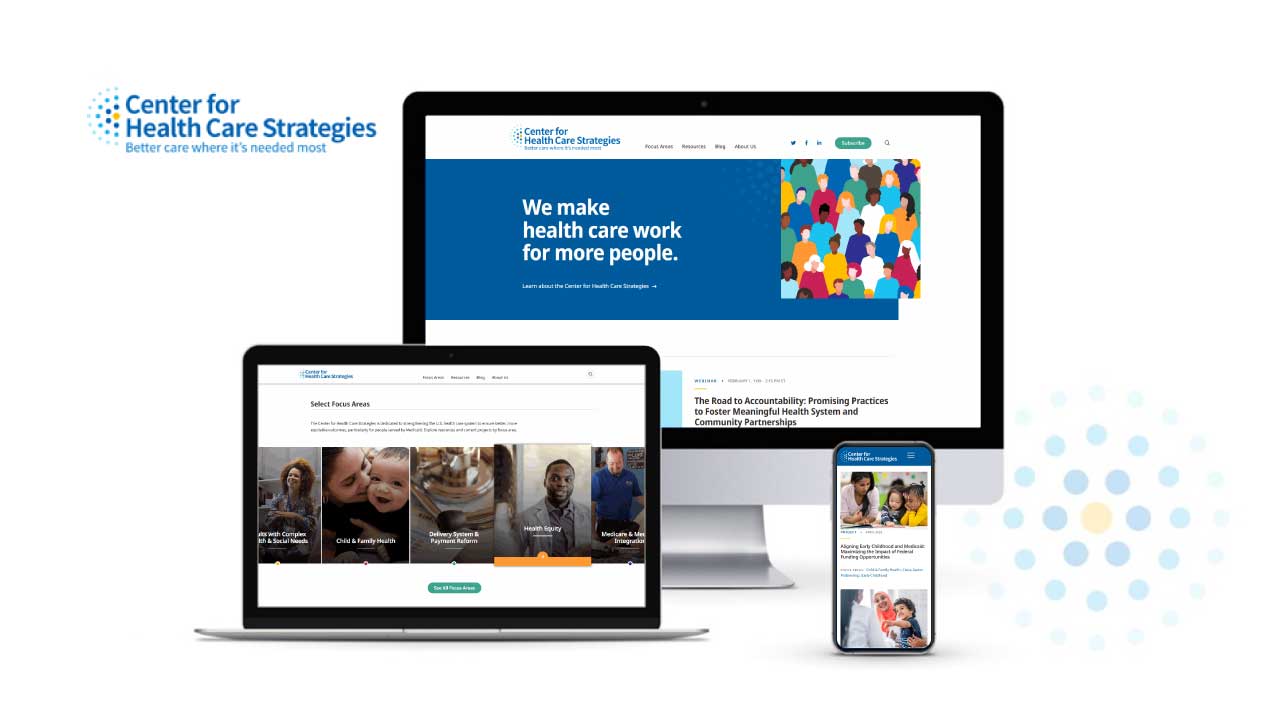 The Challenge
To better tell the Center for Health Care Strategies' (CHCS) brand story and help shape a new evolution within the digital space for CHCS— ensuring long-form content was compelling, easy, and accessible for all users.
The Solution
With CHCS' values at the core, the solution was to create a warm, inclusive, and accessible user-centric online experience that assists audiences in their work to remove barriers that hinder the health and well-being of people in the U.S. served by Medicaid. Doing this will help to strengthen the U.S. health care system to ensure better, more equitable outcomes for people served by Medicaid.
Discovery:
We began with a Goals and Audience workshop to understand CHCS' digital audiences and broader website and organizational goals. Together with a complete analytics review, these findings allowed our team to evaluate how previous CHCS content performed, bridge gaps within the user journey, and highlight the exceptional work CHCS is doing to change lives through health care.
User Experience and User Interface Design:
After defining metrics for success in the Discovery Phase, The Allegiance team revised the CHCS information architecture, followed by a brand mood board design. This visual tool enabled all team members to come to a consensus on how the new brand would come to life on-screen with an aesthetic that embodies the values of CHCS, reflects modern design trends, incorporates mobile device friendliness, and can evolve. From there, we were able to create a modular, efficient design system for all critical pages within the site architecture — designed to showcase fully embedded, easily scannable (and shareable) long-form publications — with very few changes along the way.
To make all content simple for the user to navigate, focus areas, resources, blog articles, and key information about CHCS were included in a streamlined tabbed bar at the top of every screen.
Development, Quality Assurance, and Launch:
Allegiance developers expanded new configuration options for existing content and added efficiencies within CHCS's existing WordPress CMS framework.
Content updates were performed alongside development to leverage new functionality while maintaining support for legacy content without adjustments.
We then launched a thorough Quality Assurance Phase internally, followed by client-driven user acceptance testing — and ultimately, the new CHCS website launched on time and on budget.