Email Reactivation Campaign and Data Cleanup Yields Incredible Results
Email Reactivation and Data Cleanup Triples Campaign Revenue for KING FM
What We Did
Digital Marketing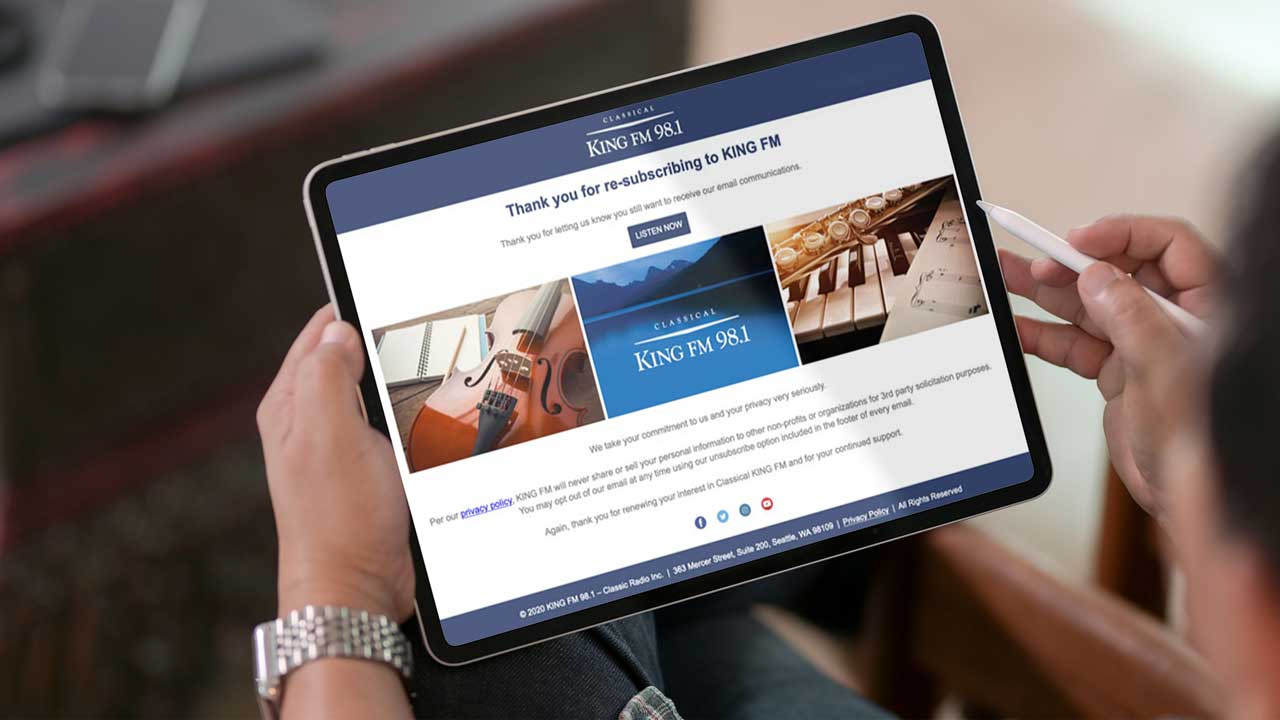 The Challenge
Classical KING FM, Seattle, retained Allegiance Group to help with the station's direct mail and digital fundraising program. While the results in all channels have been strong, KING FM and Allegiance Group recognized that digital fundraising results would be even better if we performed data cleanup by purging old and inactive email addresses. To support these efforts, Allegiance Group recommended an email reactivation campaign.
Background
File health is an important component of any fundraising program. Many fundraisers are under the wrong impression that sending emails to all who they have email addresses for is an inexpensive and "safe" way to catch everyone and everybody who might make a gift. But that just isn't true.
Two things will happen in the absence of proactive efforts to engage an email house file:
You negatively affect your true key performance indicators, masking opportunities to improve file performance and grow revenue — the real goal of the digital program.
As inactive names grow and surround your active email list, you put your ability to deliver email at risk, or worse still you are blacklisted by your service provider, leaving your organization unable to send email at all!
Unhealthy email files can see negative key performance indicators (KPIs), including but not limited to:
Low open rates (< 10%)
Low click-through rates, or CTRs (< .3% for fundraising; < 2% for newsletter)
High unsubscribe rates (> than .5%)
Low deliverability rates (< 90%)
The goal of email reactivation is to improve ongoing email file health. This will result in more accurate reporting of Key Performance Indicators (KPI's) critical in the development, execution, and evaluation of strategies that will lead to improved email performance.
While at the outset KING FM's email results were good, Allegiance Group suspected that adding email reactivation could make the station's digital fundraising program better.
The Solution
Allegiance Group identified which email addresses on the file were not engaging with the digital content being sent either directly from the station or by Allegiance Group on behalf of the station.
We then created email communications aimed at getting the attention of inactive users, driving them to reengage with KING FM, or unsubscribe to remove weight from the file that we believed was driving down email performance. The playful, captivating email copy was intended to get the users' attention and prompt them to either reactivate or opt out of email communications via a two-email series.
The Results
The outcome of the email reactivation executed ahead of the Calendar Year End was nothing short of incredible! KING FM's Calendar-Year-End results significantly outperformed those of the prior year:
Open rates more than doubled.
Click-through rates increased by nearly 50%.
With a better view of email performance, there were two additional deployments with fewer emails sent overall.
Digital revenue increased by a stunning 321%!
The overall donor count increased by nearly four times, and the new donor count increased by more than 500%.
Calendar Year End Digital Campaign
500%+
Donor Count Increase
321%
Digital Revenue Increase
50%
Increase in Click-Through Rates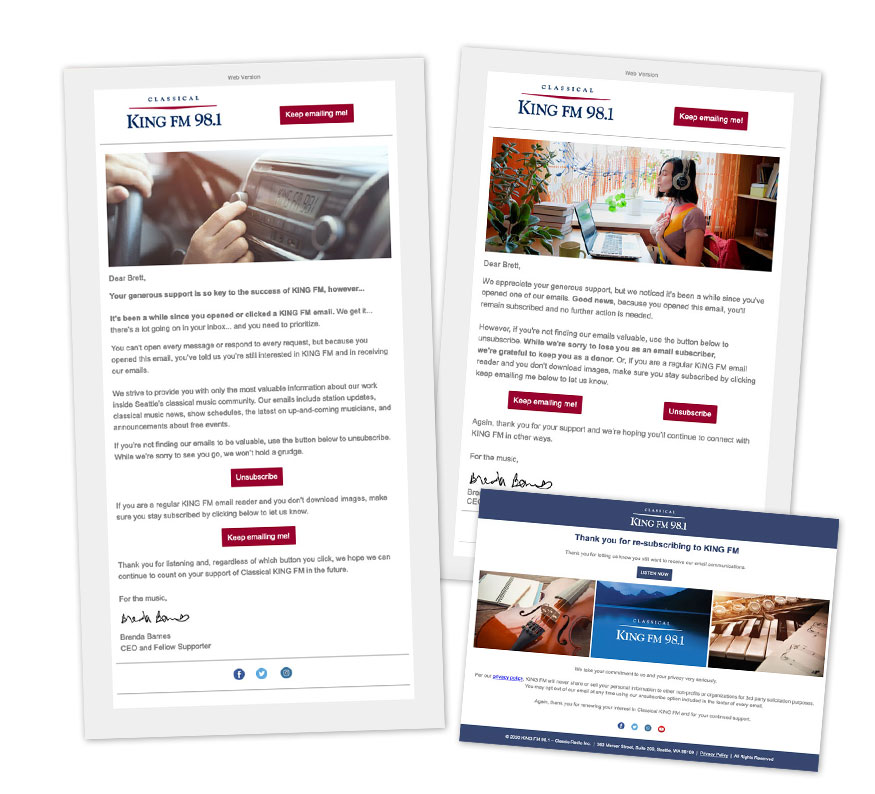 As part of the ongoing management of KING FM's annual digital program, Allegiance Group will continue to perform regular ongoing email reactivation efforts on KING FM's behalf to maintain email file health. We look forward to more successful email campaigns in the future that will support the station's mission and programs.