Web App Developed Using Sitefinity Reduces Costs and Improves User Experience
A fully digital Patient Assistance & Reimbursement Guide is added to the Association of Community Cancer Centers website.
What We Did
UX & Visual Design, Website Development
Tools & Tech
Sitefinity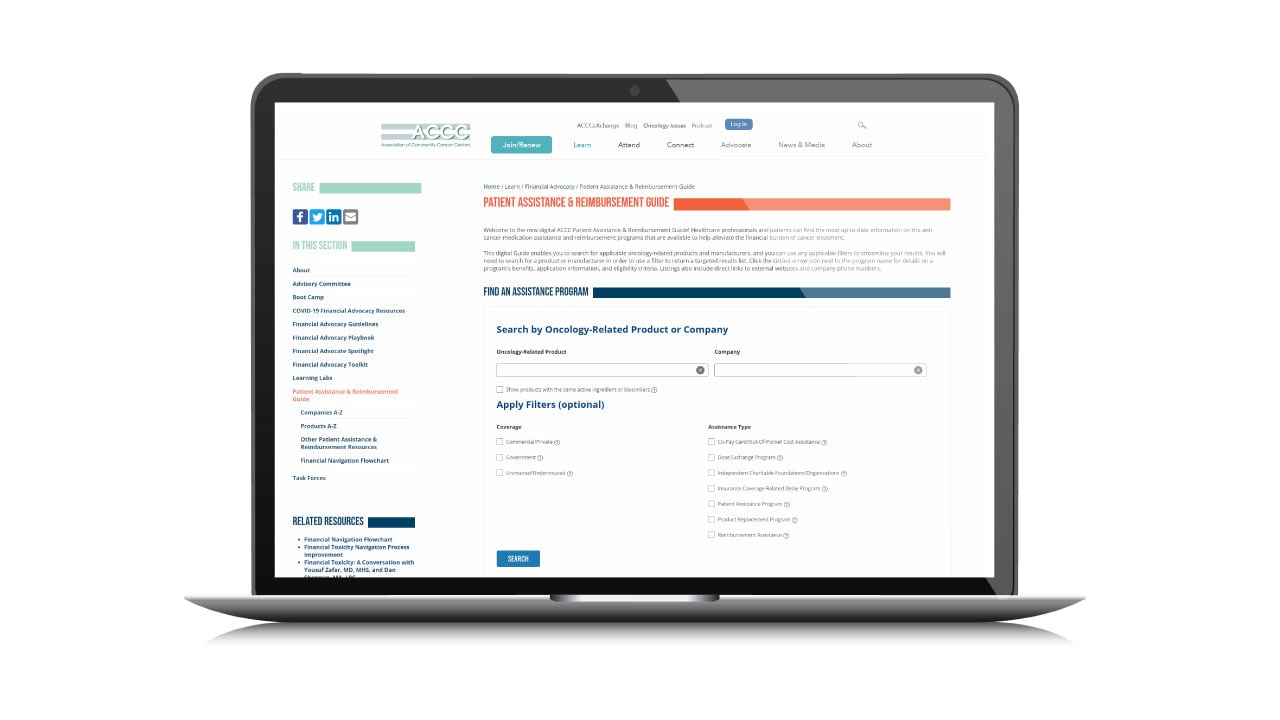 With an annual revenue of more than $12,000,000, the Association of Community Cancer Centers (ACCC) is a network of 28,000+ members from 2,000 hospitals and practices nationwide.
In the spring of 2021, ACCC approached Allegiance about creating a web version of their Patient Assistance & Reimbursement Guide using Sitefinity. A popular publication, the guide helps financial advocates, oncology pharmacy staff, social workers, other healthcare professionals, patients, and caregivers find the most up-to-date information on anti-cancer medication assistance and reimbursement programs that are available to help alleviate the financial burden of cancer treatment.
The Problem
Previously, the Guide was mailed out in print format to the association's members once a year, and a PDF version was made available online. Users had to download the PDF file or flip through the large, printed booklet, both were more than 100 pages long, to find the information they needed.
Searching the Guide had been limited to looking up products by brand or generic name or by a manufacturer's name using the table of contents, glossary or lookup tables, or simple text searching in the PDF. Finding related programs and products based on drug characteristics was impossible due to the document's flat nature. Nor could it filter through data by other important criteria, such as coverage and assistance types.
Given the effort and cost associated with updating the Guide, it was printed and mailed annually (once a year), while quarterly edits were made only to the PDF version. These edits had to be managed offline, with multiple rounds of edits necessary to produce the print or PDF version, which quickly became out of date. Any updated program and treatment-related information did not make it into the print version until the next year. While the PDF version was updated quarterly, changes were not made in real time.
The Solution
Allegiance worked with ACCC to design a portable web application that would fit within their existing site. The application uses existing site templates and is completely managed by the Sitefinity CMS.
All content in the guide is managed in the Sitefinity CMS. New content types were created for programs, products, and manufacturers that store all data. Sitefinity web services allow for connecting the content to a custom JavaScript search interface. The system's easy-to-use tagging system allows for relating content, as well as the ability to drive powerful search results. Updates, corrections, and additions can easily be made anytime and published to the Guide by adding or editing content already in the CMS.
The team at Allegiance was wonderful to work with. They took the time to understand our problems and create a solution that truly helps our membership quickly access the information they need to help their patients. ACCC is very happy with the digital Patient Assistance & Reimbursement Guide, and I have heard great things from our membership regarding its new, digital format and easy use. Allegiance helped make what was already a relied-upon resource even more valuable for our members!
Results
The new, fully digital Patient & Reimbursement Assistance Guide web application allows ACCC to provide a higher level of service to patients with cancer and those helping navigate the expensive landscape of cancer treatment.
Experience highlights include:
The application allows for easy searching of all information in the guide.
Type-ahead functionality in the search interface dynamically looks up all of the products and companies in the system.
Program results can be shown that include biosimilars and other products with the same active ingredients, so users can see additional options that may exist.
Filters allow for pairing back the program results with specific coverage and assistance types. From the results, users can read the information on each program and click straight away through to the company and/or program website or even call for more information.
Quick links to other resources, including foundations and non-profits, round out the experience.
Thinking about adding an app to your website?