Philabundance
Regional Food Bank Attracts New and Old Donors Alike Through Effective Digital Outreach
What We Did
Digital Marketing, Direct Mail, Strategy & Planning
Tools & Tech
Facebook Ads, Google Ads, Luminate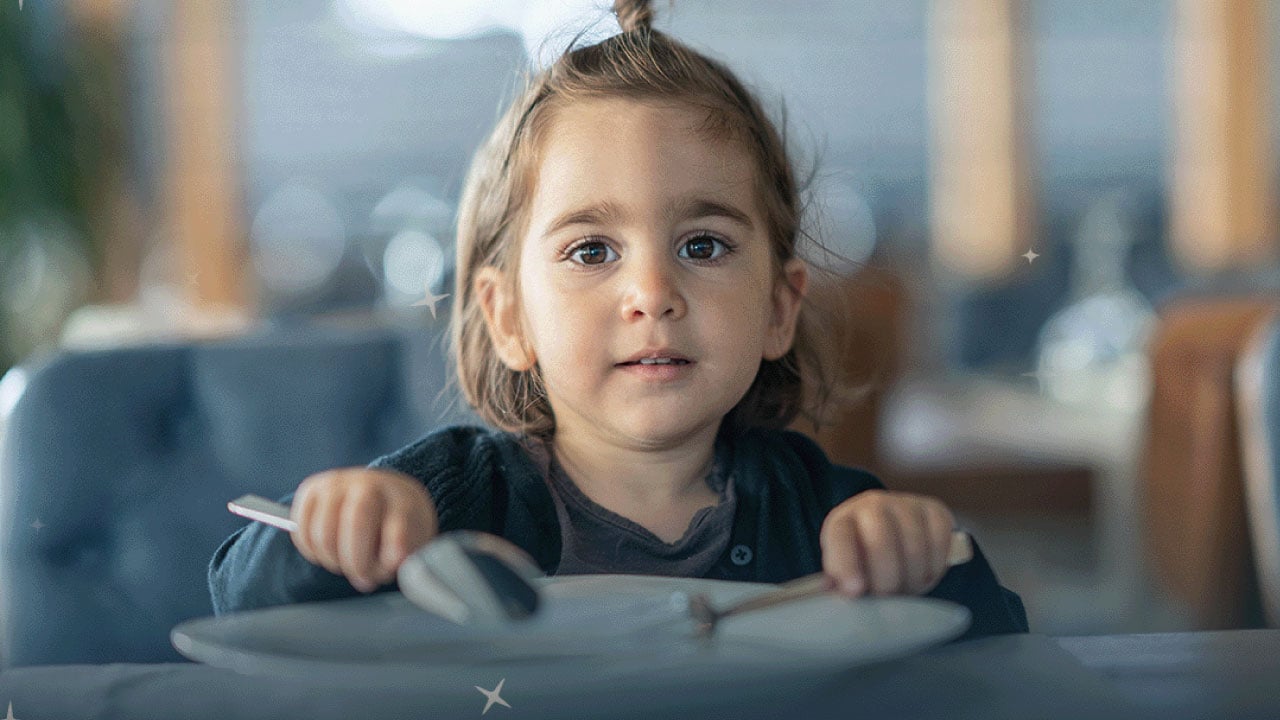 Philabundance is a Philadelphia-based nonprofit organization dedicated to addressing food insecurity in the city and surrounding area. It works with more than 350 agency partners across nine counties to feed people in need, as well as reduce food waste, encourage healthy eating and address the root causes of hunger.
The Challenge
While Philabundance achieved positive results through past outreach efforts, the organization had limited experience with, and a low profile related to, paid search and social media advertising. With digital interactions and social media playing major roles in the lives of so many prospects, as well as past and current donors, Philabundance realized it needed to tap into these channels.
Leaders at the organization knew they could count on the resources and expertise of the Allegiance Group to make the most of this new effort. Our many past successes in improving and streamlining outreach and fundraising brought valuable experience to the project.
The Solution
By emphasizing and making a corresponding investment in paid search and Facebook advertising, along with work in direct mail, email, advertising and more, we substantially increased Philabundance's visibility among donors and prospects. In turn, that meant remarkable improvements in revenue and gifts from previously untapped advertising channels, as well as record-breaking return on ad spend (ROAS).
Our normal standard for paid search is to double the investment of our partner. In other words, we expect that an investment of $100 would eventually raise at least $200 in donations. In our work with Philabundance, we achieved and greatly exceeded that standard: Through paid search efforts on Google and Microsoft, we achieved an 1,853% ROAS. That's an incredible achievement for Philabundance.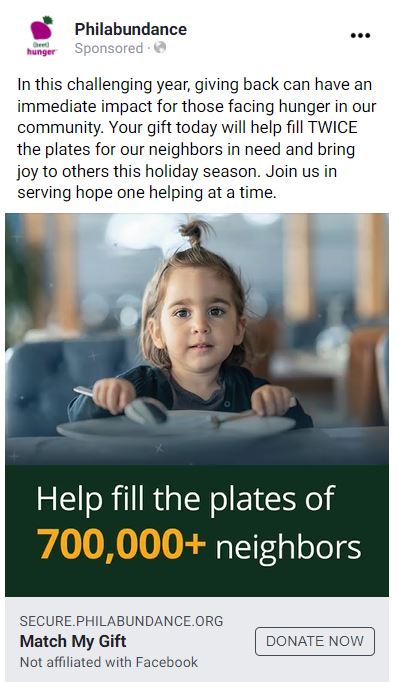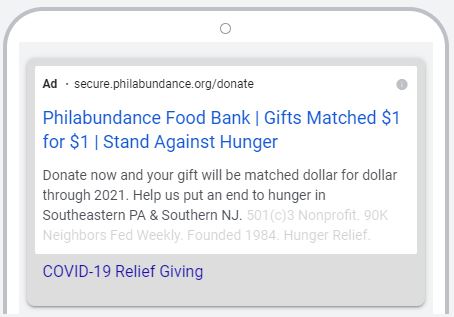 Paid Search
1,853%
ROAS in paid search
$17.90
CPA/cost per conversion
Paid Search Results
Along with a spectacular 1,853% ROAS in paid search, major successes for this project included:
Attracting 1,705 donors in December 2021, including 473 who had not previously contributed to Philabundance.
An average gift of $331.80 (56% higher than all other channels)
A CPA/cost per conversion of just $17.90.
Tapping into a new avenue for outreach led to remarkable success for Philabundance, thanks to the support and guidance of the Allegiance Group. With a stronger digital presence and an integrated approach, Philabundance tapped into a supportive collection of donors, both new and returning, who were eager to support a valuable community organization. We recognize that, more broadly, this model is proof of concept for all local or regional food banks that want to expand their outreach efforts and ultimately, better serve their missions.
Need help with digital marketing?