Retail Industry Leaders Association Website Redesign
Storytelling, thought leadership, and enhanced navigation allow for a better user experience on new website.
What We Did
Strategy & Planning, UX & Visual Design, Website Development
Tools & Tech
Fonteva/Force, Informz Email System, Kentico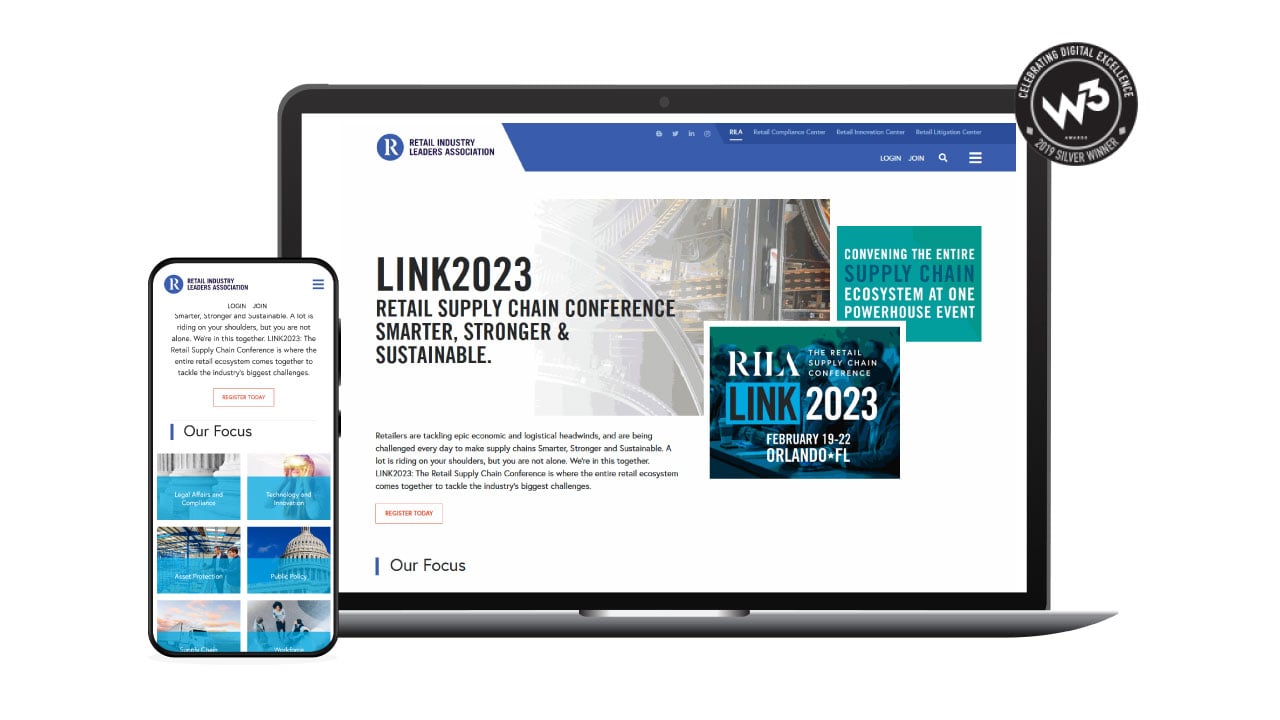 RILA is a US trade association that represents major retailers, including Best Buy, Home Depot, Walgreens, Nike, Starbucks, and Walmart.
The Challenge:
The goal was to create a forward-looking, intuitive digital experience that elevates RILA's brand value, demonstrates its purpose-driven work and impact on the industry and legislation, and drives deeper engagement with members and non-members.
The Solution:
The team set out to re-platform RILA.org and various sub-sites onto a new CMS with a stunning new design, enhanced user experience, and support for new forms of content.
At a high level, RILA looked to us to create a more organized and engaging user experience for their users.
We focused on these goals for the redesign:
Use storytelling and dynamic design to showcase content
Engage users with thought leadership
Enhance the navigation experience
Create clear pathways for user conversion
Consolidate content so that users only see content relevant to them
Results
The new website features a dynamic user experience. The content is organized in a way that makes sense for the RILA.org audience. The improved taxonomy and content architecture enhance search capabilities and areas of importance to its members and users.
We improved user engagement by allowing users to share their contact information, subscribe to newsletters, respond to calls to action, and engage via social media across the site.
A new My RILA member dashboard view gives users a consolidated view of all relevant activity and transactions.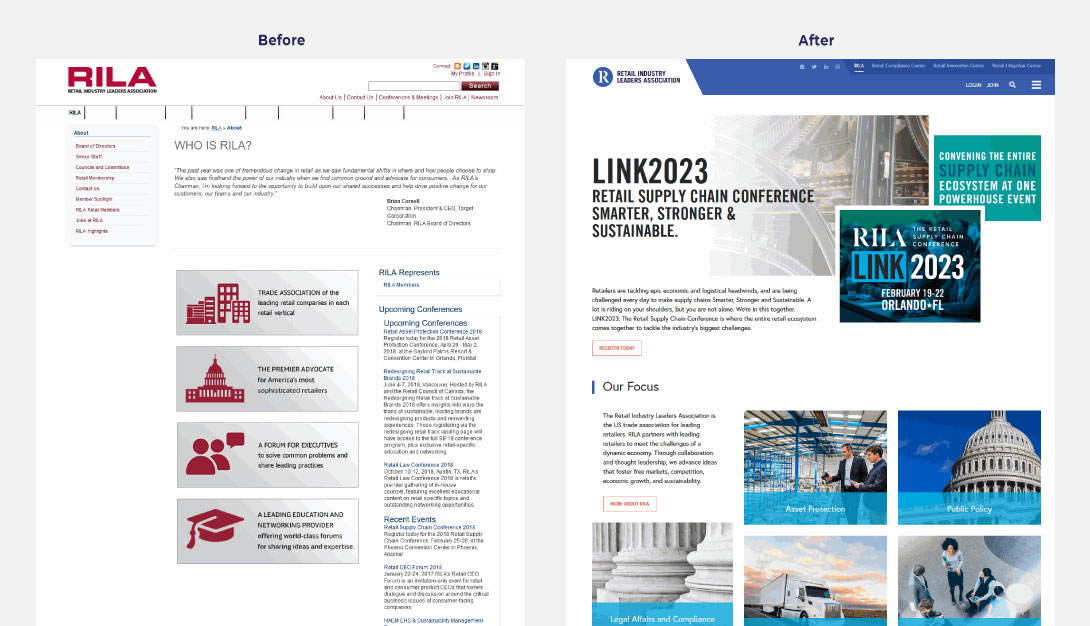 Awards and Recognition:
"Best Associations website" WebAward – the HIGHEST award in the category. Feedback from one of the judges – "The Retail Industry Leaders Association (RILA) have created a forward-looking, intuitive digital experience that elevates their brand value to their audience of retail members, vendors, and solution providers. The site demonstrates its purpose-driven work and impact on the industry, driving deeper engagement with site visitors alike. If the goal was to promote and elevate a dynamic industry through the RILA website, I would say mission accomplished. Congratulations!"
W3 Silver Award (Category: General Website Categories-Associations)
Does your website need updating?