Increase Productivity Among Volunteers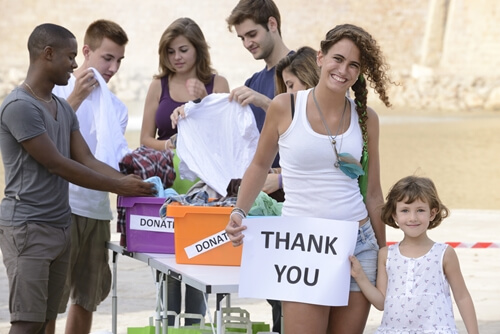 Undoubtedly, most nonprofit and religious broadcasters depend on volunteers to run smoothly. Whether the volunteers are helping out with promotional events or offering a hand in the studio, it's essential that they stay happy and engaged and realize their value in the organization. Since volunteers are most often unpaid, it can be challenging to foster productivity among them, especially when it comes to less-than-glamorous jobs. Here are a few ways to keep your volunteers actively involved:

Pay attention to what volunteers are unhappy about
Have a meeting with all of your volunteers to find out what they like and what they don't about how things in the organization are running. You could even schedule individual one-on-ones with your volunteers to get a candid idea of their feelings about their position and responsibilities. Listen to their views and critiques, good and bad. This can make the organization more enjoyable for everyone to volunteer, and the volunteers may also have some great insight into how to run things more efficiently. They're the ones who are affected by how things are currently run. Everyone responds better to a transparent leader than someone who tries to act like everything is peachy while volunteers are dropping like flies. 
"Nobody wants to feel like their hard work is going unnoticed or unappreciated."
Give volunteers an incentive.
While you may be unable to pay your volunteers, there's no reason you shouldn't offer some incentive for giving their time to the organization. Whether it's college credit, free lunches, or other recognition, incentives can increase productivity, show your volunteers how much they mean to you and the organization, and improve morale. Even something as simple as a thank-you note can go a long way. Nobody wants to feel like their hard work is going unnoticed or unappreciated.
Communicate a time commitment
Don't tell your volunteers that they can stay as long as they want or work until the event is over. You don't want to give your volunteers the impression that they can't leave. Give everyone working for you a clear time commitment, like from 5 p.m. to 8 p.m., so people know what they're getting into when they decide to work that event. You also need to implement a fair scheduling process to ensure that some volunteers aren't stuck getting the short end of the stick while others always get good shifts or events.
Respecting a volunteer's time is important since they're giving it to you for free. Don't keep them longer than their time commitment, and don't expect them to be able to drop everything for the organization. Understand that there will be times when a volunteer is too busy with other commitments to be able to give a lot of time to the organization and be supportive of that.
Take talents and interests into account
When it comes to volunteer work, most people want to feel like they're making a difference or developing professionally. While a lot of "grunt" work will automatically be placed on the shoulders of the volunteers, it's still important to pay attention to each volunteer's strengths. If a volunteer has a background in PR, why not allow them to do some marketing for the station? If another volunteer has experience in accounting, let them handle some financial tasks. Not only will this allow your volunteers to do things that interest them, but it also allows them to do some meaningful work for the organization.