5 Major Mistakes You're Making in Your Monthly Giving Program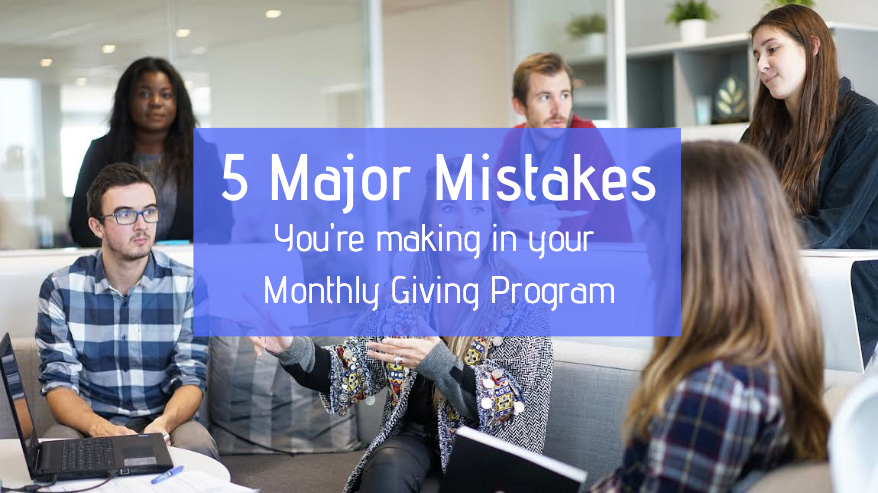 A monthly giving program is a fantastic way to generate recurring donations and increase the stability and consistency of proceeds at your organization. So, if you don't already have a monthly program in place, you should start thinking about implementing one.
Monthly giving programs are a great way for donations to be given on a regular, recurring basis in smaller amounts. This makes it easier for donors to contribute if they aren't able to give a single large donation. Additionally, if your recurring giving program is set up efficiently, donors also won't need to think about re-submitting their donation every time, rather, it will be automated – out of sight, out of mind!
But there are mistakes that can be made with a monthly giving program that could be costing your organization in both donations and time.
Here are the 5 biggest mistakes you could be making in your Monthly Giving program right now:
1. Not Asking
As simple and obvious as it seems, you have to ask for monthly donations in order to receive them. Sure, there will be those who are active in a cause and will take the autonomous initiative to donate monthly (a rare breed), but for the most part, if someone is not asked and is not aware of the option, they won't seek out the information on their own.
Don't be afraid to ask in your appeals to donors if they would like to join your monthly giving program. Make it easy for them to join and give them options that work for them. Like any other type of fundraising, donors will only participate in your monthly program if you ask them and make it easy for them.
2. Not Preparing
Many nonprofits are forced to operate on minimal budgets, meaning they are minimally staffed. With so few staff, it can be difficult to get things done on time and properly. But, when it comes to your monthly giving program, it's best to take a little extra time and make sure everything is done right before sending anything out to potential donors.
Test everything first to see that it works, from email send outs and links to the people answering the phone to help donors with questions. "All of these moving parts need to be working in unison for a successful monthly giving program to happen. Before any plan is implemented, everything needs to be fully tested to ensure there are no flaws or hiccups," states OxEssays and UKTopWriters project manager Laura Gaither.
3. Sending Boring Thank You's – or not sending them at all
It's important to send out thank you's to show your monthly donors that you truly appreciate their commitment and gifts. But, most of the time these letters of gratitude are incredibly boring, brief, and generic – even worse if they resemble a transaction receipt.
A wonderful idea to thank monthly donors is to send them messages about what their contribution is doing for the mission. Send progress reports about ongoing projects, or other updates that may be of interest to them. "Seeing how their dollars are making a difference can really influence a donor to continue their contributions, and can even push them towards giving more when they see their donations going to good use," explains Julia Lam, Communications Manager at AustralianHelp and BigAssignments.
4. Being Generic in Email Messaging
Your mailing list should already be segmented, and when it comes to monthly donors, they should be in a segment all their own. All donors should be appreciated, but monthly donors have demonstrated a commitment to support you, so it's important to recognize that long-term commitment.
If you're sending out the same email to your monthly donors as potential donors or one-time donors are receiving, you're not properly recognizing the contribution these donors are making. Even if the dollar amount is less than that of a one-time donor, it's essential to acknowledge the long-term commitment they are making to your organization.
5. Letting Memberships Expire
Generally, monthly giving programs allow a donor to choose the number of months they wish to donate or include an end date to their commitment. If you aren't paying attention and let these monthly donations expire, chances are your donors won't even notice and won't renew their giving.
It's up to you as the organization to keep track of when monthly donations are going to expire and catch the donors before that happens. This way, there are no donations lost in between. Sending a friendly reminder message the month before expiry, along with an easy way for the donors to renew and even a way to increase their monthly contribution can help the transfer.
Conclusion
When a monthly giving program is set up and maintained well, it can be a game-changer for an organization – receiving and being able to expect consistent donations can instill a type of security & stability in your organization like nothing else. However, a poorly built and maintained giving program can waste your time and lose crucial donations. Keep your monthly giving program active and booming with the help of these tips for mistakes you need to avoid.
Author: Nora Mork is a communications and business journalist at Australian Reviewer. She speaks at public niche events and contributes to online magazines and blogs, among them Academized and Essayroo.