8 Tips for Converting Online Donors to Major Donors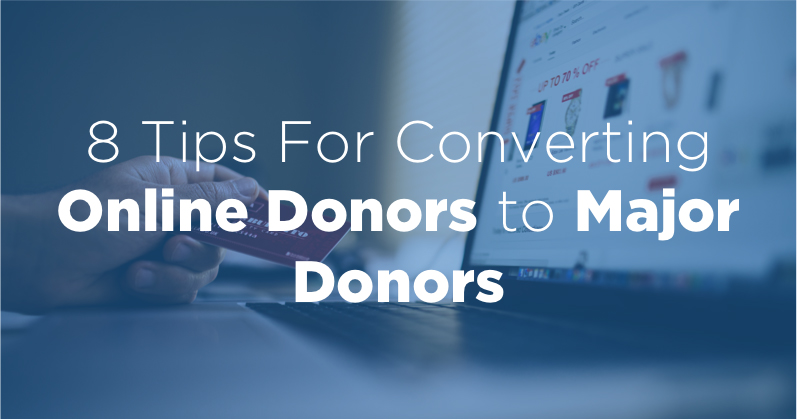 Online donors are valuable contributors to your organization, but retention can be challenging.
After all, these donors are giving behind a screen, and online donations tend to be smaller than those given in person.
Pair that with the fact that 52% of fundraisers say their organization lacks a systematic method for finding major gifts. You may wonder how on earth you will convert your online donors into major donors.
First, understand that conversion is a long-term conversation between your nonprofit and your online donors.
Then, get started with our top 8 tips for converting your online donors to major donors:
Perform research on online donors.
Increase online donation tiers.
Reassure donors with security and transparency.
Offer crowdfunding rewards to top donors.
Leverage major donors in P2P fundraising.
Follow up with major donors.
Train major gift officers in social media strategy.
Send personalized emails.
Your online donors have valuable potential; follow these tips to learn how to tap into it.
1. Perform research on online donors.
The first step to converting online donors to major donors is identifying those with the capacity and willingness to make a major donation.
When a donor gives online, you receive more than a donation; you get information!
Online donation forms can provide information about the donor's name and address. These foundational insights can be the starting points for your research.
With the donor's name, you can start researching their social media accounts, particularly Facebook or LinkedIn.
In your general research, look for:
Business affiliations.
Philanthropic ties.
Personal information.
Institutional ties, such as alma maters.
Any of these pieces can be an "in" with a major donor.
Ultimately, this information should be used to flesh out your prospect profiles so that you gain a better understanding of who your donors are.
With the donor's address, you can look into the property value of their real estate holdings. Of course, they may own other properties you don't know about, but you can use this basic information to get a sense of a donor's giving capacity.
According to this DonorSearch resource, donors who own more than $2 million in real estate are 17 times more likely to give philanthropically than the average person.
Researching your online donors for major donor identifiers is the foundation of your conversion process; after all, you must know who you're targeting before you can begin major donor cultivation.
In short: Online donation forms provide your organization with the basic information to start researching each prospect for major donor identifiers.
2. Increase online donation tiers.
Donation tiers are the different giving levels you offer on your online giving page.
A simple way to convert online donors into major donors is to integrate larger donation tiers into your giving page.
A large button that encourages donors to make a big gift (something along the lines of "Give $1000," for example) can be an effective tool. Why?
Donors who give these larger gifts are likely to have major gift potential. Increasing your donation tiers can help you pinpoint who those major donors may be.
Giving tiers also provide context for how much your nonprofit needs and simplify the giving process. It's much easier for major donors to click a predetermined button than it is to guess how much they should donate.
To further enhance your donation tiers, be specific about what each amount will be used for. I.e., "Give $1,000 to provide a cow to a family in need."
Being specific will give tangible benefits to a donation, and the donor will better understand how their gift is being used to further your cause.
In short: Easily enable online donors to make larger donations by adding a predetermined option for major gifts and be specific about how their donation will be used.
3. Reassure donors with security and transparency.
Donors usually research your website before they decide to give, and for good reason. Not only do they want to see that their donation is going to a responsible organization, but they also want to ensure that their donation is secure.
The need for reassurance is increased when major donations come into the picture.
To gain the trust of your online supporters, you'll need to be as transparent as possible. You may even be required by law to provide charitable solicitation disclosures.
To build trust with your online donors, you can:
Make your 990 or other tax forms publicly accessible, or even link to them on your website.
Provide a Donor FAQ to answer common concerns.
Frequently update the website to reflect your nonprofit's most current milestones.
Brand donation forms so that supporters are confident that they're typing their information into your site.
Include security icons and logos on your donation form.
If you'd like, you can look into third-party applications like Charity Navigator, which rates philanthropic organizations based on their transparency and accountability. A high score can assure donors that their gifts are going to a responsible nonprofit.
In short: Online donors will be more willing to give major gifts if they feel confident that their gifts are in good hands. Being open with your audience demonstrates responsibility as an organization.
4. Offer crowdfunding rewards to top donors.
Crowdfunding campaigns are the perfect opportunity to identify your major online donors and build long-term relationships.
Why?
Crowdfunding campaigns usually provide rewards or incentives for each donation tier. Offering exclusive rewards for a major donation can incentivize potential major donors.
These high-tier rewards should further the engagement between your donor and your nonprofit.
For instance, you can offer invitations to an exclusive event. Or, you could provide bidding rights on an exclusive charity auction item (this BidPal resource has 115 to choose from).
Either way, rewarding the major donor with event privileges will give you the opportunity to speak to the donor in person.
You can use this chance to further your relationship or introduce yourself formally if the donor has only given online.
To enhance the appeal of your crowdfunding campaign even more, you can:
Schedule during year-end fundraising. The end of the year is the most lucrative fundraising period for nonprofits. Pushing your crowdfunding campaign during this time can help you capitalize on the giving spirit.
Tell a story. Your crowdfunding campaign should have a clear, consistent, and simple story that motivates donors to give. Focus on the recipients of your nonprofit's aid, and be specific about how your fundraising goal will help the people your donors care about.
Following these tips can help you create a crowdfunding campaign that encourages major donors to surface, not just to receive rewards, but to further engage with your nonprofit.
In short: Crowdfunding rewards can encourage online donors to give major gifts and attend your nonprofit's events.
5. Leverage major donors in P2P fundraising.
Major donors tend to know major donors. The value of peer-to-peer or P2P fundraising is that individual fundraisers are able to reach out to their own networks and solicit donations from established relationships.
If major donors reach out to their networks during your campaign, they can share their stories.
Encourage major donors to focus on:
Why donating to your organization made a difference in their life.
How donating to your organization made a difference toward your cause.
What the donor values about their relationship with your nonprofit.
Major donors can include this information on their fundraising pages. To help donors create their fundraising pages, you can provide toolkits and best practices at the beginning of your campaign.
Ultimately, you want your major donors to create natural ask amounts that appeal to their networks.
After all, which strategy sounds more appealing: A cancer research nonprofit asking for donations en mass or a donor explaining how giving allows them to repay the nonprofit for the help it provided when they had cancer?
P2P fundraising works similarly; donors explain why major gifts are meaningful and valuable, and new donors respond to their sincerity.
In short: Your major donors likely have valuable connections who are willing to give on an online fundraising page. Equipping your major donors with the right tools to make a large gift appeal can help them integrate their high-potential contacts into your organization.
6. Follow up with major donors.
When it comes to converting online donors to major donors, you'll want to do more than solicit a single gift, even if the gift is large.
To build lasting relationships, you must react and respond to the larger gifts you receive online.
Follow larger online donations with in-person contact. Specifically, you may want to call these donors and formally introduce yourself if they're new to the organization.
During your conversation, ask to learn more about their gift and why they gave it.
Understanding their intentions can help you target the kind of giving opportunities these donors respond to. Further, you can learn more about the donor in question and how they'd like to serve your organization.
You may, for instance, find that a donor is particularly interested in leaving a legacy of goodwill by donating. This donor may be the perfect prospect for your planned giving program.
But you won't know unless you ask.
In short: Converting online donors to major donors is a long-term process that doesn't end once you receive the first gift. Understanding why they've given can help you create major giving opportunities tailored to the donor.
7. Train major gift officers in social media strategy.
Social media is a natural means of communicating with online donors. Social media-savvy major gift officers can truly make a difference when it comes to converting online donors.
Remember the prospect research we discussed in tip 1? Scroll up for a reminder, or take a look at these additional prospect research tools. You'll need full prospect profiles to properly implement this strategy in your major gifts program.
The donors you'll target with this strategy should have an established relationship with your nonprofit and major gift potential.
Once you've identified these prospects, you'll need your major gifts officers to connect with them over social media. To do so, you can try these steps:
Major gift officers contact the prospect and inform them of the opportunity to follow your nonprofit's social media pages.
Once the connection is established, major gift officers look for opportunities to engage with the prospect. Posting a heartfelt "Happy Birthday" on a prospect's wall, for example, can show the prospect that your nonprofit cares.
Major gift officers share opportunities for engagement, such as volunteer opportunities or updates on your nonprofit's success to the prospect's page.
The goal is to establish a friendly connection via social media.
The benefits of a strong social media connection are twofold:
Social media allows you to gain information about your donor as they post about their own lives.
You can use it as a means to promote your nonprofit and engage with your prospect.
If your major gift officers understand how to build connections over social media with likely prospects, they'll be able to establish a deeper relationship that can lead to major gifts.
Over time, the donor should respond organically by supporting and sharing your nonprofit's giving opportunities.
In short: Creating a social media strategy for major gift officers can help them engage with potential major donors over the donors' preferred online communication channels. Establishing natural connections via social media can help you understand your donors and tailor service opportunities to their interests.
8. Send personalized emails.
Sending blanket emails to your online donors might be the easiest strategy, but it won't help you cultivate major donors.
You'll need to segment your email list and craft targeted email appeals.
For example, new donors require stewardship before you can ask for major gifts. Introduce them to your organization, and include a call to action that doesn't focus on giving. Instead, provide volunteer opportunities so that these donors can get more involved with your nonprofit.
Even looking at your donors' email addresses can hold valuable information. According to this study, donors with unique or corporate domain names gave 13% more per donation than the next highest domain.
Regardless of who you're emailing, you'll want to ensure you use their preferred name and title.
In short: Emails are a great means of engaging with online donors as long as you're deliberately tailoring your emails to the donors in question. Use emails to build your relationship and introduce opportunities for further involvement.
Converting online donors to major donors is a long-term process, but understanding how to identify and engage with these donors will be the foundation of your efforts.
Follow these 8 tips to initiate and further the giving conversation with your top major donor prospects.