Chesapeake Bay Foundation
Fundraising Partnership Delivers Transformative Results
What We Did
Analytics & Insights, Digital Marketing, Strategy & Planning, UX & Visual Design
Tools & Tech
Bing Ads, Facebook Ads, Google Ads, Luminate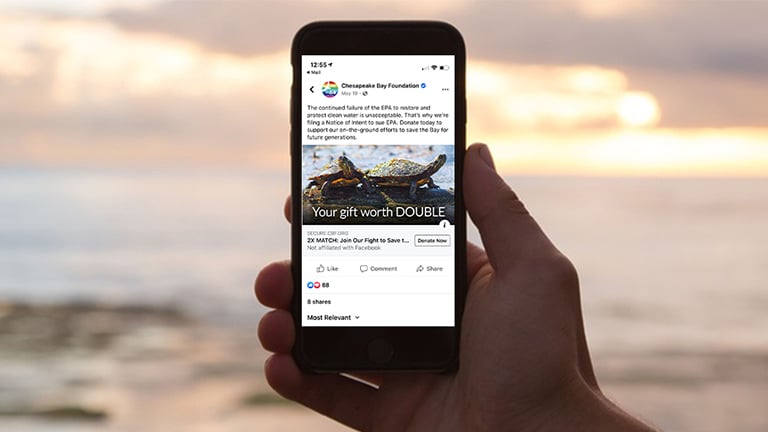 The Challenge
Chesapeake Bay Foundation (CBF) needed some new ideas to strategically grow its digital fundraising program in support of its mission to Save the Bay®.
The Solution
Using strategic multi-channel marketing campaigns and optimization strategies, Allegiance drove transformational growth for CBF from mid-2018 to 2020.
We helped advance CBF's digital fundraising and engagement program into a more reliable and significant source of revenue to support their mission-critical programs, which include clean water and habitat restoration, advocating for Bay-friendly policies and regulations at the federal, state, and local levels across the Chesapeake Bay region, and providing life-changing environmental education experiences for students who will become the next generation of Bay stewards.
Chesapeake Bay Foundation Fundraising
40%
Increase in annual digital revenue since 2018
35%
increase in sustaining gift revenue since 2018
10,000
new-to-file donors acquired since 2018
Paid Advertising Drives New Donor Acquisition
One of the first initiatives that Allegiance undertook with CBF was to launch and optimize an ongoing and evergreen search engine marketing campaign to ensure that all prospective donors who were searching for CBF-related terms would be presented with an optimized donation journey.
Next, we developed a paid social advertising strategy that accomplishes two goals: (1) provide multi-channel support to campaigns being delivered by direct mail and email and help drive gifts from existing supporters, and (2) find new audiences of supporters who are good donor prospects for the organization, and present them with compelling calls-to-action to help drive consistent new donor growth.
Search Engine Marketing
Since its founding in 1967, Chesapeake Bay Foundation has developed a very strong core of committed supporters – from donors to advocates to volunteers and more. With such a well-established brand, Allegiance put in place an evergreen search engine marketing strategy to drive qualified traffic directly into the fundraising funnel by owning 100% of search volume, reducing friction, and increasing conversion rates.
Multi-Channel Touchpoint Strategy
Allegiance and CBF leveraged Facebook advertising to promote donor retention and engagement while also increasing new donor acquisition.
Allegiance leveraged Facebook's Custom Audiences to provide a multi-channel communications experience for existing CBF donors, advocates, and subscribers.
For example, during tentpole fundraising campaigns like year-end, while supporters are receiving email and direct mail pieces promoting a matching gift offer, we also place ads in their Facebook newsfeed promoting the same offer and call-to-action. The use of multi-channel touchpoints has helped drive significant overall fundraising growth and greater levels of donor engagement for CBF.
Allegiance and CBF also used Facebook Custom Audiences to reactivate inactive email subscribers to improve email deliverability rates and ensure that CBF's messages are getting through to their audiences' inboxes.
New Donor Acquisition
CBF has also leveraged Facebook advertising to target new potential donors and drive them to make a gift. Using Facebook's Custom Audiences, Allegiance created lookalike models of the highest value segments of CBF's donor file and ran ads in qualified prospects' newsfeeds. We used these prospecting campaigns as a testing ground to identify the messaging, imagery, and other creative elements that CBF donors respond to the most.
Website and Donation Form Optimization for Sustained Growth
Visitors arriving at the CBF site via direct, organic search, or referral traffic are typically more likely to convert and to give larger donations than visitors from email or paid advertising sources. Therefore, optimizing the website to provide a satisfying experience for donors and potential donors is critical for the long-term health of a fundraising program. Allegiance worked with CBF on several website optimization projects designed to improve conversion rates and increase donor satisfaction.
The Chesapeake Bay is a national treasure, and CBF has been blessed with beautiful photography highlighting the many different ways humans and wildlife experience the Bay. Allegiance developed a new donation form template for CBF that better leverages this photography and helps tell the story of the Bay. Additional updates were made to the page template to improve the giving experience for donors on a mobile device.
Optimizing Pathways
Allegiance also worked with CBF to prioritize certain key calls-to-action on priority landing pages to guide visitors to the areas of the site where they are most likely to convert and provide the greatest value to the organization.
For example, the Join Us page contains many different possible ways for a visitor to get involved –from donating to volunteering, to signing up for the organization's email list. Without a clear prioritization, visitors to the page may have been unclear about what CBF wanted them to do.
Allegiance designed an updated template for the Join Us page that makes a clear and compelling case to all visitors that one of the most important things they can do to help save the Bay is to make a donation to CBF. The resulting page now contains an extremely strong call-to-action above the fold, while still providing users an opportunity to navigate easily to secondary asks like "renew your membership" or "update your information."
During the most critical period of year-end fundraising, we were able to drive 22% more of the visitors to the Join Us landing page to CBF's main donation form.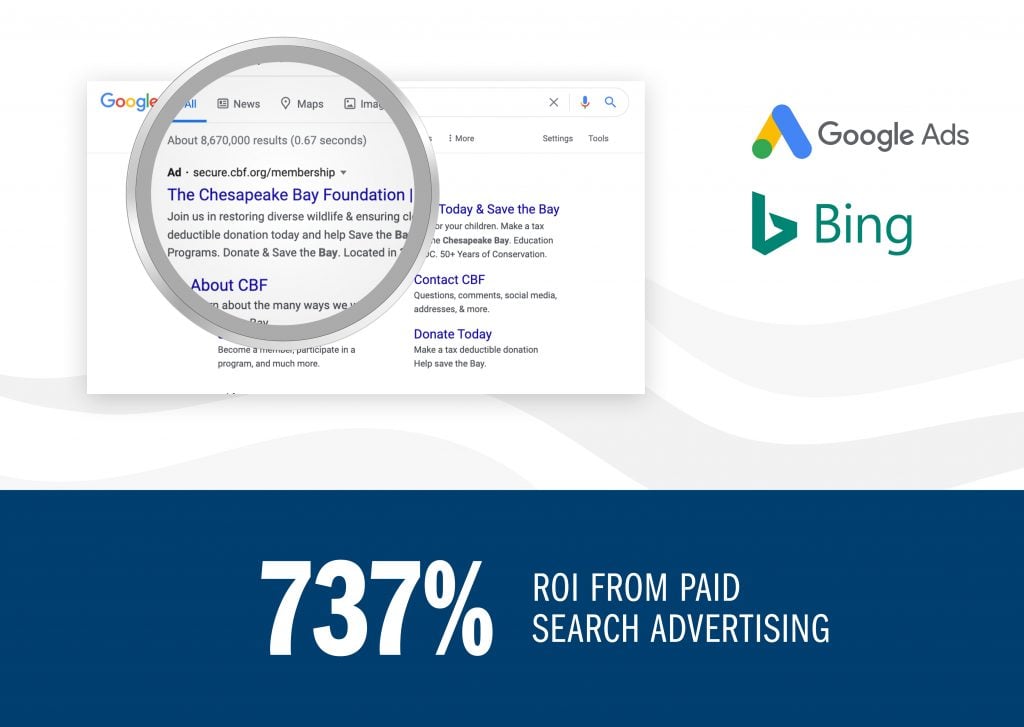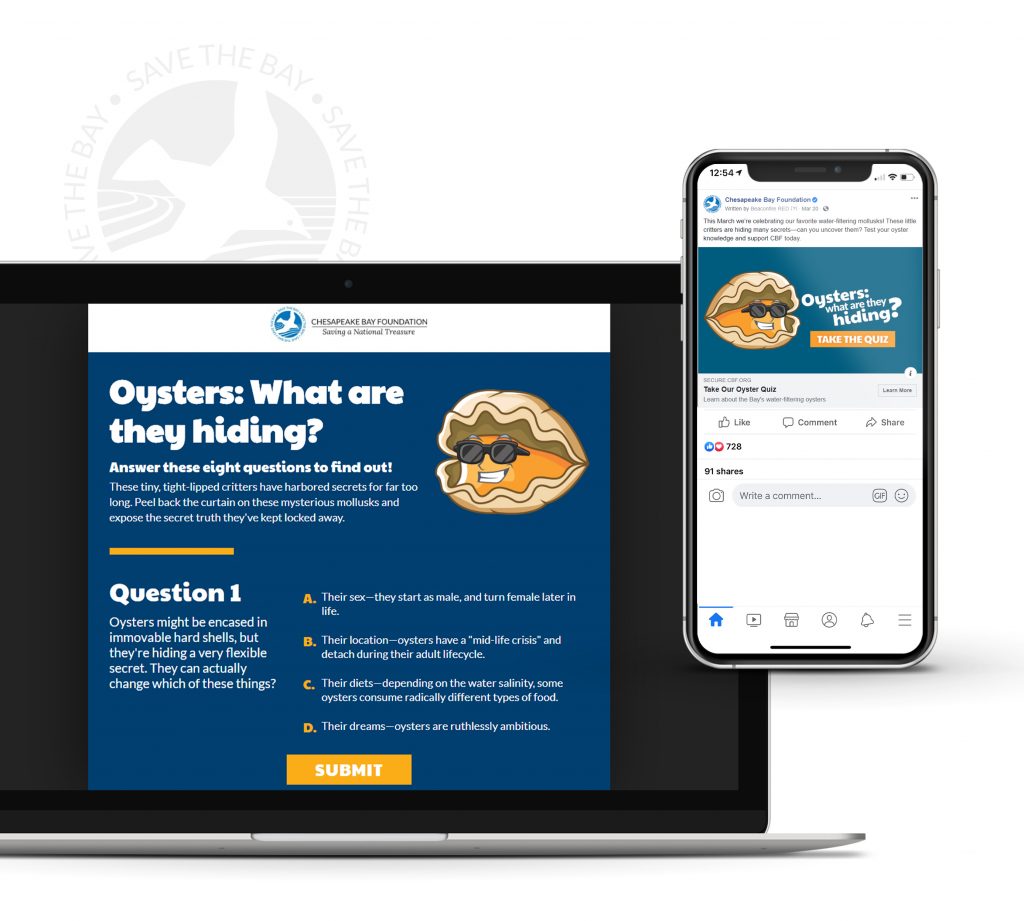 Be as bold as your mission. Partner with Allegiance.