4 Tips for Driving Engagement from Sustaining Donors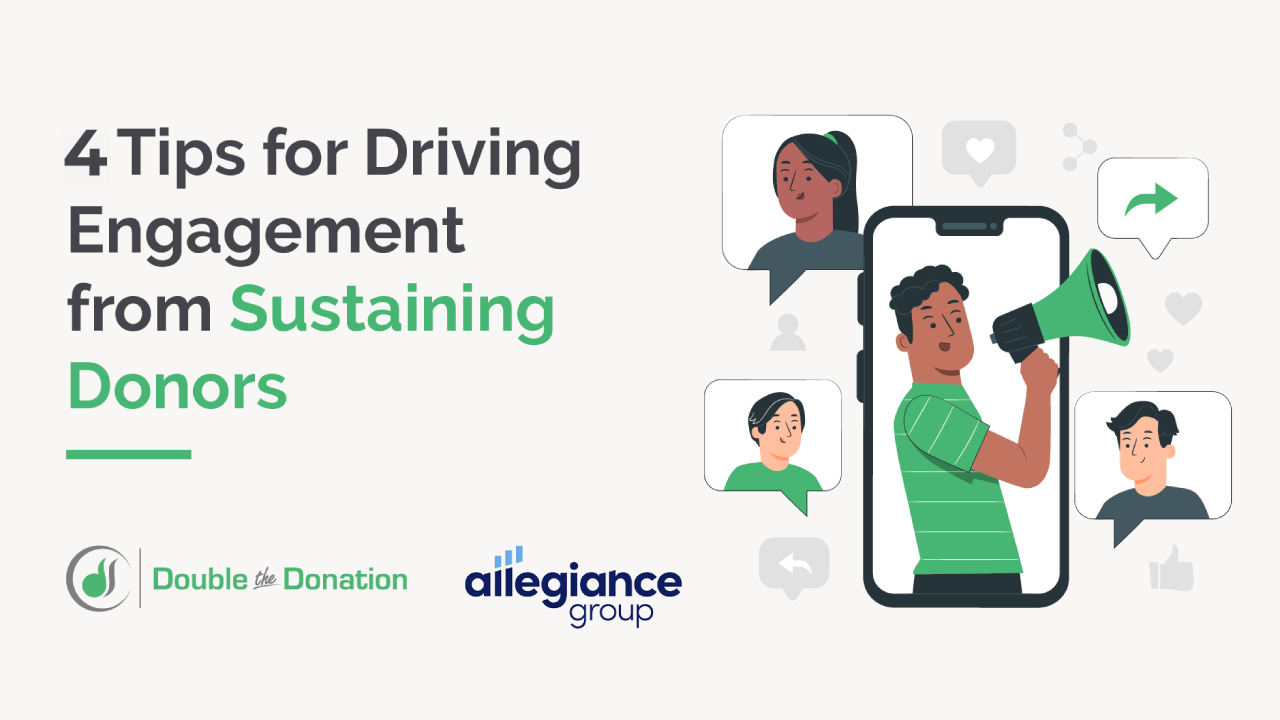 Sustaining donors offer many nonprofits essential pillars of support. These are some of the most loyal contributors who provide a foundation for sustainable giving through their commitment to ongoing, regular donations.
Whether your organization has a widespread base of recurring givers or you're looking to build a sustaining donor program from the ground up, effectively engaging with these individuals is a must. And we're here to provide you with expert tips and tricks for doing so.
This includes:
Introducing donors to employer-matching gift opportunities.
Offering exclusive incentives for sustaining donors.
Ensuring ongoing acknowledgment and gratitude.
Communicating regular mission and impact updates.
Ready to bring your fundraising efforts to the next level? Let's dive in with these tried-and-true sustaining donor engagement practices.
1. Introduce donors to employer-matching gift opportunities.
Corporate or employer matching gifts are one of the most popular examples of corporate giving initiatives. Promoting the opportunity to your nonprofit's audience can be an excellent way to engage supporters⁠—including one-off and sustaining donors alike.
Here's how these programs typically work:
A donor contributes to a nonprofit fundraiser.
The donor determines their eligibility for a matching gift from their employer (typically after being prompted to do so by the organization to which they gave).
The donor completes a brief online submission form for their employer, providing basic details about the nonprofit and their gift.
The employer reviews the matching gift request, verifies that it adheres to the company's matching gift criteria, and approves the match.
The nonprofit organization receives a matching donation from the donor's employer.
Although the process can vary slightly for sustaining donors (most companies recommend batching recurring gifts into a single annual match request rather than doing so for each gift), many supporters who contribute via regularly recurring gifts can still qualify for their employers' matching gift initiatives. That makes it a particularly lucrative opportunity for organizations to pursue matching gifts from these supporters, empowering recurring givers to double (or sometimes even triple) their initial donations' impact.
And donors are more likely to get involved⁠—and stay involved⁠—when they know that they can get their gifts matched! Double the Donation's research indicates that mentioning matching gifts in an organization's fundraising appeals produces a 71% increase in response rate and a 51% increase in average gift size. Just imagine the impact those figures can have on your sustaining giver program.
2. Offer exclusive incentives for sustaining donors.
Exclusivity can be a powerful method for strengthening connections and deepening relationships. After all, donors devoted to your cause will likely want to be a part of your "inner circle."
Engaging sustaining donors by offering exclusive incentives is an often effective strategy for inspiring generosity, demonstrating appreciation, and encouraging continued support.
But what can your organization offer to do so? Here are a few examples to consider:
Members-only content ⁠— Provide sustaining donors with access to premium content, such as behind-the-scenes updates, research reports, or educational materials related to your cause.
Member loyalty program —Use MemberCard to upgrade various types of members to higher levels of giving, such as becoming a sustainer.
Early event access ⁠— Offer sustaining donors early access or priority registration to events, such as gala dinners, fundraisers, or volunteer opportunities. You can even provide a coupon code for a reduced ticket price!
Exclusive merchandise ⁠— Create specialty merchandise, such as branded t-shirts, mugs, or tote bags, exclusively available to sustaining donors.
VIP experiences ⁠— Host invite-only meetings, VIP tours, and meet-and-greets where sustaining donors can interact with key members of your organization.
Communicating the availability of such perks (for instance, on your donation page) can be just what a donor needs to encourage them to upgrade their one-time gift to a sustaining one! This makes it an excellent way to drive additional donations for your cause, including those that will continue to support your team for the foreseeable future.
3. Ensure ongoing acknowledgment and gratitude.
Your organization's sustaining donors go above and beyond for your mission. They've taken the next step with a commitment to furthering your work on a regular basis, which provides your team with a consistent and steady stream of income. As a result, you're equipped to better endure the ebbs and flows of typical fundraising.
However, it also means that your donor engagement team should be going a step beyond traditional stewardship efforts to recognize and appreciate your sustaining donors. For example, we recommend…
Sending handwritten letters. Heartfelt and personalized thank-you letters can go a long way in expressing gratitude for donors' ongoing support. When these notes are handwritten and signed by a member of your staff, it indicates an added personal touch!
Enlisting public recognition. Showcase recurring givers on your website, annual reports, newsletters, social media posts, donor walls, and more as a way of publicly acknowledging their commitment to your cause.
Making phone calls or video messages. Instruct staff or volunteers to make personal phone calls or send video messages to thank donors directly for their ongoing support of your organization.
Organizing dedicated appreciation events. Host an exclusive event (in-person or virtual) to celebrate and thank recurring givers. Make sure the focus is not to ask for more but to appreciate sustaining donors' generous giving.
Regardless of the methods you choose, remember that the key to effective donor appreciation is sincerity, transparency, and a genuine sense of gratitude. Take time to tailor your efforts to match the preferences and expectations of your sustaining supporters, making them feel like key players in your nonprofit's community. Not to mention, you'll want to doubly ramp up your appreciation efforts for your sustaining donors who also secure matching gifts on your organization's behalf.
4. Communicate regular mission and impact updates.
Mission-related impact is typically the primary motivation for donors who support your cause. When donors believe their dollars are consistently going toward making positive change, they are more likely to continue giving⁠—such as through sustaining giver programs. However, donors who are not seeing an impact are less likely to carry on with their support.
As a result, you want to ensure that your sustaining donors receive regular communications that focus on the tangible value of their giving. Just because they've established an ongoing payment schedule doesn't mean you should neglect to consistently express the ways in which their support is driving your mission forward.
Keep in mind that particularly engaging elements, such as constituent stories, visuals, donation impact reports, infographics, and more, can be some of the most effective ways to communicate giving value.
---
As nonprofits continue to adapt their practices in a constantly changing fundraising landscape, sustaining donors will continue to be a key driver in their ability to make a meaningful impact on the causes they serve.
By implementing the above practices, your team can ensure you have what you need to maximize support from sustaining donors, strengthening and retaining these crucial relationships, and ensuring a long-term, well-funded future for their missions.
Best of luck!