6 Email Automations That Drive Revenue
Email Automation is the Gift That Keeps on Giving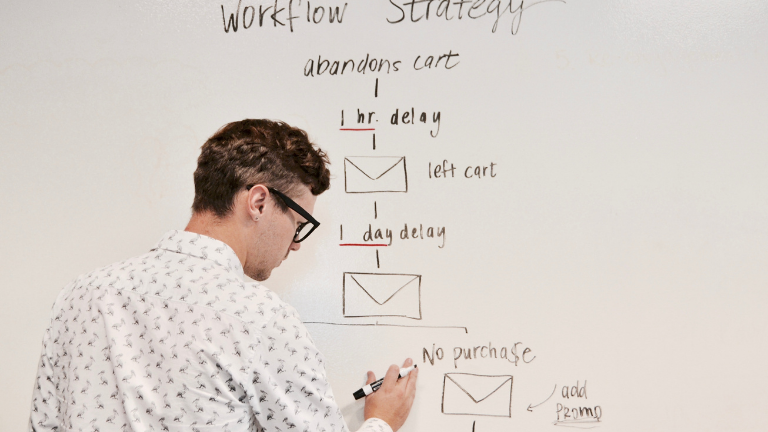 Good marketing is having the right message, for the right people at the right time. Email automation does just that by sending emails based on user behavior.
In addition to your tentpole campaign emails, email fundraising appeals, and e-newsletters, a strong email automation program can drive significant revenue for your organization. There are six email automation series that every nonprofit should have in place:
Welcome Series
Re-engagement Series
Monthly Donor Retentions
Monthly Donor Upgrades
Lapsed Donor or Membership Renewals
Second Gift
Welcome Series
Whether you are acquiring new leads organically on your website or you have a strong paid lead generation program; you should be welcoming new supporters to your organization. A great welcome series explains your organizational narrative to your supporters:
who you are
what you stand for
why your work matters
how you do your work
A welcome series should weave donation asks throughout the narrative. You can ask for a first gift, a monthly donation, or encourage an advocacy action.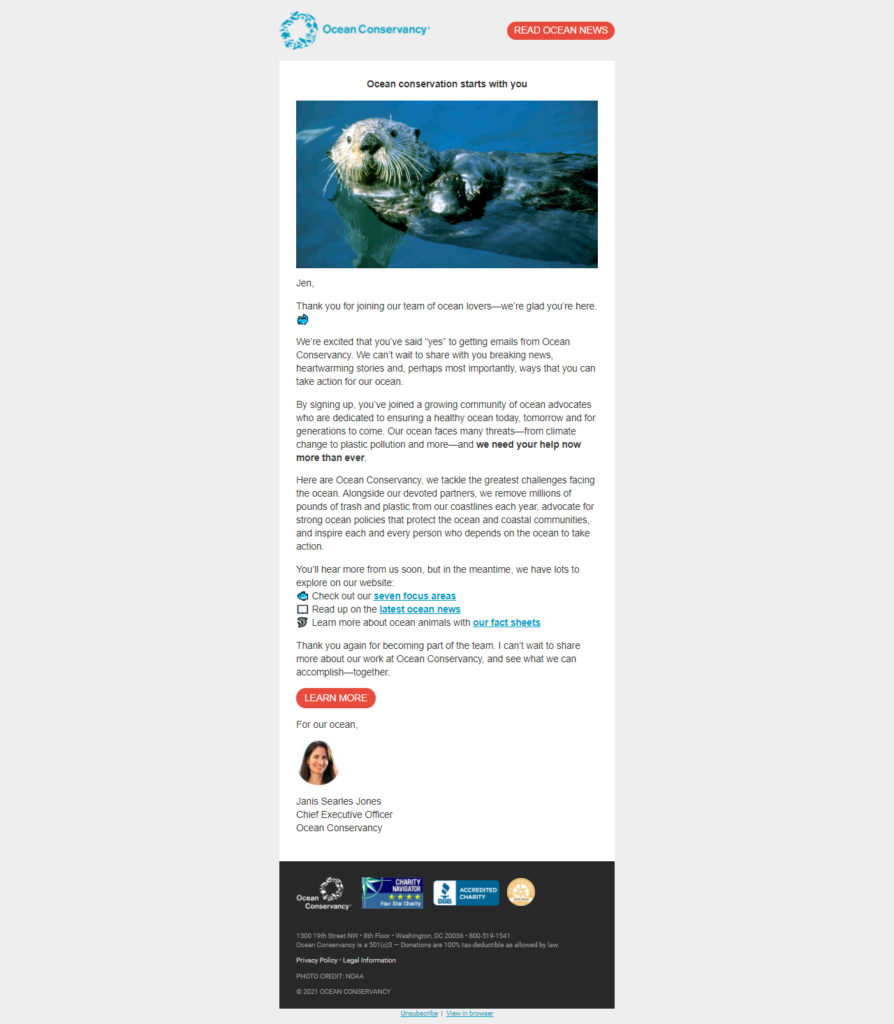 Example of Ocean Conservancy's first message in their three-message welcome series
How Do You Measure the Success of Your Welcome Series?
The most critical metric for measuring the success of your welcome series is if your users open these messages. We look for a high open rate that sends a signal to email service providers (ESPs) that your email and your organization are credible. This can help improve email delivery rates and increase the size of your emailable file.
However starting in September 2021, open rates will be unreliable on iPhones. Apple's "Protect Mail Activity" blocks the pixel which tells email software that an individual email has been opened. Instead, we will need to more closely monitor click-through rates and ultimately conversion of newly acquired email addresses through donations, advocacy actions, and volunteer activities.
Re-engagement Series
A re-engagement series is used to reactivate users who are at risk of unsubscribing or being unsubscribed from your email program. This type of series is used to augment an email hygiene program.
Our team recommends implementing a series of emails targeted at supporters who are at risk of being removed from your emailable mailing list. In our experience, a three-message re-engagement series has proved the most effective for maintaining a high-quality emailable file.
Note in the past, these reactivation series have relied heavily on email opens in their business logic. Again, with Apple's upcoming "Protect Mail Activity" update in September, these re-engagement series will need to be revamped to remove open rates from their business rules.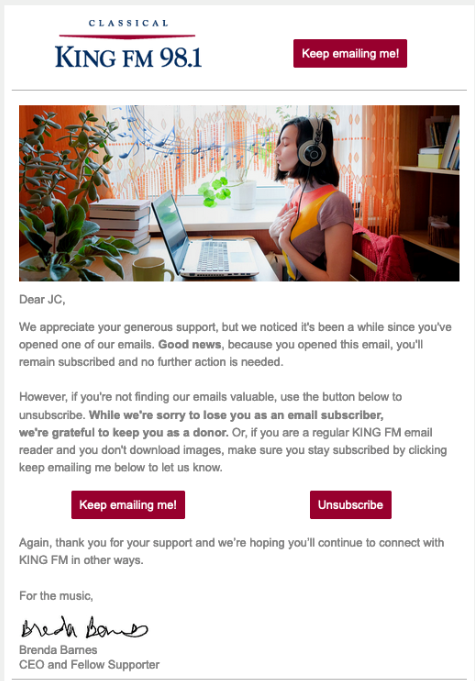 Example of a re-engagement series
Monthly Giving Retention Series
We all get new credit cards and sometimes we forget to update our recurring transactions with our new credit card number or expiration date. This automated email would remind your monthly donors to update their credit cards on file. Even better, it might request the donor to switch to ACH.
Reducing churn in your sustainer program will have a positive impact on your bottom line.
Some eCRM systems send sustainer retention emails automatically. If your eCRM does not automatically send sustainer retention emails, then this is the next automated email you should create.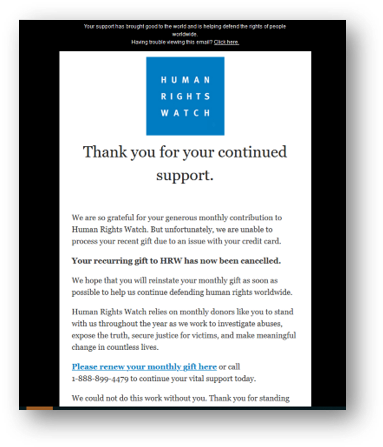 Example of a monthly giving retention/reactivation email
Monthly Donor Upgrades
Every year offers an opportunity to thank your monthly donors for their continued support. With inflation and other increasing costs, it is a good practice to periodically ask your donors for a small increase in their monthly gift.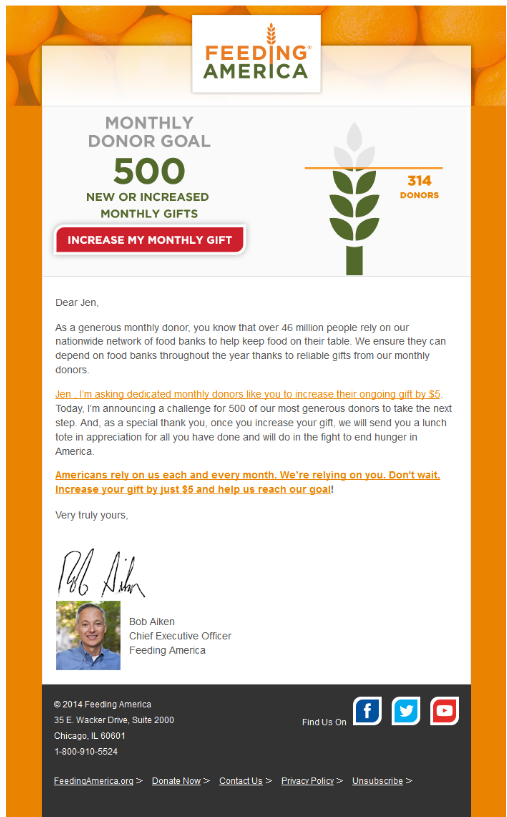 Example of a sustainer upgrade email
Lapsed Donor or Membership Renewals
If it has been more than a year since a donor last gave to your organization, then your donor is up for a nudge. By reminding your past donors how much you rely upon their gifts to complete your mission, you can reactivate these donors and generate substantial income for your organization.
Don't be afraid to use a little guilt or tug on the heartstrings.
Here's an example of a membership renewal appeal: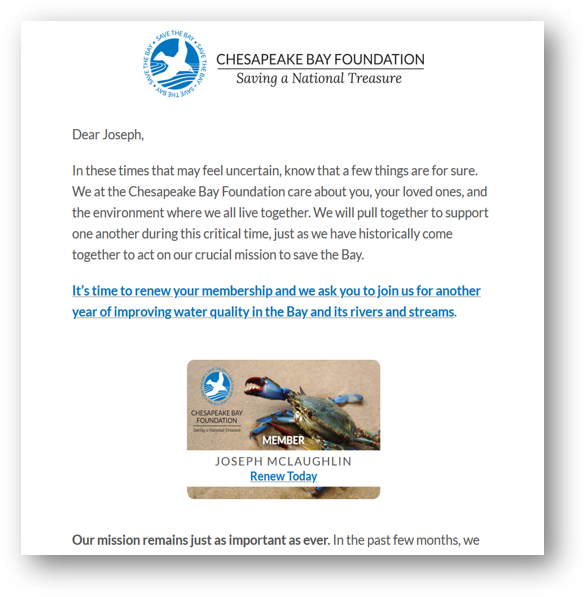 Example of a membership renewal email
Second Gift Request
A donor who makes a second gift is much more likely to give a third, fourth, and fifth gift; and as a result, have a higher lifetime value. Having a second gift strategy is critically important in recouping your donor acquisition fundraising investments. Using an email automation series to encourage a second gift is a surefire strategy to increase the lifetime values of your donors.
In this message, the Free Library Fund tells a story about how the library helped improve Nishat's life, creating an emotional connection and encouraging the donor to strengthen their commitment to the Free Library Fund by making a second gift.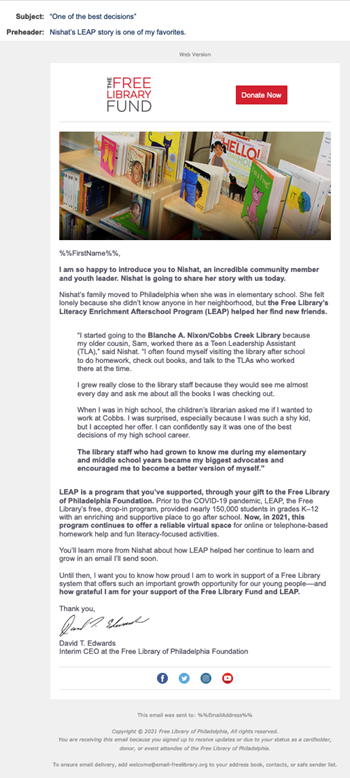 Example of a second gift strategy email
Email automation helps your organization raise more money. Our expertise helps you tell your story and inspire action. Through email automation, you can craft a journey for your supporters that balances their need to receive information with your need to raise money, increase support, and move your mission forward.
We can help you raise more money through automated emails