How to focus on donor retention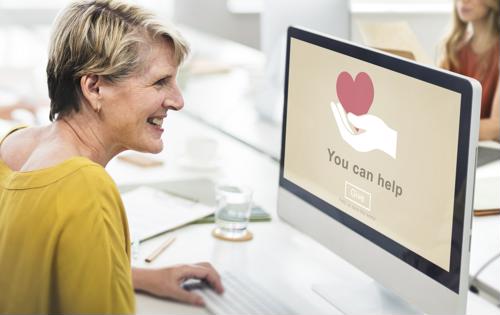 Donors are the lifeblood of any nonprofit organization, regardless of its mission or size. Nonprofits rely on the financial contributions provided by their most dedicated patrons to keep operations running from month to month and year to year.
There are two key components to managing an organization's base of donors: acquisition and retention. In many cases, nonprofits focus almost exclusively on the former – often to the detriment of the latter. Make no mistake, donor acquisition is extremely important, but organizations need to spend just as much time and energy on keeping the donors they already have in the fold.
An engaged donor is worth more than several one-time supporters, as long-term relationships continue to deliver a steady stream of funding one year to another. Because nonprofit organizations devote so much of their time to donor acquisition, they may not have developed the donor retention strategies and skills needed to keep the most prolific contributors involved over the long haul.
Given the current economic climate, now is a good time for nonprofits to reassess their approach to donor retention and find a method that builds engagement and lasting relationships with the most valuable patrons.
Why is donor retention important?
Creating a dedicated donor retention strategy is critical for any nonprofit organization. Returning donors present more long-term value to nonprofits than new donors who may only offer a single contribution and then never re-engage with the organization.
According to the Fundraising Effectiveness Project, the nonprofit sector saw lower donor engagement rates across the board in the first quarter of 2020. The number of donors dropped 5.3% compared with the previous year, and donations went down 6%. Another troubling trend is the drop in major donor contributions, which some organizations depend on to overcome low donor retention rates. The study found that major donor revenue – made up of one-time contributions totalling more than $1,000 – decreased 7.4% in the first quarter of 2020.
The good news for nonprofits is that repeat donor retention rates significantly outpaced new donor retention figures (22.7% vs. 6.7%), meaning a more concerted donor retention strategy could help organizations weather the current economic downturn. Furthermore, repeat donors may be more willing to increase their contributions as they become more engaged with a nonprofit, providing more gifts of higher value.
What is the average donor retention rate?
Across the entire nonprofit sector, overall donor retention rates have remained relatively stable over the last decade. The 2018 Fundraising Effectiveness Survey Report found that between 2005 and 2017, the average donor retention rate was 44.7%. There is certainly plenty of room for improvement to increase engagement and keep donors coming back each year.
That's why it's so important that nonprofit organizations keep exact records of all contributions, detailing not just the total dollar amount of donations, but which patrons gave gifts and how much their contributions were.
Figuring out your own donor retention rate is relatively straightforward. Simply take the number of repeat donors who gave a gift in the past year and divide that by the total number of donors who provided a contribution during that same time period.
What causes donor attrition?
To develop effective donor retention strategies, nonprofit organizations first need to better understand why people stop giving gifts, especially after an initial contribution. There are plenty of reasons why patrons may scale back their donations or stop contributing altogether, some of which are outside the control of nonprofits. For instance, people who fall on hard financial times may not be able to afford to donate to their favorite charities, even if they would really love to.
However, just as many causes of donor attrition are a direct result of a poor nonprofit outreach strategy. According to sgENGAGE, one of the most common reasons for donor churn is a lack of followup from nonprofits after a contribution has been received. Not all organizations directly thank each patron every time they give a gift. That simple oversight, which could be remedied with a quick email or letter, can easily turn away people who feel that their contributions were not fully appreciated.
Another major misstep that nonprofits commonly make is failing to provide complete transparency detailing how donations were used. People want to know that the money and contributions they offer are put to good use. If all they hear is radio silence after giving a gift, they might assume the worst. Organizations rely on donations to address their administrative costs, but letting patrons know that a portion of their contribution directly supports a specific mission or charity project can go a long way to building engagement and getting donors to come back year after year.
Any dramatic shift in your mission or overarching goal will surely lead to some donor attrition as well. In many cases, however, high churn rates may be attributed to poor outreach efforts and an inability to effectively communicate with existing donors and get them engaged.
How do you increase donor retention?
Nonprofit organizations need to look at the entire donor journey to create retention strategies that deliver impactful results. Understanding the points of friction at each step along the way will help you spot gaps in your outreach efforts that might be hurting retention. A good way to gather more information about the donor experience is to simply ask them. Reaching out to donors with a quick survey or follow-up question about their level of satisfaction and engagement can go a long way toward identifying any missteps that need to be addressed.
Make donors feel appreciated
You may find that even if a donor was thanked for their initial contribution, communications became substantially more sporadic and eventually dried up altogether. People want to feel appreciated, and it's often not enough to send one boilerplate email thanking them for a gift and then turning around and asking for more.
Follow the latest donor communications best practices to maintain engagement and keep supporters coming back. Continually reach out to past patrons to let them know how much you cherish their contributions and all the good they're doing by donating to your cause. People have plenty of things going in their lives that might distract them from keeping tabs on their favorite charities, especially today. Maintaining constant communication and demonstrating appreciation for their support will help keep your organization top of mind.
Personalize outreach strategies
Increasing the frequency of communications is a good first step, but if you want to really drive donor engagement, you need to improve the quality of those communications as well. Personalizing your outreach strategies and tailoring communications to each individual patron will help make them feel like an integral supporter of your organization's cause.
Create an outreach plan for different levels of donations and types of donors. Major donations and repeat donors should receive the most hands-on communication, with a steady stream of emails, mailings and other messages to recognize their continued contributions. That being said, it's important to show appreciation to every patron, no matter the size of their donation.
Show their donations in action
Many organizations resort to giving away free gifts as a way to entice new and returning donors. However, those kinds of strategies won't sway people who, more than anything, want to contribute to a worthy cause. Showing those patrons how their donations are used to support your organization's mission is often a more effective way to build engagement.
There's plenty of room to get creative. Share personal stories from individuals who have directly benefited from those contributions or send out handwritten thank you cards that describe how gifts were put to use. Providing regular updates that let donors know exactly how they have helped your cause shows them that their contributions are making a difference.
What do you do when a donor says no?
Lapsed donors are an unfortunate fact of life for nonprofits. As noted earlier, there are forces outside of your control that will result in some patrons stepping away from the cause. The best way to address lapsed donors is to maintain a strong engagement and outreach strategy that can help prevent churn in the first place.
However, when faced with trying to win back the support of former supporters, the best course of action is to show them the same level of gratitude and appreciation as you would anyone who recently made a contribution. Keep up communications and provide updates on your organization so feel connected to your cause even if they haven't made a donation in a long time. When they are able to contribute, they will be more likely to think of your nonprofit because you continued to keep them in the loop.
Donor retention strategies require total commitment and a detailed plan of action that addresses every step in the donor journey. Keep meticulous records about your donor base and outreach efforts to better understand where improvements can be made. Most importantly, always show your gratitude for every contribution you receive. Make people feel appreciated, and they will continue to support your cause.